Histomorphological Comparisons and Expression Patterns of
BOLL

Gene in Sheep Testes at Different Development Stages

1

College of Animal Science and Technology, Gansu Agricultural University, Lanzhou 730070, China

2

College of Veterinary Medicine, Gansu Agricultural University, Lanzhou 730070, China

*

Author to whom correspondence should be addressed.

Received: 27 January 2019 / Revised: 8 March 2019 / Accepted: 18 March 2019 / Published: 21 March 2019
Simple Summary
Boule homolog, RNA binding protein (BOLL), an ancestral member of the DAZ (deleted in azoospermia) gene family, is required for testicular function, maintenance, and spermatogenesis in males. However, in sheep, little is known about the expression profiles and molecular function of BOLL. In In this study, obvious seminiferous tubule lumens and various spermatogenic cells, including spermatogonia, primary and secondary spermatocytes, round spermatids, elongated spermatids, and spermatozoa, were observed in the testes of sheep aged 1 year and older. Our results showed that BOLL was expressed exclusively in sheep testes. Moreover, significant BOLL expression at the transcript and protein levels were discovered in 1- and 2-year-old sheep testes, in comparison with testes from 0-day-, 2-month-, and 5-month-old sheep. BOLL protein was located in spermatogenic cells, ranging from primary spermatocytes to round spermatids, as well as in spermatozoa with intensive immunoexpression. A preliminary study demonstrated that the sheep BOLL gene is critical for meiosis and sperm maturity. This study contributes to further understanding the regulatory mechanisms of the BOLL gene during spermatogenesis.
Abstract
BOLL
is implicated in mammalian testicular function maintenance and spermatogenesis. To understand the expression patterns and biological functions of sheep
BOLL
, we examined the expression and immunolocalization of BOLL in the developing testes of Small-Tail Han sheep aged 0 days (D0), 2 months (2M), 5 months (5M), 1 year (1Y), and 2 years (2Y), by qPCR, Western blot, and immunohistochemistry methods. Firstly, morphological studies revealed that, in addition to spermatogonia, ordered and clear spermatocytes, as well as round and elongated spermatids and sperm, were found in the 1Y and 2Y testicular seminiferous tubules of the sheep testes, compared with the D0, 2M, and 5M testes, as analyzed by hematoxylin and eosin (H&E) staining. The diameter and area of the seminiferous tubules, epithelial thickness, and the area and perimeter of the tubule lumens gradually increased with age.
BOLL
was specifically expressed in testes and upregulation of
BOLL
transcript expression was higher in the testes of the 1Y and 2Y groups than in those of the D0, 2M, and 5M groups. Similarly, BOLL protein was expressed mainly in the 1Y and 2Y testes, ranging from primary spermatocytes to round spermatids, as well as in the spermatozoa. This study is the first demonstration that sheep
BOLL
might serve as a key regulator of the spermiogenesis involved in sperm maturity, in addition to its role as a crucial meiotic regulator.
View Full-Text
►

▼

Figures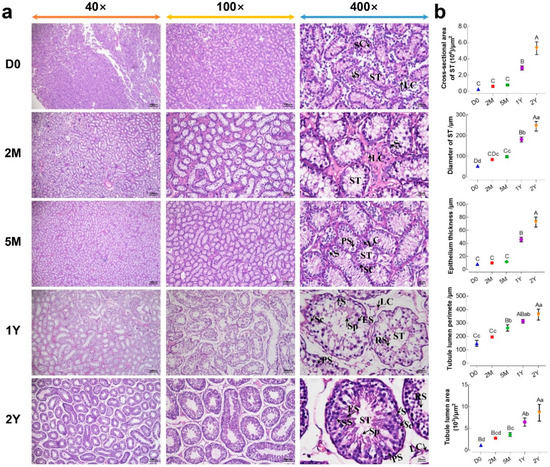 Figure 1
This is an open access article distributed under the
Creative Commons Attribution License
which permits unrestricted use, distribution, and reproduction in any medium, provided the original work is properly cited (CC BY 4.0).

Share & Cite This Article
MDPI and ACS Style
Li, T.; Wang, X.; Zhang, H.; Chen, Z.; Zhao, X.; Ma, Y. Histomorphological Comparisons and Expression Patterns of BOLL Gene in Sheep Testes at Different Development Stages. Animals 2019, 9, 105.
Note that from the first issue of 2016, MDPI journals use article numbers instead of page numbers. See further details here.
Related Articles
Comments
[Return to top]