The Effect of Strain and Rearing Medium on the Chemical Composition, Fatty Acid Profile and Carotenoid Content in Silkworm (
Bombyx mori

) Pupae

1

Institute of Biometeorology, National Research Council, via P. Gobetti 101, 40129 Bologna, Italy

2

Council for Agricultural Research and Economics, Research Centre for Agriculture and Environment—Sericulture Laboratory of Padua, Via Eulero, 6a—35143 Padova, Italy

3

Institute of Sciences of Food Production- National Research Council, L.go P. Braccini 2, 10095 Grugliasco, Italy

*

Author to whom correspondence should be addressed.

Received: 7 February 2019 / Revised: 12 March 2019 / Accepted: 15 March 2019 / Published: 20 March 2019
Simple Summary
The replacement of environmental-costly resources in food and feed production is now imperative. Insects are recognized to be an effective protein source alternative to fishmeal and soy for animal husbandry. The evaluation of their nutritive properties can offer important insights to determine their potential use as feed. This study compares the pupae body composition of two different silkworm strains: a conventional polyhybrid producing white cocoons and the Nistari with golden yellow cocoons, rich in carotenoids, fed either on fresh mulberry leaves or an artificial diet. The results establish that feeding substrate composition strongly influences the fat and protein content of silkworm pupae. The feeding substrate also positively influences the pupae' n-3/n-6 ratio while the carotenoid content is exclusively determined by the strain.
Abstract
The overexploitation of fishmeal and soy for the feedstuff industry has provided an opportunity to employ insects as an unconventional and more environmental friendly protein source. The evaluation of the nutritive properties of different insect species has consequently become a priority. The present study compares the pupal nutritive composition of two silkworm strains (White Cocoon Polyhybrid and Golden Yellow Cocoon Nistari) fed on two different rearing media (fresh mulberry leaves and a commercial artificial diet). Our results provide evidence that the composition of the feeding substrate strongly influences the fat and protein content of silkworm pupae. The two tested strains had higher fat and lower protein contents when fed with silkworm natural food (mulberry leaves) with respect to the commercial artificial diet. The analysis also showed that the n3/n6 ratio was affected almost exclusively by the feed substrate factor. On the contrary, the carotenoid content in pupae was specifically determined by the strain. The study identifies the interesting opportunity offered by silkworm pupae, which are usually a waste product of the silk-reeling process, to be used as alternative animal protein sources in a fully-closed circular production.
View Full-Text
►

▼

Figures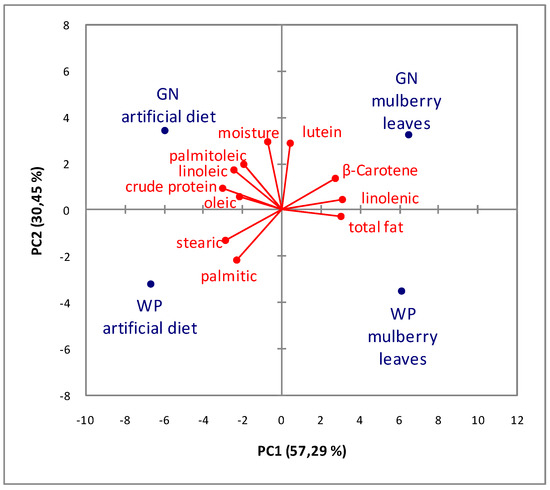 Figure 1
This is an open access article distributed under the
Creative Commons Attribution License
which permits unrestricted use, distribution, and reproduction in any medium, provided the original work is properly cited (CC BY 4.0).

Share & Cite This Article
MDPI and ACS Style
Chieco, C.; Morrone, L.; Bertazza, G.; Cappellozza, S.; Saviane, A.; Gai, F.; Di Virgilio, N.; Rossi, F. The Effect of Strain and Rearing Medium on the Chemical Composition, Fatty Acid Profile and Carotenoid Content in Silkworm (Bombyx mori) Pupae. Animals 2019, 9, 103.
Note that from the first issue of 2016, MDPI journals use article numbers instead of page numbers. See further details here.
Related Articles
Comments
[Return to top]