The Morphology of Cross-Beaks and
BMP4

Gene Expression in Huiyang Bearded Chickens

1

Guangdong Provincial Key Laboratory of Animal Molecular Design and Precise Breeding, Foshan University, Foshan 528225, China

2

Xianxi Biotechnology Co. Ltd, Foshan 528200, China

*

Author to whom correspondence should be addressed.

Received: 17 October 2019 / Revised: 1 December 2019 / Accepted: 11 December 2019 / Published: 13 December 2019

(This article belongs to the Section

Poultry

)
Simple Summary
Recently, the emergence of cross-beaks has been reported in several domestic chickens. Despite several candidate genes, bone morphogenetic protein 4 (BMP4) has been suggested as responsible for chicken cross-beaks. The subtypes of the morphology term, etiopathogenesis, and the relationship of the candidate BMP4 gene to cross-beaks are not yet known. The objective of this study was to describe the subtypes of cross-beaks by left or right and upper and lower jaw bones and to figure out the relationship between BMP4 and the development of craniofacial bones in Huiyang bearded chickens.
Bird beaks are important for biological purposes such as food intake, removing parasites, and defining phenotypic attributes. Cross-beaks are a threat to poultry health and are harmful to productivity, wasting some units in the poultry industry. However, there is still limited research on subtypes of cross-beaks and the genetic basis of cross-beaks as well. Here, we described the subtypes of cross-beaks in terms of left or right and upper or lower jaw bones. We evaluated the impact of cross-beaks on craniofacial bones and figured out the relationship between
bone morphogenetic protein 4 (BMP4)
and the development of craniofacial bones in Huiyang bearded chickens. We identified five typical subtypes of cross-beaks by morphological assessment and X-ray scanning. We found that cross-beaks caused certain changes in the facial bone morphology, including changes to the length and width of the bone around the ocular area (
p
< 0.05). The relative expressions of
BMP4
in lacrimal, mandible, premaxilla, frontal, and parietal bones were significantly higher in the severe cross-beak group, followed by that of the medium cross-beak group, weak cross-beak group, and control group (
p
< 0.05). Overall, we constructed a generally applicable method to classify cross-beaks in term of the angle. The skeleton around the ocular area was affected by the cross-beak. The expression levels of
BMP4
in craniofacial bones may provide insight to potential role of
BMP4
in the development of cross-beaks.
View Full-Text
►

▼

Show Figures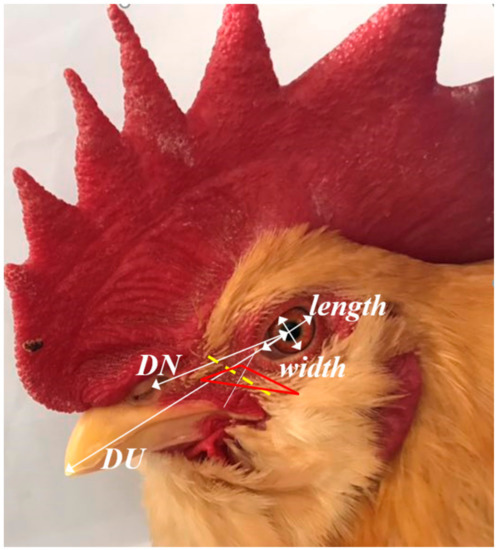 Figure 1
This is an open access article distributed under the
Creative Commons Attribution License
which permits unrestricted use, distribution, and reproduction in any medium, provided the original work is properly cited

MDPI and ACS Style
Hong, Y.; Pang, Y.; Zhao, H.; Chen, S.; Tan, S.; Xiang, H.; Yu, H.; Li, H. The Morphology of Cross-Beaks and BMP4 Gene Expression in Huiyang Bearded Chickens. Animals 2019, 9, 1143.
Show more citation formats
Show less citations formats
Note that from the first issue of 2016, MDPI journals use article numbers instead of page numbers. See further details
here
.