Group and Single Housing of Male Mice: Collected Experiences from Research Facilities in Sweden
1
Swedish Centre for Animal Welfare, Swedish University of Agricultural Sciences, 750 07 Uppsala, Sweden
2
Department of Animal Environment and Health, Swedish University of Agricultural Sciences, 532 23 Skara, Sweden
3
Department of Animal Science and Technology, AstraZeneca, 431 83 Mölndal, Sweden
4
Centrum för försöksdjursverksamhet, Uppsala University, 752 37 Uppsala, Sweden
5
Department of Comparative Medicine, Karolinska Institutet, 171 77 Stockholm, Sweden
6
Department of Pharmaceutical Safety, Swedish Medical Products Agency, 751 03 Uppsala, Sweden
7
Department of Physiology and Pharmacology, Center for Molecular Medicine, Karolinska Institutet, 171 77 Stockholm, Sweden
8
The Swedish 3Rs Center, Swedish Board of Agriculture, 551 82 Jönköping, Sweden
9
The Swedish National Committee for the Protection of Animals Used for Scientific Purposes, Swedish Board of Agriculture, 551 82 Jönköping, Sweden
10
Department of Integrative Toxicology, Karolinska Institutet, 171 77 Stockholm, Sweden
*
Author to whom correspondence should be addressed.
†
These authors contributed equally to this work.
Received: 30 October 2019 / Revised: 15 November 2019 / Accepted: 18 November 2019 / Published: 21 November 2019
Simple Summary
The mouse is the most commonly used mammal in scientific research, and housed in research facilities around the world. Mice are a social species, but when housing male mice together in a confined environment in the laboratory, aggression is often observed and can be problematic. Fighting or trying to avoid fighting can be stressful. Furthermore, fighting can lead to injuries which can sometimes be fatal. Mouse aggression is therefore a significant welfare problem and has implications on the 3Rs (Replacing, Reducing, and Refining animal use in scientific procedures and education). In this study, we used a survey and workshops to collect the experiences of animal technicians, veterinarians, and researchers at Swedish research animal facilities relating to mouse aggression and what methods of preventing aggression they practice. Both group housing and single-housing as a consequence of aggression was perceived as problematic and stressful for the animals. In line with current recommendations from the literature, participants perceived that aggression occurred less if mice were grouped with litter mates at an early age, that nesting material was transferred at cage cleaning, and disturbance was kept to a minimum. Experience from practice will play a valuable part in developing guidelines for group-housed male mice.
Animals used for scientific purposes are protected by EU legislation. Social animals should be kept in stable groups that enable species-typical social behavior and provide individuals with social comfort. However, when group-housing male mice, aggression within the homecage is a common husbandry and welfare problem. Excessive fighting and injuries due to aggression can cause pain and stress, resulting in individuals being euthanized or housed individually. In addition, stress can alter physiological parameters, risking scientific validity and generating larger sample sizes. Mouse aggression, and the consequences thereof, thus opposes the 3R goals of Refining the methods to minimize potential pain and suffering and Reducing the number of animals used. Animal technicians, veterinarians, and scientists using animals have valuable information on how these problems are experienced and handled in practice. We assembled these experiences from laboratory animal facilities in Sweden, mapping problems observed and identifying strategies used to prevent mouse aggression. In line with current literature, less aggression was perceived if mice were grouped before sexual maturity, re-grouping avoided and nesting material transferred at cage cleaning. Preventing aggression will minimize pain and suffering and enable housing of stable groups, leading to more reliable scientific outcomes and is thus of high 3Rs relevance.
View Full-Text
►

▼

Show Figures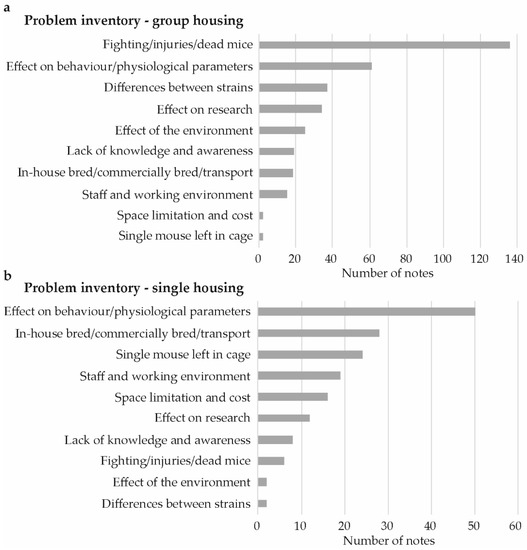 Figure 1
This is an open access article distributed under the
Creative Commons Attribution License
which permits unrestricted use, distribution, and reproduction in any medium, provided the original work is properly cited

MDPI and ACS Style
Zidar, J.; Weber, E.M.; Ewaldsson, B.; Tjäder, S.; Lilja, J.; Mount, J.; Svensson, C.I.; Svensk, E.; Udén, E.; Törnqvist, E. Group and Single Housing of Male Mice: Collected Experiences from Research Facilities in Sweden. Animals 2019, 9, 1010.
Show more citation formats
Show less citations formats
Note that from the first issue of 2016, MDPI journals use article numbers instead of page numbers. See further details
here
.