Pasture Access Affects Behavioral Indicators of Wellbeing in Dairy Cows
1
Institute for Global Food Security, School of Biological Sciences, Queen's University Belfast, 1-33 Chlorine Gardens, Belfast BT9 5AJ, UK
2
Research Centre in Brain and Behaviour, School of Natural Sciences and Psychology, Liverpool John Moores University, James Parsons Building, Byrom Street, Liverpool L3 3AF, UK
3
Agri-Food and Biosciences Institute, Large Park, Hillsborough BT26 6DR, UK
*
Author to whom correspondence should be addressed.
Received: 30 September 2019 / Revised: 24 October 2019 / Accepted: 28 October 2019 / Published: 1 November 2019
Simple Summary
Dairy cows in Europe and the United States are increasingly housed indoors year-round. Even cows with pasture access are usually kept inside during the winter and around calving. However, animal welfare scientists and dairy consumers are concerned that full-time housing impacts cattle welfare. We investigated how pasture influences behavioral indicators of wellbeing. Using cow pedometers, we recorded 29 animals' lying and walking activity during 18 days of pasture access and 18 days of indoor housing. Cattle at pasture had fewer lying bouts but longer lying times, indicating they were more comfortable and less restless. Lying behavior was also more synchronous outdoors, with most of the herd lying at the same time. These results indicate pasture provides a comfortable surface and reduces competition for lying space. Furthermore, cows at pasture walked farther, with potential benefits for their physical health and psychological wellbeing. Our findings contribute to the growing body of evidence that pasture access improves dairy cow welfare. As a society, we must decide whether full-time housing is a price worth paying for dairy products.
Dairy cows are increasingly housed indoors, either year-round or for long stretches over the winter and around parturition. This may create health and welfare issues. In cattle, lying and walking are highly motivated, and herds synchronize lying behavior when they have comfortable surfaces and little competition for space. Lying and walking activity can, therefore, indicate good welfare. Using a repeated measures crossover design, we gave 29 Holstein–Friesian dairy cows 18 days of overnight pasture access (PAS treatment) and 18 days of indoor housing (PEN treatment). Accelerometers recorded their lying and locomotory behavior. We measured behavioral synchrony with Fleiss' Kappa and analyzed the accelerometry data using linear mixed models. Compared to the PEN treatment, the PAS treatment had longer overnight lying durations (
χ
2
1
= 27.51,
p
< 0.001), fewer lying bouts (
χ
2
1
= 22.53,
p
< 0.001), longer lying bouts (
χ
2
1
= 25.53,
p
< 0.001), and fewer transitions up or down (
χ
2
1
= 16.83,
p
< 0.001). Herd lying behavior was also more synchronous at pasture (
χ
2
1
= 230.25,
p
< 0.001). In addition, nightly step counts were higher in the PAS treatment than the PEN treatment (
χ
2
1
= 2946.31,
p
< 0.001). These results suggest pasture access improves dairy cow welfare by increasing comfort, reducing competition and boredom, and facilitating motivated behavior.
View Full-Text
►

▼

Show Figures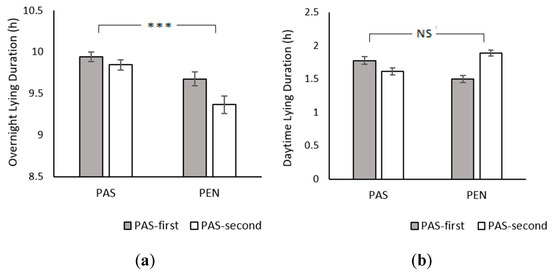 Figure 1
This is an open access article distributed under the
Creative Commons Attribution License
which permits unrestricted use, distribution, and reproduction in any medium, provided the original work is properly cited

Note that from the first issue of 2016, MDPI journals use article numbers instead of page numbers. See further details
here
.