Essential Oil Blend Could Decrease Diarrhea Prevalence by Improving Antioxidative Capability for Weaned Pigs
State Key Laboratory of Animal Nutrition, College of Animal Science and Technology, China Agricultural University, Beijing 100193, China
*
Author to whom correspondence should be addressed.
Received: 29 August 2019 / Revised: 13 October 2019 / Accepted: 14 October 2019 / Published: 21 October 2019
Simple Summary
Antibiotics have been applied as growth promoters in swine production for many years. Due to increased concern about drug resistance, there is an urgent need to find alternatives to antibiotics for animal production. Present research indicates that essential oils have a beneficial influence on animal nutrition and production due to the antimicrobial and antioxidant properties. Dietary essential oil supplementation could be an alternative to antibiotics for improving swine production and decreasing diarrhea prevalence during the weaning period.
Finding an alternative to in-feed antibiotics is important because of increasing contemporary concern regarding drug residues and the development of drug-resistant bacteria. The purpose of this study was to test the hypothesis that essential oils added to the feed would decrease diarrhea prevalence in post-weaned pigs. Ninety weaned piglets (initial body weight (BW): 8.1 ± 1.4 kg) were randomly assigned to one of three dietary diets: (1) a control diet (CON, the basal diet without antibiotics), (2) an antibiotic diet (AB, CON supplemented with colistin sulfate, 20 mg/kg and bacitracin zinc, 40 mg/kg), or (3) an essential oil diet (EO, CON supplemented with an essential oil blend 100 mg/kg) in a completely randomized block design for a 28-day period. The results revealed that AB and EO improved the average daily gain of the piglets from day (d) 15 to 28 (
p
< 0.05). The diarrhea prevalence in piglets fed AB and EO was lower than that of piglets fed CON (
p
< 0.05). There was no significant difference in the growth performance or diarrhea prevalence between the AB and EO treatments. Nutrient digestibility was measured at d 28. Compared with CON, EO increased the apparent total tract digestibility of gross energy and crude protein (
p
< 0.05). Villus height in the duodenum and the ratio of villus height to crypt depth in the jejunum for piglets fed AB and EO was greater than those for piglets fed CON (
p
< 0.05). The essential oil blend improved the superoxide dismutase (SOD) and catalase (CAT) activities and total antioxidant capacity (T-AOC), but decreased the 8-hydroxy deoxyguanosine content in serum on d 14 (
p
< 0.05). Decreased malondialdehyde (MDA) and protein carbonyl content were observed on d 28 in comparison with CON (
p
< 0.05). The mucosa in the jejunum of pigs fed EO had greater T-AOC, SOD levels, and glutathione peroxidase (GSH-Px) activities than that of pigs fed CON (
p
< 0.05). Pigs fed EO and AB had greater GSH-Px activity in the liver tissue than pigs fed CON (
p
< 0.05). Not only did jejunal and ileal mucosa have EO upregulated SOD1 mRNA expression (
p
< 0.05), this was also the case in liver tissue. GPx1 expression in the ileal mucosa and GPx4 expression in the liver tissue were higher for pigs fed EO when compared to those fed CON (
p
< 0.05). Collectively, a dietary essential oil blend supplementation, which has natural antimicrobial properties, could enhance growth performance and decrease diarrhea prevalence in weaned pigs through increases in antioxidative capacity.
View Full-Text
►

▼

Show Figures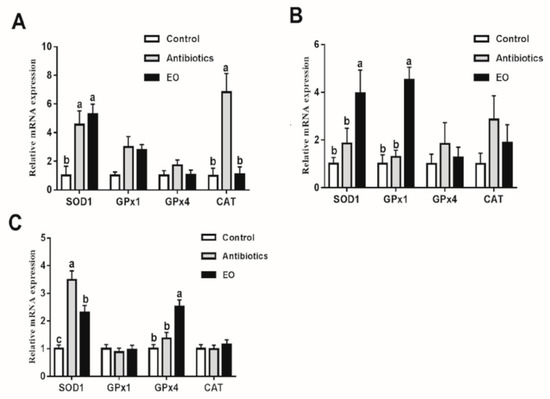 Figure 1
This is an open access article distributed under the
Creative Commons Attribution License
which permits unrestricted use, distribution, and reproduction in any medium, provided the original work is properly cited

Note that from the first issue of 2016, MDPI journals use article numbers instead of page numbers. See further details
here
.