A Review of the Effects of Non-Straw Enrichment on Tail Biting in Pigs
Agriculture Branch, Sustainable Agri-Food Sciences Division, Agri-Food and Biosciences Institute, Hillsborough BT26 6DR, UK
*
Author to whom correspondence should be addressed.
Received: 29 July 2019 / Revised: 28 September 2019 / Accepted: 8 October 2019 / Published: 18 October 2019
Simple Summary
Tail biting, a damaging behaviour that one pig directs at another, causes pain, wounding and health problems. It reduces both pig welfare and market value. Enrichment can reduce tail biting substantially. Many pig producers are reluctant to use straw as enrichment, but many non-straw alternatives exist. We aimed to evaluate their ability to reduce tail biting based on studies on the effects of enrichment on tail damage and manipulation of other pigs, and on the duration of interaction with enrichment. Additionally, we reviewed how pigs interact with different enrichments (e.g., by rooting or chewing it). This was done to clarify which type of enrichment could satisfy which behavioural motivation (that may lead to tail biting if not satisfied). However, very little information on separate enrichment-directed behaviours was uncovered. Several effective types of non-straw enrichment were identified, but these correspond poorly with the types of enrichment commonly applied on commercial farms. More detailed observations of how pigs interact with different enrichments, other pigs, and their environment would improve our understanding of how to combine enrichments to minimize tail biting. This is essential because although single non-straw enrichments can reduce tail biting significantly, the remaining levels of damage can still be high.
Tail biting remains a common problem in pig production. As producers are reluctant to use straw to reduce this behaviour, we review studies on the effectiveness of other types of enrichment. Roughage, hessian sacks, compost, fresh wood, space dividers, rope, and providing new objects regularly can significantly reduce tail damage. These results should be interpreted with some caution, as often only one study per enrichment could be identified. No evidence was found that commonly applied enrichment objects (processed wood, plastic or metal) reduce tail biting significantly unless exchanged regularly, even though multiple studies per type of enrichment were identified. Many studies evaluated the duration of enrichment use, but few evaluated the manner of use. This hampers identification of combinations of enrichment that will satisfy the pig's motivation to eat/smell, bite, root and change enrichments, which is suggested to reduce tail biting. New objects designed to satisfy specific motivations were shown to receive high levels of interaction, but their effectiveness at reducing tail damage remains unknown. More in-depth study of how pigs interact with non-straw enrichment, which motivations this satisfies and how this affects behaviour towards conspecifics, is necessary to optimize enrichment strategies. Optimization is necessary because ceasing tail docking in a way that improves pig welfare requires more effective enrichments than those described in this review, or alternatively, better control over other factors influencing tail biting.
View Full-Text
►

▼

Show Figures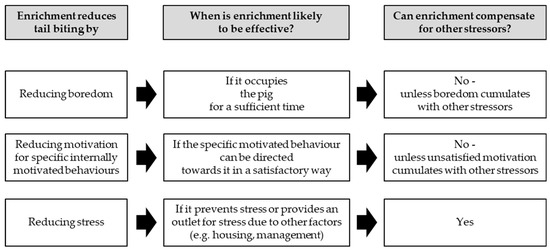 Figure 1
This is an open access article distributed under the
Creative Commons Attribution License
which permits unrestricted use, distribution, and reproduction in any medium, provided the original work is properly cited

Note that from the first issue of 2016, MDPI journals use article numbers instead of page numbers. See further details
here
.