Integrating 16S rRNA Sequencing and LC–MS-Based Metabolomics to Evaluate the Effects of Live Yeast on Rumen Function in Beef Cattle
College of Agriculture, Communities, and the Environment, Kentucky State University, Frankfort, KY 40601, USA
*
Author to whom correspondence should be addressed.
Received: 30 November 2018 / Revised: 28 December 2018 / Accepted: 12 January 2019 / Published: 19 January 2019
Simple Summary
Live yeast products are used in ruminant nutrition to improve feed efficiency and performance. The effects of yeast on animal performance are mediated via alteration in the rumen microbial population and fermentation; however, the types of metabolites produced from feeding yeast additives have not been described. This study integrated 16S rRNA sequencing and LC–MS-based metabolomics to evaluate rumen bacterial diversity and metabolome of beef steers fed no or 15 g/d of live yeast product. Our findings confirm that live yeast supports the growth of fiber digesters, optimizes the utilization of oxygen and lactic acid, and inhibits the growth of pathogenic Salmonella in the rumen. In addition, some bacteria with unknown functions in relation to the effects of live yeast showed positive correlations with metabolites involved in the metabolism of amino acid and energy substrates. This study enhances our understanding of the effects of live yeast in the rumen.
We evaluated the effects of live yeast on ruminal bacterial diversity and metabolome of beef steer. Eight rumen-cannulated Holstein steers were assigned randomly to one of two treatment sequences in a study with two 25-d experimental periods and a crossover design. The steers were housed in individual pens. The dietary treatments were control (CON) or yeast (YEA; CON plus 15 g/d of live yeast product). Bacterial diversity was examined by sequencing the V3-V4 region of 16S rRNA gene. The metabolome analysis was performed using a liquid chromatograph and a mass spectrometry system (LC–MS). Live yeast supplementation increased the relative abundance of eight cellulolytic bacterial genera as well as
Anaerovorax
and
Lachnospiraceae
.
Proteiniclasticum
,
Salmonella
, and
Lactococcus
were not detected in the YEA treatment. Live yeast supplementation increased the concentrations of 4-cyclohexanedione and glucopyranoside and decreased the concentrations of threonic acid, xanthosine, deoxycholic acid, lauroylcarnitine, methoxybenzoic acid, and pentadecylbenzoic acid. The
bacteroidales
BS11,
Christensenellaceae
R-7, and
Candidatus saccharimonas
showed positive correlations with the metabolites involved in amino acid biosynthesis and the metabolism of energy substrates; the functions of these bacteria are not fully understood in relation to the mode of action of yeast. This study confirms the usefulness of LC–MS-based metabolomics in deciphering the mode of action of live yeast in the rumen.
View Full-Text
►

▼

Show Figures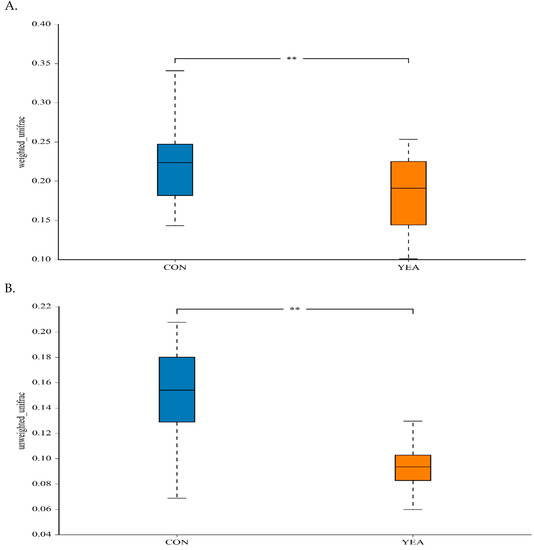 Figure 1
This is an open access article distributed under the
Creative Commons Attribution License
which permits unrestricted use, distribution, and reproduction in any medium, provided the original work is properly cited

MDPI and ACS Style
Ogunade, I.; Schweickart, H.; McCoun, M.; Cannon, K.; McManus, C. Integrating 16S rRNA Sequencing and LC–MS-Based Metabolomics to Evaluate the Effects of Live Yeast on Rumen Function in Beef Cattle. Animals 2019, 9, 28.
Show more citation formats
Show less citations formats
Note that from the first issue of 2016, MDPI journals use article numbers instead of page numbers. See further details
here
.