Use of Encapsulation Technology to Improve the Efficiency of an Iron Oral Supplement to Prevent Anemia in Suckling Pigs
Faculty of Veterinary Sciences, University of Chile, Santiago 8820808, Chile
*
Author to whom correspondence should be addressed.
Received: 22 November 2018 / Revised: 14 December 2018 / Accepted: 17 December 2018 / Published: 20 December 2018
Simple Summary
In animal nutrition, encapsulation technologies have been poorly explored, even though they may improve oral iron supplementation in suckling pigs. We hypothesized that the encapsulation of an oral supplement could enhance iron bioavailability for suckling pigs. We compared the levels of biomarkers for iron nutritional status among three groups of animals: piglets receiving oral encapsulated supplements, individuals receiving oral non-encapsulated supplements (as control group), and animals who were supplemented by parenteral route (strategy currently used in pig production systems). All treatments prevented anemia at weaning; however, only oral treatments prevented the first stage of anemia, which is iron depletion. In conclusion, piglets supplemented with encapsulated iron showed a higher concentration of serum ferritin and, therefore, had better iron reserves.
Abstract
The objective of this study was to develop an encapsulated iron supplement for oral ingestion and to determine its effect on the iron nutrition status of suckling pigs. Encapsulated and non-encapsulated iron supplement was prepared. Seventy-two neonatal piglets were assigned to three experimental groups: (1) parenteral group (gold standard treatment), which received one dose of parenteral iron (200 mg), 2 days of age, (2) "non-encapsulated" group (as a control group), which received 4 oral doses of unencapsulated iron supplement at 2, 7, 12 and 17 days of age, and (3) "encapsulated" group, which received 4 oral doses of encapsulated iron supplement on the same days. The encapsulated and unencapsulated iron supplements contained 65.2 and 65.0 mg/iron/dose, respectively. Parenteral treatment was not sufficient to ensure an adequate iron nutritional state in piglets at the end of the lactation period, showing iron depletion (serum ferritin: 8.4 µg/L). In contrast, oral supplementation prevented the development of iron depletion. Higher serum ferritin values were observed in the encapsulated (19.9 µg/L) compared to the unencapsulated group (17.4 µg/L) (
p
= 0.020). In conclusion, the use of four oral doses of an encapsulated iron supplement prevents iron deficiency anemia and its previous stages in suckling pigs.
View Full-Text
►

▼

Figures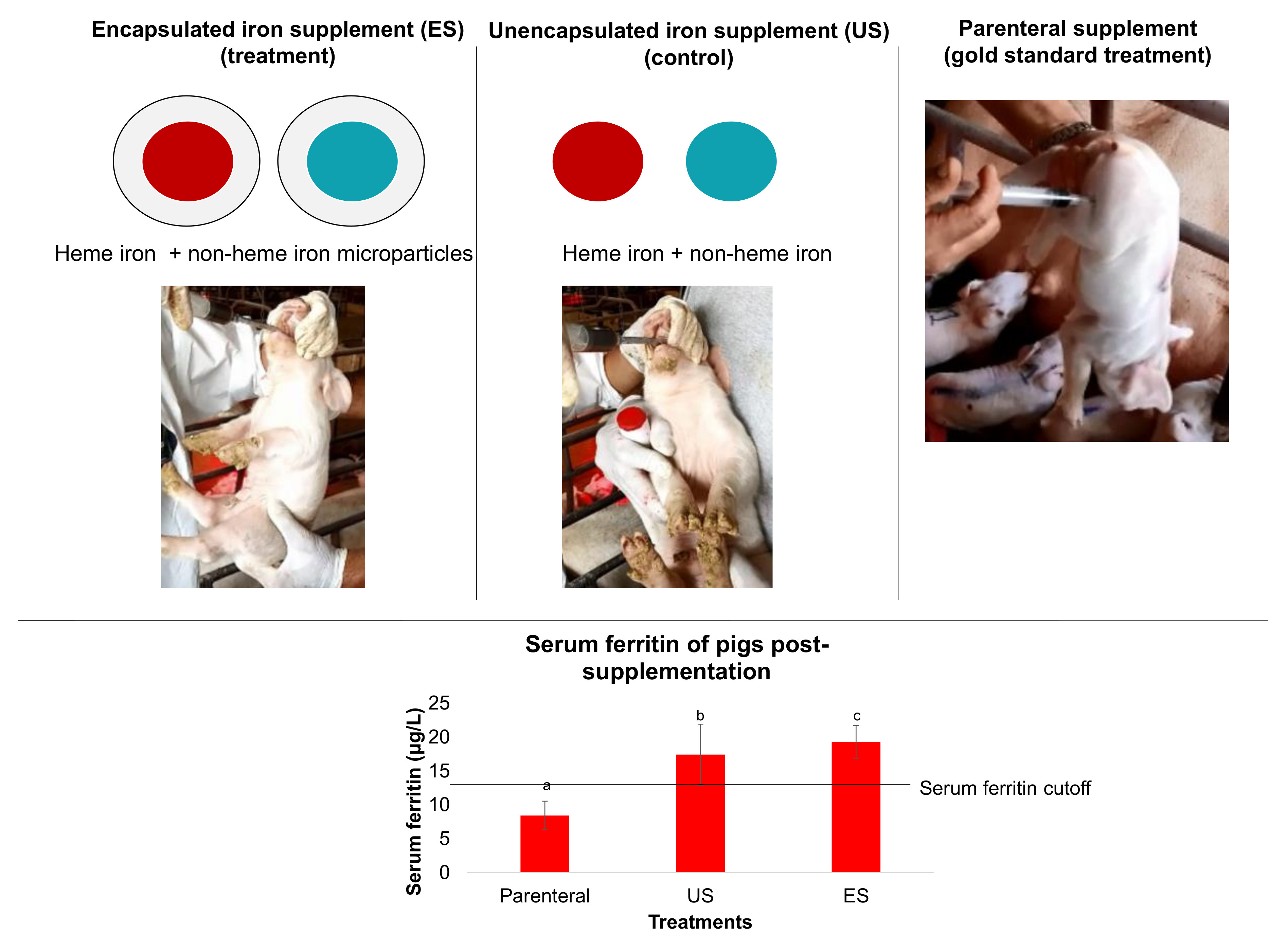 Graphical abstract
This is an open access article distributed under the
Creative Commons Attribution License
which permits unrestricted use, distribution, and reproduction in any medium, provided the original work is properly cited (CC BY 4.0).

Share & Cite This Article
MDPI and ACS Style
Churio, O.; Durán, E.; Guzmán-Pino, S.A.; Valenzuela, C. Use of Encapsulation Technology to Improve the Efficiency of an Iron Oral Supplement to Prevent Anemia in Suckling Pigs. Animals 2019, 9, 1.
Note that from the first issue of 2016, MDPI journals use article numbers instead of page numbers. See further details here.
Related Articles
Comments
[Return to top]