A Novel Protocol to Assess Acclimation Rate in
Bos taurus

Heifers during Yard Weaning

1

CSIRO Agriculture and Food, FD McMaster Laboratory Chiswick, Armidale, NSW 2350, Australia

2

School of Environmental and Rural Science, University of New England, Armidale, NSW 2350, Australia

*

Author to whom correspondence should be addressed.

Received: 1 March 2018 / Revised: 30 March 2018 / Accepted: 31 March 2018 / Published: 3 April 2018
Simple Summary
Acclimation protocols for cattle are expected to have benefits for animal handling and production, but the rate at which cattle acclimate has not yet been studied. The current study describes a novel method for assessing the acclimation rate of cattle at a group level during yard weaning. A standardised measure of acclimation rate in cattle will allow further research to be undertaken to identify management practices and selection tools which enhance the capacity of cattle to acclimate to new environments
Abstract
The speed with which animals acclimate to a new environment could be an important measure of ability to cope with management induced stress. This study developed a measure of acclimation rate in a group of 50
Bos taurus
heifers during yard weaning over nine days. We recorded the time and order in which heifers moved through a novel funnel structure into a feeding yard daily. We hypothesised that addition of an obstacle at the entrance would increase the time it took heifers to move through the funnel, but that they would acclimate to the obstacle over a three-day period. The change in latency to move through could then be used as a measure of acclimation rate. We hypothesised that individuals which acclimated to obstacles at a faster rate might display favourable temperament as assessed by flight time. All heifers took longer to move through the funnel after a novel object was introduced, then latency decreased over the following two days while the object was present. This indicates the protocol could be useful for measuring acclimation rate at a group level. Individual acclimation rate variables, measured as change in times and orders of heifers between test days, did not appear to have any consistent relationships with flight time or weight change during or post-weaning (
p
> 0.05). We concluded that the protocol was inappropriate for assessing acclimation rate at an individual level, due to social effects while testing heifers as a group. Heifers which were consistently one of the first 20 to move through the funnel had a significantly greater average weight 5 and 10 months post-weaning (345 ± 9 kg and 518 ± 10 kg respectively) than heifers which were consistently one of the last 20 through the funnel (311 ± 8 kg and 484 ± 8 kg respectively;
p
< 0.001). This may indicate order of movement through the funnel was related to feeding motivation or another aspect of temperament not reflected by flight time.
View Full-Text
►

▼

Figures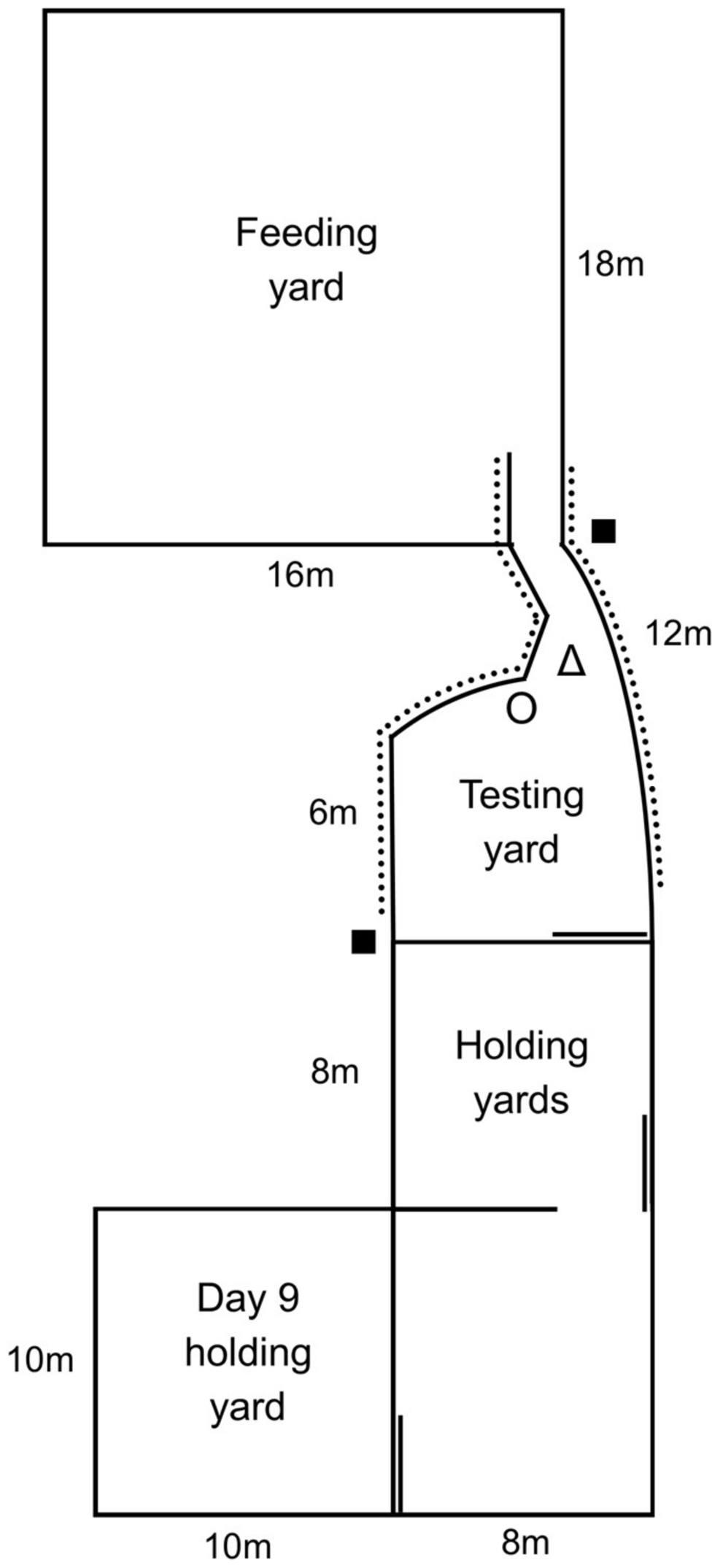 Figure 1
This is an open access article distributed under the
Creative Commons Attribution License
which permits unrestricted use, distribution, and reproduction in any medium, provided the original work is properly cited (CC BY 4.0).

Share & Cite This Article
MDPI and ACS Style
Monk, J.E.; Hine, B.C.; Colditz, I.G.; Lee, C. A Novel Protocol to Assess Acclimation Rate in Bos taurus Heifers during Yard Weaning. Animals 2018, 8, 51.
Note that from the first issue of 2016, MDPI journals use article numbers instead of page numbers. See further details here.
Related Articles
Comments
[Return to top]