The Status of Pet Rabbit Breeding and Online Sales in the UK: A Glimpse into an Otherwise Elusive Industry
1
Politics and Society, Faculty of Humanities and Social Sciences, University of Winchester, Sparkford Road, Winchester SO22 4NR, Hampshire, UK
2
School of Veterinary Medicine and Science, The University of Nottingham, Nottingham LE12 5RD, Leicestershire, UK
*
Author to whom correspondence should be addressed.
Received: 16 October 2018 / Revised: 30 October 2018 / Accepted: 3 November 2018 / Published: 6 November 2018
Simple Summary
Very little is known about where our pet rabbits come from: Who the breeders are, how good/or bad the conditions are that breeding rabbits are kept in, or whether breeders are being monitored by local authorities. This study aimed to bring to light information on breeding rabbits and breeders in the UK. Several methods of data collection were used combining data from online sales adverts, with a breeder survey and a council freedom of information request. From 3446 online rabbit sale adverts we found 94.5% of adverts were from England and only 1% of breeders were licenced. Out of 33 breeders surveyed, 51.5% provided smaller housing than recommended and housed most rabbits singly, against recommendations, and males were most likely to be housed singly, in too small conditions. However, most provided toys and a diet compliant with recommended guidelines. The most commonly sold/bred rabbits were breeds with flat-faces, which can cause significant health and well-being problems. A freedom of information request sent to 10% of UK councils revealed inconsistency in licensing conditions and confusion about eligibility. Without appropriate guidelines for housing and husbandry and regulation, rabbits within the pet rabbit breeding industry are at risk of compromised welfare.
Abstract
Conditions of pet rabbit breeding colonies and breeder practices are undocumented and very little is known about the pet rabbit sales market. Here, multiple methods were employed to investigate this sector of the UK pet industry. A freedom of information request sent to 10% of councils revealed confusion and inconsistency in licensing conditions. Data from 1-month of online sale adverts (3446) identified 646 self-declared breeders, of which 1.08% were licensed. Further, despite veterinary advice to vaccinate rabbits from five weeks, only 16.7% rabbits were vaccinated and 9.2% of adult rabbits were neutered. Thirty-three breeders completed a questionnaire of which 51.5% provided smaller housing than recommended, the majority housed rabbits singly and bucks were identified as most at risk of compromised welfare. However, most breeders provided enrichment and gave a diet compliant with recommended guidelines. Mini-lops and Netherland dwarfs were the most commonly sold breeds, both of which are brachycephalic, which can compromise their health and wellbeing. From sales data extrapolation, we estimate that 254,804 rabbits are purposefully bred for the UK online pet sales market each year. This data is the first of its kind and highlights welfare concerns within the pet rabbit breeding sector, which is unregulated and difficult to access.
View Full-Text
►

▼

Figures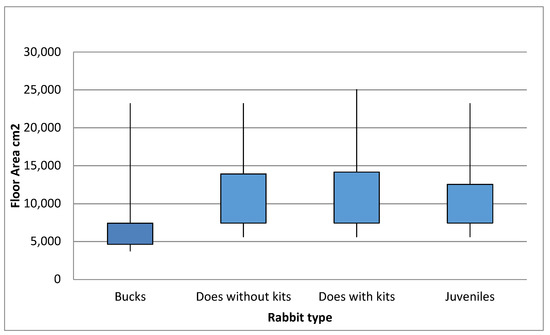 Figure 1
This is an open access article distributed under the
Creative Commons Attribution License
which permits unrestricted use, distribution, and reproduction in any medium, provided the original work is properly cited (CC BY 4.0).

Share & Cite This Article
MDPI and ACS Style
Gosling, E.M.; Vázquez-Diosdado, J.A.; Harvey, N.D. The Status of Pet Rabbit Breeding and Online Sales in the UK: A Glimpse into an Otherwise Elusive Industry. Animals 2018, 8, 199.
Note that from the first issue of 2016, MDPI journals use article numbers instead of page numbers. See further details here.
Related Articles
Comments
[Return to top]