RandAgiamo™, a Pilot Project Increasing Adoptability of Shelter Dogs in the Umbria Region (Italy)
1
Department of Veterinary Medicine, Perugia University, Via San Costanzo 4, 06126 Perugia, Italy
2
Public Veterinary Services for Urban Hygiene and Prevention of Stray Dogs, USL Umbria 1, Municipal Rescue Dog Shelter, Strada per Brufa snc, 06148 Collestrada (Perugia), Italy
3
Veterinary Consultant, 06100 Perugia, Italy
4
Laboratory of Ethology and Animal Welfare (LEBA), Department of Veterinary Medicine, Perugia University, Via San Costanzo 4, 06126 Perugia, Italy
*
Author to whom correspondence should be addressed.
Academic Editor: Pauleen Bennett
Received: 22 April 2015 / Accepted: 4 August 2015 / Published: 14 August 2015
Simple Summary
In Italy, dog shelters are overcrowded because the rate of dog adoption is lower than that of abandonment. A project called "RandAgiamo" was implemented in a rescue shelter in central Italy. RandAgiamo provides training, socialization and advertising of adult shelter dogs. Official data of the Umbria regional health authorities from the year 2014 showed a higher rate of adoption in shelters involved in the project. RandAgiamo dogs had triple odds of being adopted compared to others housed in shelters of the same province. The increase in adoption rate can be beneficial for both dog welfare and shelter management.
Current Italian legislation does not permit euthanasia of dogs, unless they are ill or dangerous. Despite good intentions and ethical benefits, this 'no-kill policy' has caused a progressive overpopulation of dogs in shelters, due to abandonment rates being higher than adoption rates. Shelter overcrowding has negative implications for dog welfare and increases public costs. The aim of this paper is to describe the pilot project "
RandAgiamo
" implemented in a rescue shelter in the Umbria Region and to evaluate its effectiveness on the rate of dog adoption using official data. RandAgiamo aimed to increase adult shelter dogs' adoptability by a standard training and socialization programme. It also promoted dogs' visibility by publicizing them through social media and participation in events. We analysed the official data of the Umbria regional health authorities regarding dog shelters of the Perugia province of the year 2014. In the RandAgiamo shelter, the dog adoption rate was 27.5% higher than that of dogs housed in other shelters located in the same geographical area (P < 0.001). The RandAgiamo project could be beneficial for the dogs' welfare, owner satisfaction, shelter management, and public perception of shelter dogs. However, staff were required to provide dog training and related activities.
View Full-Text
►

▼

Show Figures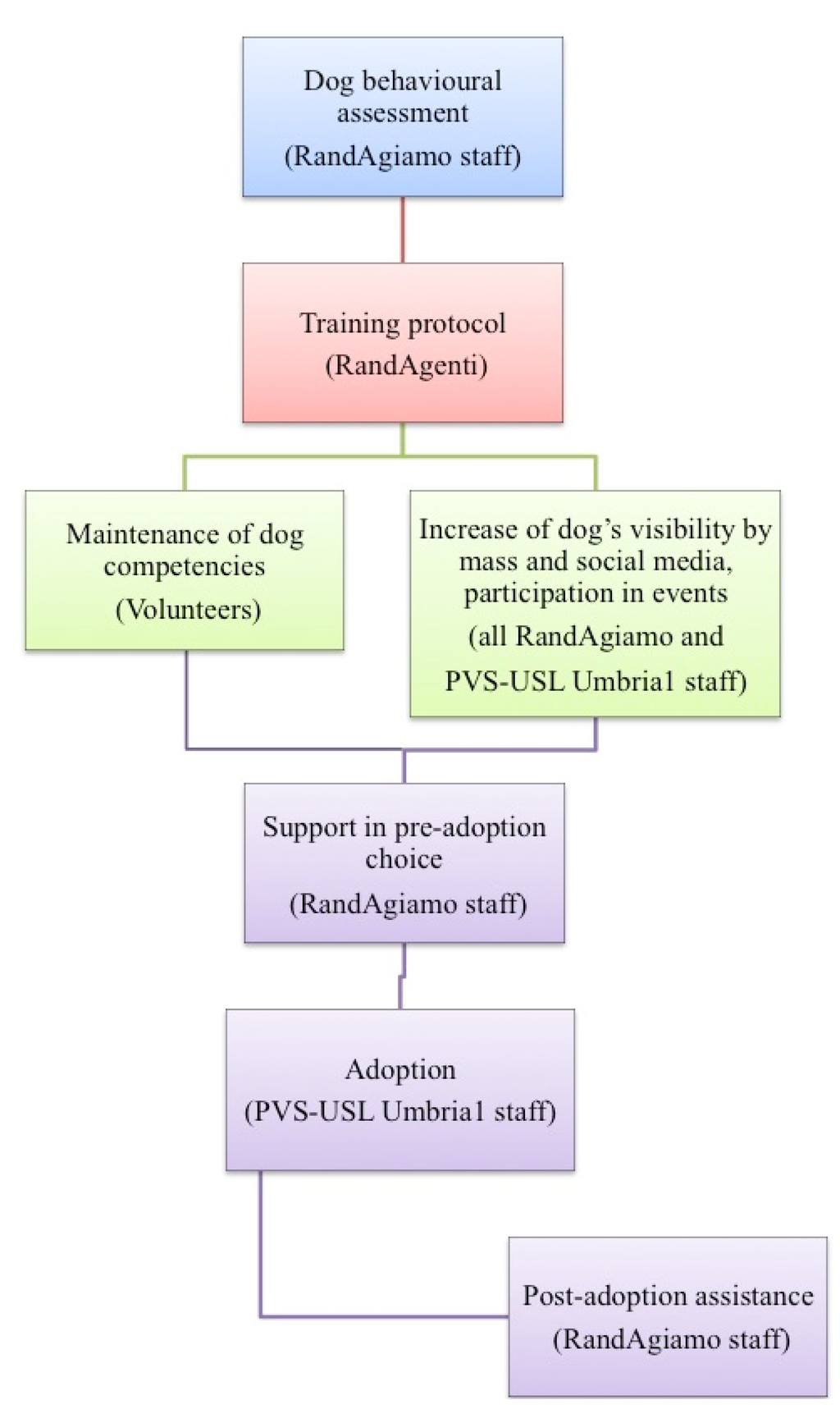 Figure 1
This is an open access article distributed under the
Creative Commons Attribution License
which permits unrestricted use, distribution, and reproduction in any medium, provided the original work is properly cited

MDPI and ACS Style
Menchetti, L.; Mancini, S.; Catalani, M.C.; Boccini, B.; Diverio, S. RandAgiamo™, a Pilot Project Increasing Adoptability of Shelter Dogs in the Umbria Region (Italy). Animals 2015, 5, 774-792. https://doi.org/10.3390/ani5030383
AMA Style
Menchetti L, Mancini S, Catalani MC, Boccini B, Diverio S. RandAgiamo™, a Pilot Project Increasing Adoptability of Shelter Dogs in the Umbria Region (Italy). Animals. 2015; 5(3):774-792. https://doi.org/10.3390/ani5030383
Chicago/Turabian Style
Menchetti, Laura, Stefania Mancini, Maria C. Catalani, Beatrice Boccini, and Silvana Diverio. 2015. "RandAgiamo™, a Pilot Project Increasing Adoptability of Shelter Dogs in the Umbria Region (Italy)" Animals 5, no. 3: 774-792. https://doi.org/10.3390/ani5030383