The Effects of Fiber Inclusion on Pet Food Sensory Characteristics and Palatability
1
Sensory Analysis Center, Department of Human Nutrition, Kansas State University, 1310 Research Park Drive, Manhattan, KS 66502, USA
2
Department of Veterinary Clinic and Surgery, College of Agricultural and Veterinarian Sciences, São Paulo State University (UNESP), Via de Acesso Prof. Paulo Donato Castellane, s/n, Jaboticabal, SP 14.884-900, Brazil
3
Department of Grain Science and Industry, Kansas State University, Manhattan, KS 66506, USA
*
Author to whom correspondence should be addressed.
Academic Editor: Marina von Keyserling
Received: 1 December 2014 / Revised: 29 January 2015 / Accepted: 5 February 2015 / Published: 16 February 2015
Simple Summary
The results from this research indicate that fibers have an effect on extruded pet food texture and palatability. These results may help pet food companies select ingredients for successful product formulations.
The objectives of this study were to determine (a) the influence of fiber on the sensory characteristics of dry dog foods; (b) differences of coated and uncoated kibbles for aroma and flavor characteristics; (c) palatability of these dry dog foods; and (d) potential associations between palatability and sensory attributes. A total of eight fiber treatments were manufactured: a control (no fiber addition), guava fiber (3%, 6%, and 12%), sugar cane fiber (9%; large and small particle size), and wheat bran fiber (32%; large and small particle size). The results indicated significant effects of fibers on both flavor and texture properties of the samples. Bitter taste and iron and stale aftertaste were examples of flavor attributes that differed with treatment, with highest intensity observed for 12% guava fiber and small particle size sugar cane fiber treatments. Fracturability and initial crispness attributes were lowest for the sugar cane fiber treatments. Flavor of all treatments changed after coating with a palatant, increasing in toasted, brothy, and grainy attributes. The coating also had a masking effect on aroma attributes such as stale, flavor attributes such as iron and bitter taste, and appearance attributes such as porosity. Palatability testing results indicated that the control treatment was preferred over the sugar cane or the wheat bran treatment. The treatment with large sugarcane fiber particles was preferred over the treatment with small particles, while both of the wheat bran treatments were eaten at a similar level. Descriptive sensory analysis data, especially textural attributes, were useful in pinpointing the underlying characteristics and were considered to be reasons that may influence palatability of dog foods manufactured with inclusion of different fibers.
View Full-Text
►

▼

Show Figures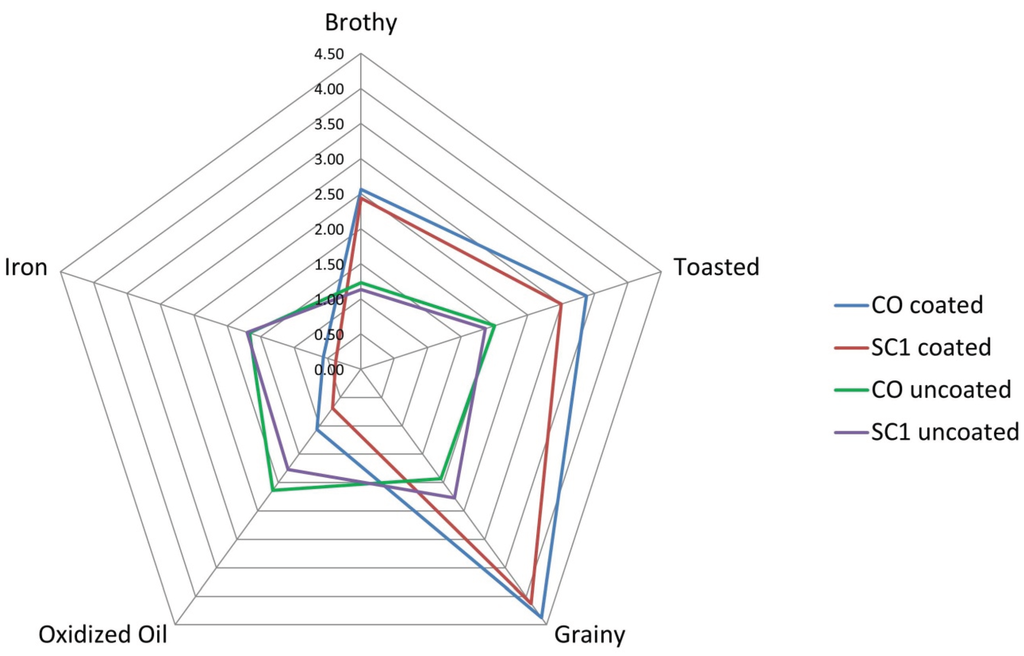 Figure 1
This is an open access article distributed under the
Creative Commons Attribution License
which permits unrestricted use, distribution, and reproduction in any medium, provided the original work is properly cited