Social Disruption Impairs Predatory Threat Assessment in African Elephants
1
School of Natural Sciences, Bangor University, Bangor LL57 2UW, UK
2
School of Ocean Sciences, Bangor University, Bangor LL59 5AB, UK
3
School of Life Sciences, University of Kwazulu-Natal, Pietermaritzburg 3209, South Africa
4
Amboseli Trust for Elephants, Nairobi 00509, Kenya
5
Mammal Communication and Cognition Research Group, School of Psychology, University of Sussex, Brighton BN1 9QH, UK
*
Authors to whom correspondence should be addressed.
Academic Editors: Angela S. Stoeger and Anton Baotic
Received: 13 October 2021
/
Revised: 9 February 2022
/
Accepted: 14 February 2022
/
Published: 17 February 2022
Simple Summary
The sharing of social and ecological information is vitally important for group-living animals, especially among cognitively advanced species (e.g., primates, cetaceans and elephants) that can acquire detailed knowledge over their long lifetimes. In our study, we compared the ability of elephants from two very different populations to assess the threat associated with different numbers of roaring lions. The population in Amboseli (Kenya) consists of stable family groups and experiences relatively low levels of human disturbance, while the population in Pilanesberg (South Africa) was founded in the early 1980's from young and often unrelated orphan elephants. We broadcast lion roars to families of elephants in both these populations and recorded how they responded to differing levels of threat (one versus three lions). The Amboseli population successfully increased their defensive bunching behaviour to the greater threat associated with three lions, whereas the Pilanesberg elephants appeared unable to make the same distinction. Our findings indicate that profound disruption experienced early in life and the lack of older adults to learn from has impaired the ability of the Pilanesberg elephants to make accurate assessments of predatory threat. We suggest that, in addition to population size, conservation practitioners need to consider the crucial role of social structure and knowledge transmission in these highly social and long-lived species.
The transmission of reliable information between individuals is crucial for group-living animals. This is particularly the case for cognitively advanced mammals with overlapping generations that acquire detailed social and ecological knowledge over long lifetimes. Here, we directly compare the ecological knowledge of elephants from two populations, with radically different developmental histories, to test whether profound social disruption affects their ability to assess predatory threat. Matriarchs (≤50 years of age) and their family groups received playbacks of three lions versus a single lion roaring. The family groups in the natural Amboseli population (Kenya) reliably assessed the greater predatory threat presented by three lions roaring versus one. However, in the socially disrupted Pilanesberg population (South Africa), no fine-scale distinctions were made between the numbers of roaring lions. Our results suggest that the removal of older and more experienced individuals in highly social species, such as elephants, is likely to impact the acquisition of ecological knowledge by younger group members, particularly through the lack of opportunity for social learning and cultural transmission of knowledge. This is likely to be exacerbated by the trauma experienced by juvenile elephants that witnessed the culling of family members and were translocated to new reserves. With increasing levels of anthropogenic disturbance, it is important that conservation practitioners consider the crucial role that population structure and knowledge transfer plays in the functioning and resilience of highly social and long-lived species.
View Full-Text
►

▼

Show Figures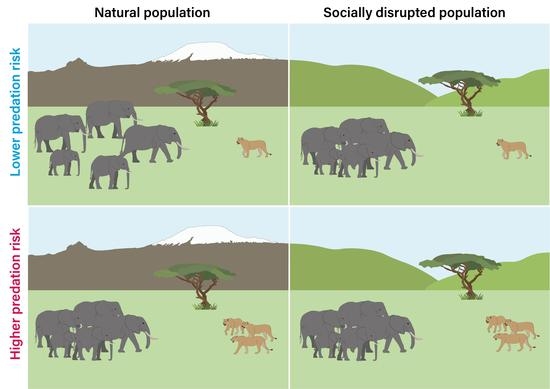 Graphical abstract
This is an open access article distributed under the
Creative Commons Attribution License
which permits unrestricted use, distribution, and reproduction in any medium, provided the original work is properly cited.

MDPI and ACS Style
Shannon, G.; Cordes, L.S.; Slotow, R.; Moss, C.; McComb, K. Social Disruption Impairs Predatory Threat Assessment in African Elephants. Animals 2022, 12, 495. https://doi.org/10.3390/ani12040495
AMA Style
Shannon G, Cordes LS, Slotow R, Moss C, McComb K. Social Disruption Impairs Predatory Threat Assessment in African Elephants. Animals. 2022; 12(4):495. https://doi.org/10.3390/ani12040495
Chicago/Turabian Style
Shannon, Graeme, Line S. Cordes, Rob Slotow, Cynthia Moss, and Karen McComb. 2022. "Social Disruption Impairs Predatory Threat Assessment in African Elephants" Animals 12, no. 4: 495. https://doi.org/10.3390/ani12040495
Note that from the first issue of 2016, MDPI journals use article numbers instead of page numbers. See further details
here
.