Heat Stress and Goat Welfare: Adaptation and Production Considerations
1
Centre for Climate Resilient Animal Adaptation Studies, ICAR-National Institute of Animal Nutrition and Physiology, Adugodi, Hosur Road, Bangalore 560030, India
2
Institute of Animal Breeding and Genetics, Justus-Liebig-Universität Gießen, 35390 Gießen, Germany
3
Academy of Climate Change Education and Research, Kerala Agricultural University, Vellanikkara 680656, India
4
School of Agriculture and Food, Faculty of Veterinary and Agricultural Sciences, The University of Melbourne, Parkville, VIC 3010, Australia
5
Innovation Group of Biometeorology and Animal Welfare, Animal Science Department, Universidade Federal da Paraíba, Areia 58397-000, Brazil
6
Brain Function Research Group, School of Physiology, Faculty of Health Sciences, University of the Witwatersrand, Parktown 2193, South Africa
7
School of Agriculture and Food Sciences, The University of Queensland, Gatton, QLD 4343, Australia
8
Faculty of Biological Sciences, The University of Leeds, Leeds LS2 9JT, UK
*
Author to whom correspondence should be addressed.
Academic Editor: Janeen L. Salak-Johnson
Received: 27 February 2021
/
Revised: 29 March 2021
/
Accepted: 2 April 2021
/
Published: 4 April 2021
Simple Summary
This review attempts to provide information on the various impacts of heat stress on the production and welfare variables of goats. Goats are predominantly distributed in tropical regions, and hence they are considered a species readily able to survive and produce in these demanding environments. However, the production of goats can be compromised to a degree to survive in harsh environments. Hence, having an in-depth understanding of the various impacts of heat stress on goat production and adaptation may yield important biomarkers to assess welfare in goats. Such efforts may help in the future to breed goats, which could survive and produce optimally under harsh conditions.
This review attempted to collate and synthesize information on goat welfare and production constraints during heat stress exposure. Among the farm animals, goats arguably are considered the best-suited animals to survive in tropical climates. Heat stress was found to negatively influence growth, milk and meat production and compromised the immune response, thereby significantly reducing goats' welfare under extensive conditions and transportation. Although considered extremely adapted to tropical climates, their production can be compromised to cope with heat stress. Therefore, information on goat adaptation and production performance during heat exposure could help assess their welfare. Such information would be valuable as the farming communities are often struggling in their efforts to assess animal welfare, especially in tropical regions. Broadly three aspects must be considered to ensure appropriate welfare in goats, and these include (i) housing and environment; (ii) breeding and genetics and (iii) handling and transport. Apart from these, there are a few other negative welfare factors in goat rearing, which differ across the production system being followed. Such negative practices are predominant in extensive systems and include nutritional stress, limited supply of good quality water, climatic extremes, parasitic infestation and lameness, culminating in low production, reproduction and high mortality rates. Broadly two types of methodologies are available to assess welfare in goats in these systems: (i) animal-based measures include behavioral measurements, health and production records and disease symptoms; (ii) resources based and management-based measures include stocking density, manpower, housing conditions and health plans. Goat welfare could be assessed based on several indicators covering behavioral, physical, physiological and productive responses. The important indicators of goat welfare include agonistic behavior, vocalization, skin temperature, body condition score (BCS), hair coat conditions, rectal temperature, respiration rate, heart rate, sweating, reduced growth, reduced milk production and reduced reproductive efficiency. There are also different approaches available by which the welfare of goats could be assessed, such as naturalistic, functional and subjective approaches. Thus, assessing welfare in goats at every production stage is a prerequisite for ensuring appropriate production in this all-important species to guarantee optimum returns to the marginal and subsistence farmers.
View Full-Text
►

▼

Show Figures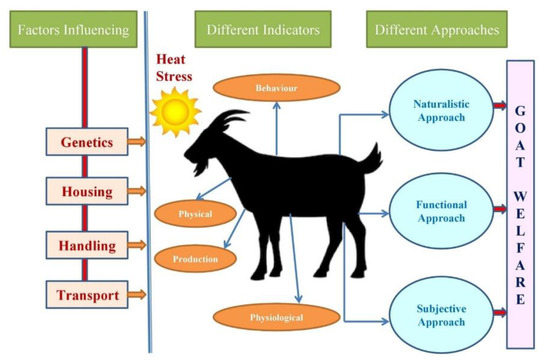 Figure 1
This is an open access article distributed under the
Creative Commons Attribution License
which permits unrestricted use, distribution, and reproduction in any medium, provided the original work is properly cited

MDPI and ACS Style
Sejian, V.; Silpa, M.V.; Reshma Nair, M.R.; Devaraj, C.; Krishnan, G.; Bagath, M.; Chauhan, S.S.; Suganthi, R.U.; Fonseca, V.F.C.; König, S.; Gaughan, J.B.; Dunshea, F.R.; Bhatta, R. Heat Stress and Goat Welfare: Adaptation and Production Considerations. Animals 2021, 11, 1021. https://doi.org/10.3390/ani11041021
AMA Style
Sejian V, Silpa MV, Reshma Nair MR, Devaraj C, Krishnan G, Bagath M, Chauhan SS, Suganthi RU, Fonseca VFC, König S, Gaughan JB, Dunshea FR, Bhatta R. Heat Stress and Goat Welfare: Adaptation and Production Considerations. Animals. 2021; 11(4):1021. https://doi.org/10.3390/ani11041021
Chicago/Turabian Style
Sejian, Veerasamy, Mullakkalparambil V. Silpa, Mini R. Reshma Nair, Chinnasamy Devaraj, Govindan Krishnan, Madiajagan Bagath, Surinder S. Chauhan, Rajendran U. Suganthi, Vinicius F.C. Fonseca, Sven König, John B. Gaughan, Frank R. Dunshea, and Raghavendra Bhatta. 2021. "Heat Stress and Goat Welfare: Adaptation and Production Considerations" Animals 11, no. 4: 1021. https://doi.org/10.3390/ani11041021
Note that from the first issue of 2016, MDPI journals use article numbers instead of page numbers. See further details
here
.