Effect of Lipopolysaccharide and Muramyl Dipeptide on Apoptosis of Bovine Mammary Gland Lymphocytes
1
Department of Animal Morphology, Physiology and Genetics, Faculty of AgriSciences, Mendel University in Brno, Zemedelska 1, 613 00 Brno, Czech Republic
2
Department of Animal Origin Food and Gastronomic Sciences, Faculty of Veterinary Hygiene and Ecology, University of Veterinary and Pharmaceutical Sciences Brno, Palackeho tr. 1, 612 42 Brno, Czech Republic
3
Department of Life Science and Bioinformatics, Assam University, Silchar 788 011, India
4
Department of Animal Nutrition and Forage Production, Faculty of AgriSciences, Mendel University in Brno, Zemedelska 1, 613 00 Brno, Czech Republic
5
NPPC-Research Institute for Animal Production, Hlohovecka 2, 951 41 Luzianky, Slovakia
6
Department of Veterinary Sciences, Faculty of Agrobiology and Food Resources, Slovak University of Agriculture in Nitra, Trieda A. Hlinku 2, 949 76 Nitra, Slovakia
7
Laboratory of Biochemistry, Faculty of Veterinary Medicine, Hokkaido University, Sapporo, Hokkaido 060-0818, Japan
8
Department of Animal Husbandry Sciences, Faculty of Agriculture, University of South Bohemia in Ceske Budejovice, Studentska 1668, 37005 Ceske Budejovice, Czech Republic
9
Hokkaido Research Station, National Institute of Animal Health, National Agriculture and Food Research Organization, 4 Hitsujigaoka, Toyohira, Sapporo, Hokkaido 062-0045, Japan
10
Department of Pharmacology, School of Medicine, Ajou University, Suwon 16499, Korea
11
Department of Immunology, Veterinary Research Institute, Hudcova 70, 621 00 Brno, Czech Republic
*
Author to whom correspondence should be addressed.
Received: 12 May 2020 / Revised: 20 May 2020 / Accepted: 3 June 2020 / Published: 5 June 2020
Simple Summary
Inflammation of the mammary gland in dairy cattle is a global problem and causes huge financial loss to dairy farmers. Inflammation is caused by many species of bacteria penetrating through the teat canals into the udder. Those bacteria are usually eliminated by treatment with intramammary injection of antibiotics, while they are also eliminated by the immune cells of the cow. One of the immune cells are lymphocytes which are responsible for specific immunity. When viable, they are able to carry out their normal functions. The present study focused on the investigation of cell death of lymphocytes during bovine mammary gland inflammation. We analyzed apoptosis in mammary gland lymphocytes under the stimulation of lipopolysaccharides and muramyl dipeptide as the endotoxin of Gram-negative bacteria and the natural content of the cell wall of Gram-positive bacteria. We found that they induce lymphocyte apoptosis in the early phase of inflammation, which can be associated with the expression of CD44 receptors on lymphocytes. This receptor is important in many physiological processes, including apoptosis of cells. For a better understanding of immune responses in mammary glands and for developing of immunotherapy without antibiotics, the process of inflammation, including cell death of immune cells necessitates further holistic studies.
The aim of this study was to evaluate whether apoptosis of lymphocytes is modulated by stimulation by lipopolysaccharide (LPS) of
Escherichia coli
or muramyl dipeptide (MDP). Cell populations were obtained by lavaging of the mammary glands 24, 48, 72, and 168 h following intramammary induced inflammation. The portion of apoptotic lymphocytes peaked at 48 h after treatment with LPS or MDP. The analysis of CD44 expression of the same cell populations showed a higher percentage of CD44-positive lymphocytes 24- and 48-h following induction of inflammation by LPS or MDP. The results demonstrate that during both experimental infection of bovine mammary glands with LPS or MDP, apoptosis of lymphocytes was induced in the initial phase of the inflammatory response and CD44 was also overexpressed at the beginning of inflammation. These data suggest a connection of lymphocyte apoptosis with the expression of CD44 receptors.
View Full-Text
►

▼

Show Figures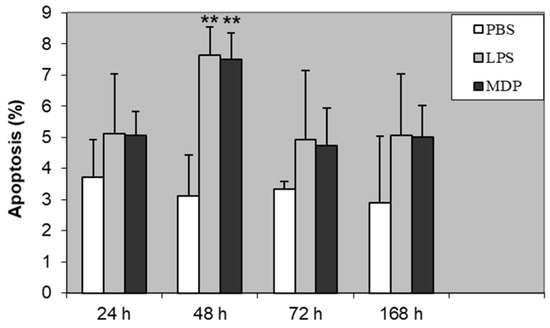 Figure 1
This is an open access article distributed under the
Creative Commons Attribution License
which permits unrestricted use, distribution, and reproduction in any medium, provided the original work is properly cited

MDPI and ACS Style
Slama, P.; Kabourkova, E.; Sladek, Z.; Zavadilova, T.; Kratochvilova, L.; Kharkevich, K.; Roychoudhury, S.; Pavlik, A.; Roztocilova, A.; Uhrincat, M.; Tancin, V.; Kimura, K.; Konecny, R.; Kiku, Y.; Watanabe, A.; Kwak, J.-Y.; Zouharova, M. Effect of Lipopolysaccharide and Muramyl Dipeptide on Apoptosis of Bovine Mammary Gland Lymphocytes. Animals 2020, 10, 990.
Show more citation formats
Show less citations formats
Note that from the first issue of 2016, MDPI journals use article numbers instead of page numbers. See further details
here
.