Omega-3 Alpha-Linolenic Fatty Acid Affects the Level of Telomere Binding Protein TRF1 in Porcine Skeletal Muscle
1
Department of Genomics and Biodiversity, Institute of Genetics and Animal Breeding of the Polish Academy of Sciences, 05-552 Jastrzębiec, Poland
2
Animal Breeding and Genomics, Wageningen UR Livestock Research, 6700AH Wageningen, The Netherlands
*
Author to whom correspondence should be addressed.
Received: 20 May 2020 / Revised: 20 June 2020 / Accepted: 22 June 2020 / Published: 24 June 2020
Simple Summary
Polyunsaturated omega-3 fatty acids are nutrients with well-described beneficial effects for human and animal health. However, their role in preventing premature aging and aging-related diseases is not fully understood. The main indicators of biological aging are telomeres. Here, we studied the impact of omega-3 fatty acid contained in linseed oil on telomere biology in porcine muscle. Pigs supplemented with omega-3 fatty acids had lower levels of the TRF1 shelterin protein, which is known to protect telomeric sequences. Additional experiments are needed to better understand the effects of omega-3 fatty acids on telomere biology in muscles, and the effects that may be ascribed to their antioxidant properties.
Omega-3 fatty acids are health-promoting nutrients that contribute to the amelioration of age-related diseases. Recent studies have reported the role of these fatty acids in the aging process, explicitly impacting telomere biology. The shelterin protein complex, located at the extremities of chromosomes, ensures telomere protection and length regulation. Here, we analyzed the impact of dietary omega-3 alpha-linolenic fatty acid from linseed oil on skeletal muscle telomere biology using an animal model of female pigs. Fifteen animals were supplemented with linseed oil for nine weeks and an equal number of individuals were fed with a control diet. Linseed-oil-supplemented animals showed an increased level of alpha-linolenic acid in skeletal muscles compared to control animals. There was no difference between groups in the telomere length measured in leukocytes and muscles. However, muscles of the linseed-oil-supplemented pigs showed lower levels of the shelterin TRF1 protein compared to the control group. Our results suggest that omega-3 linolenic acid counteracts the elevation of TRF1 levels, which increase with age and due to the presence of reactive oxygen species in muscle. The observed effect may be due to attenuation of oxidative stress.
View Full-Text
►

▼

Show Figures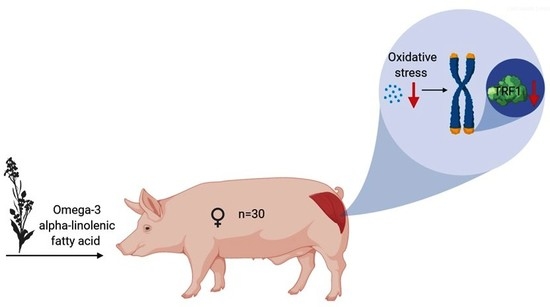 Graphical abstract
This is an open access article distributed under the
Creative Commons Attribution License
which permits unrestricted use, distribution, and reproduction in any medium, provided the original work is properly cited

MDPI and ACS Style
Ogłuszka, M.; te Pas, M.F.W.; Poławska, E.; Nawrocka, A.; Stepanow, K.; Pierzchała, M. Omega-3 Alpha-Linolenic Fatty Acid Affects the Level of Telomere Binding Protein TRF1 in Porcine Skeletal Muscle. Animals 2020, 10, 1090.
Show more citation formats
Show less citations formats
Note that from the first issue of 2016, MDPI journals use article numbers instead of page numbers. See further details
here
.