Penal Sanctioning of Zoophilia in Light of the Legal Status of Animals—A Comparative Analysis of Fifteen European Countries
1
Department of Veterinary Forensics and Economics, University of Veterinary Medicine Budapest, 1078 Budapest, Hungary
2
Globalization Competence Center, Széchenyi István University, 9026 Győr, Hungary
3
Lajos Lőrinc Institute of Administrative Law, Faculty of Science of Public Governance and Administration, National University of Public Service, 1083 Budapest, Hungary
*
Author to whom correspondence should be addressed.
Received: 28 April 2020 / Revised: 1 June 2020 / Accepted: 6 June 2020 / Published: 12 June 2020
Simple Summary
The aim of the research is to examine the legal status of animals and the criminal law regulation of zoophilia (commonly referred to as "bestiality") in 15 European countries. These two factors were chosen because they show how societies relate to animals through legislation, that is, how much animals are protected because of their inherent value, and not just because of the interests of humans. In the case of their legal status, the study examined the shift from viewing animals as a simple legal object to giving them special legal status. This research also examined criminal law definitions related to zoophilia. The results of compiling and comparing country rankings for zoophilia and legal status show that countries that place greater emphasis on regulating zoophilia are also more likely to have clearer rules in place regarding the legal status of animals. Switzerland is a positive example of both factors, while Italy faces many challenges in establishing specific legislation.
The criminal legislation regarding zoophilia and the legal status of animals were examined in 15 European countries. With regard to zoophilia, answers to the following questions were sought: are sexual acts performed with animals and the possession and distribution of animal pornography criminally punishable? Several aspects of the legal status of animals were examined including: (1) is the protection of individual animals included in the constitution, (2) do animals have a special status beyond mere objects, (3) can we find specific legislative provisions that explicitly state that animals are not simply things, and (4) does the legal system also take the "dignity" of animals into consideration. The assessment of zoophilia and the legal status of animals resulted in two country rankings, which the authors compared with each other. The correlation was not significant (
p =
0.3147). At the same time, countries with differentiated criminal legislation for zoophilia were also 3.62 times more likely to rank higher in terms of the legal status of animals. The Swiss regulations are exceptional in both respects, while at the other end of the list, Italy does not have specific legislative provisions for either aspect.
View Full-Text
►

▼

Show Figures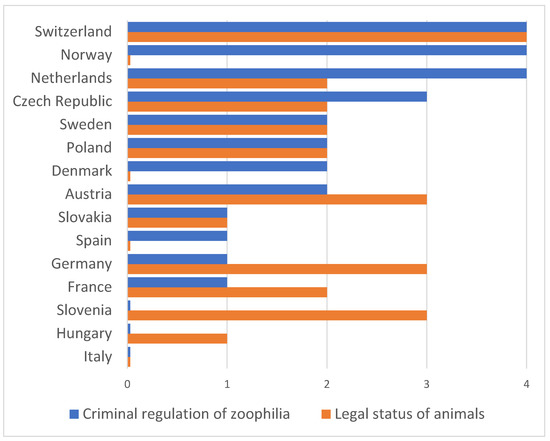 Figure 1
This is an open access article distributed under the
Creative Commons Attribution License
which permits unrestricted use, distribution, and reproduction in any medium, provided the original work is properly cited

Note that from the first issue of 2016, MDPI journals use article numbers instead of page numbers. See further details
here
.