Evolution of In Vitro Antimicrobial Susceptibility of Equine Clinical Isolates in France between 2016 and 2019
1
LABÉO Frank Duncombe, 14053 CAEN, France
2
Normandie Univ, UNICAEN, U2RM, 14033 Caen, France
3
Normandie Univ, UNICAEN, Biotargen, 14033 Caen, France
*
Author to whom correspondence should be addressed.
Received: 6 April 2020 / Revised: 30 April 2020 / Accepted: 6 May 2020 / Published: 7 May 2020
Simple Summary
The emergence and the spread of antimicrobial drug resistant bacteria around the world is a major public health issue. In fact, the transmission of these bacteria from animals to humans has been already observed. In this context, the close relationships between horses and humans may contribute to cross-infection. Our objective in this study was to describe the antimicrobial susceptibility profiles of major equine pathogens over a 4-year period (2016–2019). For this purpose, more than 7800 bacterial isolates collected from horses in France with different types of infection were phenotypically analysed for their antimicrobial susceptibility. An increase in the resistance of Staphylococcus aureus and Enterobacter spp. was observed, especially between 2016 and 2019, with the percentage of multi-drug resistant strains rising from 24.5% to 37.4%, and from 26.3% to 51.7%, respectively. Our results point to the need to support veterinary antimicrobial stewardship to encourage the proper use of antibiotics.
The present study described the evolution of antimicrobial resistance in equine pathogens isolated from 2016 to 2019. A collection of 7806 bacterial isolates were analysed for their in vitro antimicrobial susceptibility using the disk diffusion method. The most frequently isolated pathogens were group C
Streptococci
(27.0%),
Escherichia coli
(18.0%),
Staphylococcus aureus
(6.2%),
Pseudomonas aeruginosa
(3.4%),
Klebsiella pneumoniae
(2.3%) and
Enterobacter
spp. (2.1%). The majority of these pathogens were isolated from the genital tract (45.1%, n = 3522). With the implementation of two French national plans (named ECOANTIBIO 1 and 2) in 2012–2016 and 2017–2021, respectively, and a reduction in animal exposure to veterinary antibiotics, our study showed decreases in the resistance of group C
Streptococci
,
Klebsiella pneumoniae
and
Escherichia coli
against five classes, four classes and one class of antimicrobials tested, respectively. However,
Staphylococcus aureus
,
Escherichia coli
and
Enterobacter
spp. presented an increased resistance against all the tested classes, excepted for two fifths of
E. coli.
Moreover, the percentages of multi-drug resistant strains of
Staphylococcus aureus
and
Enterobacter
spp. also increased from 24.5% to 37.4% and from 26.3% to 51.7%, respectively. The data reported here are relevant to equine practitioners and will help to improve knowledge related to antimicrobial resistance in common equine pathogens.
View Full-Text
►

▼

Show Figures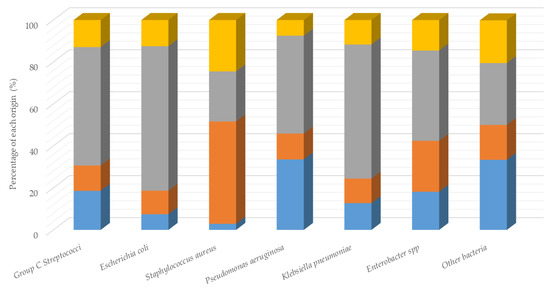 Figure 1
This is an open access article distributed under the
Creative Commons Attribution License
which permits unrestricted use, distribution, and reproduction in any medium, provided the original work is properly cited

MDPI and ACS Style
Léon, A.; Castagnet, S.; Maillard, K.; Paillot, R.; Giard, J.-C. Evolution of In Vitro Antimicrobial Susceptibility of Equine Clinical Isolates in France between 2016 and 2019. Animals 2020, 10, 812.
Show more citation formats
Show less citations formats
Note that from the first issue of 2016, MDPI journals use article numbers instead of page numbers. See further details
here
.