The Prevalence of Endoparasites of Free Ranging Cats (
Felis catus

) from Urban Habitats in Southern Poland

1

Institute of Environmental Sciences, Faculty of Biology of Jagiellonian University, 7 Gronostajowa Str., 30-387 Kraków, Poland

2

Faculty of Animal Breeding and Biology, University of Agriculture in Kraków, 24/28 Mickiewicza Av., 30-059 Kraków, Poland

3

Institute of Botany, Faculty of Biology of Jagiellonian University, 3 Gronostajowa str., 30-387 Kraków, Poland

*

Author to whom correspondence should be addressed.

Received: 29 March 2020 / Revised: 20 April 2020 / Accepted: 21 April 2020 / Published: 24 April 2020
Simple Summary
Free ranging domestic cats are common in urban and suburban habitats and may cause a threat of disease transmission to other pets, wildlife and humans. We investigated the occurrence of endoparasites in cats in Kraków city, Southern Poland, based on examination of road-killed individuals. More than half of the cats were infected with at least one of seven identified parasites. Cats from suburban areas were more likely to be infected than cats from the city core. Our study supports the results from other studies, showing that cats may serve as a significant source of zoonotic transmission.
Growing urbanization leads to an increased risk of parasite spread in densely inhabited areas. Free-ranging cats can be locally numerous and come into frequent contact with both wildlife and humans. Cats are thus expected to contribute to parasitic disease transmission. In our study, we investigated the prevalence of endoparasites in free ranging cats in urban areas of Kraków city, based on necropsy of road-killed cats in relation to sex and diet of cat, season and habitat type. We found that 62% of 81 cats were infected with endoparasites with
Toxocara cati
being the most prevalent. In total, we identified seven parasite species. The number of parasite species was higher in suburban habitats and aside from
Eucoleus aerophilus
the prevalence of all parasites was higher in cats from suburban areas than in the individuals living in the city urban core. The prey of examined cats included mostly rodents, followed by soricomorphs and birds, which can all serve as paratenic hosts. Based on our results, we suggest that cats in urban areas should be considered as a serious potential zoonotic threat. Implementation of proper veterinary control and wider education on the topic is recommended.
View Full-Text
►

▼

Show Figures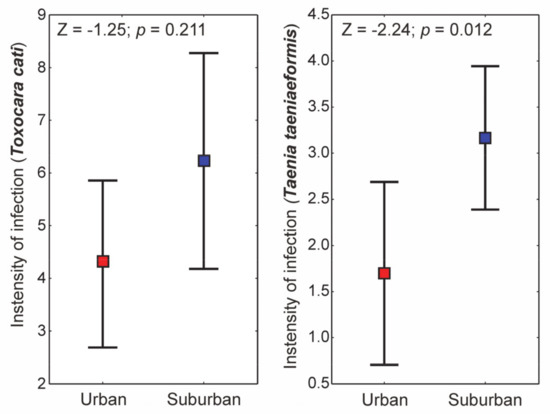 Figure 1
This is an open access article distributed under the
Creative Commons Attribution License
which permits unrestricted use, distribution, and reproduction in any medium, provided the original work is properly cited

Note that from the first issue of 2016, MDPI journals use article numbers instead of page numbers. See further details
here
.