Milk Composition of Asian Elephants (
Elephas maximus

) in a Natural Environment in Myanmar during Late Lactation

1

Ellen S. Dierenfeld, LLC, St. Louis, MO 63128, USA

2

School of Animal, Rural and Environmental Sciences, Nottingham Trent University, Southwell NG25 0QF, UK

3

Department of Medical Research (Pyin-Oo-Lwin Branch), Pyin-Oo-Lwin 05081, Myanmar

4

Department of Physiology and Biochemistry, University of Veterinary Science, Yezin 05282, Myanmar

5

Veterinarians International, One Penn Plaza, Suite 6337, New York, NY 10119, USA

6

Department of Animal and Plant Sciences, University of Sheffield, Western Bank, Sheffield S10 2TN, UK

7

Extraction Department, Magway Region, Myanma Timber Enterprise, Magwe 0411, Myanmar

8

Department of Biology, University of Turku, 20014 Turku, Finland

9

Department of Public Health, University of Turku and Turku University Hospital, 20520 Turku, Finland

*

Author to whom correspondence should be addressed.

Received: 29 February 2020 / Revised: 16 April 2020 / Accepted: 19 April 2020 / Published: 22 April 2020
Simple Summary
In this study, we analyzed longitudinal milk samples and consumed plant species from six Asian elephants managed in their natural environment and consuming native plants in Myanmar to evaluate seasonal or animal-related changes in milk content and diet. Milk from mothers nursing calves aged one-and-a-half to three years was high in fat; milk solids and protein percentages increased for older calves, and protein levels increased in both milk and plants during the wet versus dry season. Higher protein levels in plants eaten by these elephants during the wet season compared to the dry season may underlie the seasonal milk changes observed. Milk consumed by female calves was higher in protein compared with male calves. Maternal traits such as size, age, origin (captive-born vs. wild-born) and number of previous calves, were also significantly associated with milk composition. Understanding such factors influencing milk production and composition contributes to improving feeding management strategies to optimize the nutrition, health, and feeding management of both wild and captive elephant populations.
The nutritional content of milk from free-living Asian elephants has not previously been reported, despite being vital for better management of captive populations. This study analyzed both milk composition and consumed plant species of Asian elephants managed in their natural environment in Myanmar. Longitudinal samples (
n
= 36) were obtained during both the wet and the dry season from six mature females in mid to late lactation in 2016 and 2017. Milk composition averaged 82.44% water, with 17.56% total solids containing 5.23% protein, 15.10% fat, 0.87% ash, and 0.18 µg/mL vitamin E. Solids and protein increased with lactation month. Total protein in milk was higher during the wet vs. the dry season. Observed factors linked with maternal (age, parity, size and origin) and calf traits (sex) had significant associations with milk nutrient levels. Primary forages consumed contained moderate protein and fiber. Higher dietary protein during the wet season (11–25%) compared to the dry season (6–19%) may be linked with increased milk protein observed. Our results call for further field studies of milk and diet composition, over entire seasons/lactation periods, and across maternal and calf traits, to improve feeding management, with an overall goal of maximized health and survival.
View Full-Text
►

▼

Show Figures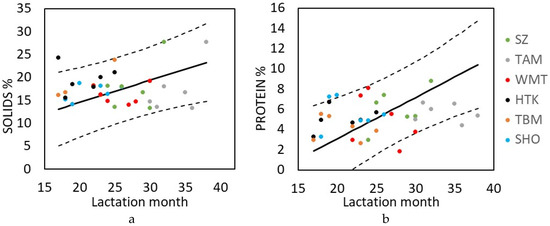 Figure 1
This is an open access article distributed under the
Creative Commons Attribution License
which permits unrestricted use, distribution, and reproduction in any medium, provided the original work is properly cited

MDPI and ACS Style
Dierenfeld, E.S.; Han, Y.A.M.; Mar, K.U.; Aung, A.; Soe, A.T.; Lummaa, V.; Lahdenperä, M. Milk Composition of Asian Elephants (Elephas maximus) in a Natural Environment in Myanmar during Late Lactation. Animals 2020, 10, 725.
Show more citation formats
Show less citations formats
Note that from the first issue of 2016, MDPI journals use article numbers instead of page numbers. See further details
here
.