Effects of Olfactory and Auditory Enrichment on the Behaviour of Shelter Dogs
1
Centre for Animal Welfare and Ethics, University of Queensland, White House Building (8134), Gatton Campus, Gatton, QLD 4343, Australia
2
Royal Society for the prevention of Cruelty to Animals, Queensland, Brisbane, QLD 4076, Australia
*
Author to whom correspondence should be addressed.
Received: 12 March 2020 / Revised: 27 March 2020 / Accepted: 27 March 2020 / Published: 30 March 2020
Simple Summary
Shelters are stressful environments for dogs, and this can lead to increased arousal levels, resulting in behaviour and welfare issues. Reducing arousal levels may be achieved with targeted sensory environmental enrichment. We exposed dogs to three different stimuli to reduce arousal and compared responses to these with a Control group. Dogs exposed to any of the stimuli vocalised less than the Control, and when exposed to Music and DAP they showed more resting behaviours than the Control. These behaviours are associated with increased relaxation and less arousal, and therefore these stimuli appear appropriate for use in a shelter environment. The results suggest that small changes to the environment of shelter dogs can have positive effects on their behaviour, which could help improve the quality of their experience while in care.
Shelter environments are stressful for dogs, as they must cope with many stimuli over which they have little control. This can lead to behavioural changes, negatively affect their welfare and downgrade the human‐animal bond, affecting re-homing success. Arousal is evident in their behaviour, particularly increased activity and frequent vocalisation. Environmental enrichment plays an important role in reducing arousal behaviour, either through direct physiological effects or by masking stressful stimuli. The present study focused on sensory environmental enrichment, using olfactory and auditory stimuli under shelter conditions. Sixty dogs were allocated to one of four treatments: three types of enrichment, Lavender, Dog appeasing pheromone (DAP) and Music, and a Control group. Stimuli were applied for 3 h/d on five consecutive days. Dogs exposed to DAP lay down more, and those exposed to Music lay down more with their head down, compared to the Control. Those in the Control stood more on their hind legs with their front legs on the exit door, compared to those exposed to Music and DAP, particularly if they had only been in the shelter for a short time. They also panted and vocalised much more than dogs in the three enrichment treatments, which tended to persist during the 4 h period post treatment, and in the case of vocalisation into the subsequent night. The study suggests that all three enrichments had some positive benefits for dogs in shelters, as well as being non-invasive and easy to apply in the shelter environment.
View Full-Text
►

▼

Show Figures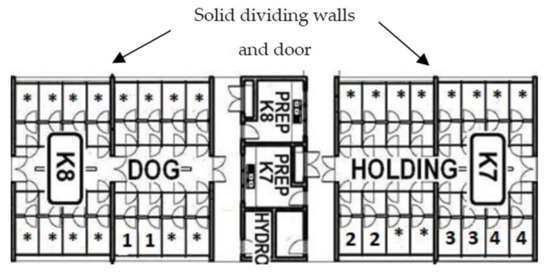 Figure 1
This is an open access article distributed under the
Creative Commons Attribution License
which permits unrestricted use, distribution, and reproduction in any medium, provided the original work is properly cited

Note that from the first issue of 2016, MDPI journals use article numbers instead of page numbers. See further details
here
.