Supplementation of
Lactobacillus plantarum

or

Macleaya cordata

Extract Alleviates Oxidative Damage Induced by Weaning in the Lower Gut of Young Goats

1

CAS Key Laboratory for Agro-Ecological Processes in Subtropical Region, National Engineering Laboratory for Pollution Control and Waste Utilization in Livestock and Poultry Production, Hunan Provincial Key Laboratory of Animal Nutritional Physiology and Metabolic Process, Institute of Subtropical Agriculture, The Chinese Academy of Sciences, Changsha 410125, Hunan, China

2

College of Animal Science and Technology, Hunan Agricultural University, Changsha 410128, Hunan, China

3

Hunan Co-Innovation Center of Animal Production Safety, CICAPS, Changsha 410128, Hunan, China

4

University of Chinese Academy of Sciences, Beijing 100049, China

*

Authors to whom correspondence should be addressed.

Received: 18 February 2020 / Revised: 20 March 2020 / Accepted: 21 March 2020 / Published: 25 March 2020
Simple Summary
Weaning stress is a serious problem in the goat production industry. This article demonstrates that weaning can induce intestinal oxidative damage, and adding Lactobacillus plantarum or Macleaya cordata can alleviate the oxidative damage of the lower gut in weaned young goats in an intestinal region-specific way.
Weaning usually leads to stress in livestock, which has a negative impact on their growth and development. Research on oxidative stress and inflammation induced by weaning has not been reported in goats. Here, we focused on oxidative stress profile and inflammation status of the lower gut (jejunum, ileum, and colon) of goats. First, we illustrated the status of antioxidant activity and inflammation in the intestine of young goats on pre-(2 weeks postnatal, 2 wk
pn
) or post-(11 wk
pn
, weaning at day 45 postnatal)-weaned period of young goats. Malondialdehyde (MDA) was higher (
p
< 0.0001) in jejunum and ileum of the young goats in 11 wk
pn
than that in 2 wk
pn
, whereas superoxide dismutase (SOD) activity was lower (
p
= 0.012) in the lower gut of the young goats with 11 wk
pn
than that in 2 wk
pn
. Furthermore, we intended to explore the protective influence of a probiotic additive (
Lactobacillus plantarum
(LAC) P-8, 10 g/d) and a prebiotic additive (Sangrovit
®
,
Macleaya cordata
(MAC) extract 3.75% w/w premix, 0.3 g/d) on intestinal oxidative stress and inflammation status of early-weaned young goats (average weights of 5.63 ± 0.30 kg, weaned on d 45 postnatal). We observed that LAC reduced MDA in jejunum and ileum (
p
< 0.0001), increased SOD activity in ileum (
p
< 0.01), and increased glutathione peroxidase (GSH-Px) activity in jejunum (
p
< 0.05). Similarly, MAC reduced MDA contents (
p
< 0.0001), increased SOD activities (
p
< 0.01) in both of ileum and jejunum, and increased GSH-Px activity (
p
< 0.05) in jejunum. However, there were no differences in feed intake, average daily gain, inflammation parameters (interleukin 2 and interleukin 6), and colon oxidative stress profile (MDA, SOD, or GSH-Px) among treatments. These results provide evidence that weaning induces oxidative damage in the lower gut of young goats, and the oxidative damage in the small intestine can be reduced by adding the addition of LAC or MAC in diets depending on the region of the lower gut.
View Full-Text
►

▼

Show Figures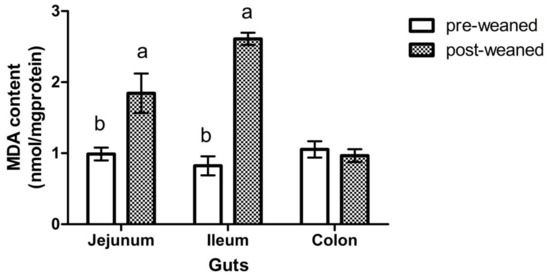 Figure 1
This is an open access article distributed under the
Creative Commons Attribution License
which permits unrestricted use, distribution, and reproduction in any medium, provided the original work is properly cited

MDPI and ACS Style
Chen, K.; Liu, Y.; Cheng, Y.; Yan, Q.; Zhou, C.; He, Z.; Zeng, J.; He, J.; Tan, Z. Supplementation of Lactobacillus plantarum or Macleaya cordata Extract Alleviates Oxidative Damage Induced by Weaning in the Lower Gut of Young Goats. Animals 2020, 10, 548.
Show more citation formats
Show less citations formats
Note that from the first issue of 2016, MDPI journals use article numbers instead of page numbers. See further details
here
.