Investigation of Pre- and Post-Weaning Mortalities in Rabbits Bred in Egypt, with Reference to Parasitic and Bacterial Causes
1
College of Life Science and Engineering, Foshan University, 18 Jiangwan street, Foshan 528231, China
2
Faculty of Science, Kafrelsheikh University, Kafr el-Sheikh, 33516, Egypt
3
Parasitology Department, Faculty of Veterinary Medicine, Beni Suef University, Beni-Suef 62511, Egypt
4
Animal Production Research Institute, Agricultural Research Center, Dokki, Giza 12651, Egypt
*
Authors to whom correspondence should be addressed.
Received: 8 January 2020 / Revised: 13 March 2020 / Accepted: 18 March 2020 / Published: 24 March 2020
Simple Summary
Pre- and postweaning stages are critical in the management of rabbits due to the increased risk of mortalities. Mortality rates during pre- and postweaning periods were 67.10% and 31.90%, respectively. The preweaning mortality was mainly due to causes related to does (95.23%) and infectious agents, including Escherichia coli, and Salmonella (4.77%). The postweaning mortality was mainly referred to managemental factors and infectious causes, including Eimeria species, E. coli, and Salmonella.
This study was conducted to investigate the causes of mortality in young rabbits. A total of 110 V-Line breed female rabbits aged 5 m were used in this study. Rabbit kits were examined daily in pre- and postweaning stages to detect clinical disorders that caused death. The postmortem examination was carried out on dead kits. Furthermore, rabbits were examined for the probable bacteriological and parasitological causes of death. Fecal samples were collected from each dead kit and examined by standard microbiological procedures for bacterial pathogens and macroscopically and microscopically for the presence of endo- and ectoparasites. Throughout two breeding seasons, 2238 newborns were obtained, of which 1736 died, accounting for a 77.57% mortality rate. During preweaning (1st month of age) and postweaning (up to 3 months of age), 1501 (67.10%) and 235 (31.90%) deaths were recorded, respectively. A postweaning fecal examination revealed that 198 out of 229 (86.50%) were diarrheic rabbits due to
Eimeria
infection.
Cittotaenia
spp. eggs were detected in 4.37% of fecal samples, and mites (
Sarcoptis scabiei
) were present in 6.55%.
E. coli
was detected in 100% of examined animals during pre- and postweaning periods; however,
Salmonella
spp. were 97.22% and 43.67, respectively. Managemental risk factors were the main causes in preweaning mortality, including insufficient milk supply (37.37%), cannibalism (26.38%), mange infestation of a rabbit doe (22.20%), mastitis (4.30%), lack of doe care (5.00%), bronchopneumonia (2.13%), and enteritis (1.80%). However, risk factors in postweaning mortality included sudden death with general septicemia (13.80%), enteritis (9.63%), bronchopneumonia (5.43%), mange infestation (2.04%), and malnutrition (0.81%). In conclusion, the etiology of preweaning mortality in kits was related mainly to the doe, especially managemental risk factors. However, a combination of multiple pathogenic agents (parasites and bacteria) and managemental factors was reported in the postweaning stage. Careful attention must be paid to avoid these causes.
View Full-Text
►

▼

Show Figures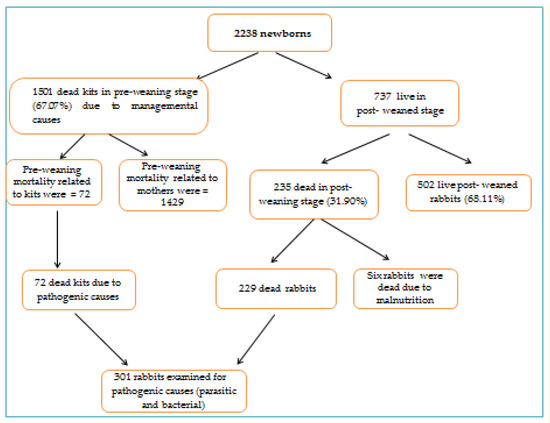 Figure 1
This is an open access article distributed under the
Creative Commons Attribution License
which permits unrestricted use, distribution, and reproduction in any medium, provided the original work is properly cited

MDPI and ACS Style
El-Ashram, S.; Aboelhadid, S.M.; Abdel-Kafy, E.-S.M.; Hashem, S.A.; Mahrous, L.N.; Farghly, E.M.; Kamel, A.A. Investigation of Pre- and Post-Weaning Mortalities in Rabbits Bred in Egypt, with Reference to Parasitic and Bacterial Causes. Animals 2020, 10, 537.
Show more citation formats
Show less citations formats
Note that from the first issue of 2016, MDPI journals use article numbers instead of page numbers. See further details
here
.