Mammary Transcriptome Profile during Peak and Late Lactation Reveals Differentially Expression Genes Related to Inflammation and Immunity in Chinese Holstein
1
College of Animal Science and Technology, Yangzhou University, Yangzhou 225009, China
2
Joint International Research Laboratory of Agriculture & Agri-Product Safety, Ministry of Education, Yangzhou University, Yangzhou 225009, China
3
Department of Animal Sciences, University of Illinois, Urbana, IL 61801, USA
4
Jiangsu Co-innovation Center for the Prevention and Control of Important Animal Infectious Diseases and Zoonoses, Yangzhou University College of Veterinary Medicine, Yangzhou 225009, China
*
Authors to whom correspondence should be addressed.
†
These authors contributed equally to this work.
Received: 2 February 2020 / Revised: 17 March 2020 / Accepted: 18 March 2020 / Published: 19 March 2020
(This article belongs to the Section
Cattle
)
Simple Summary
Milk somatic cell count, referring to the total number of somatic cells per milliliter of bovine milk, changes regularly during the lactation cycle. The somatic cell count of healthy cows is usually higher in late lactation than in peak lactation. When the inflammatory response in dairy cow mammary gland becomes more intense, the milk somatic cell count increases together with the reduction of milk quality and yield. Autoimmunity was thought to play an important role in the prevention of mastitis in late lactation of dairy cattle. However, the underlying mechanisms related to the gene expression levels during the process remain unknown. In this study, transcriptome sequencing was performed to screen the differentially expressed genes related to the inflammation and immunity in healthy Chinese Holstein mammary glands. Our findings are helpful to understand the physiological functions of mammary inflammation of Chinese Holstein during late lactation.
Somatic cell count (SCC) in milk is widely used in the dairy industry, as an indicator of the health of mammary gland. While the SCC of dairy cattle was higher in late lactation than in peak lactation, its association with gene expressions of mammary gland were largely unknown. In this study, a transcriptomic sequencing approach and bioinformatics analysis were used to investigate the differential expressed genes (DEGs) associated with inflammation and immunity between peak and late periods of lactation in Chinese Holstein. A total of 446 DEGs (padj < 0.05 and fold change >2) were identified, 50 of which belonged to seven pathways and five terms related to inflammation and immunity. Our data suggested that the activation of nuclear transcription factor-κB (NF-κB) pathway and Toll-like receptor signaling pathway caused inflammatory response, and the activation of chemokine signaling pathway and cytokine–cytokine receptor interaction signaling pathway caused a protective immune response to ensure dairy cows health during late lactation. Our findings deepen the understanding of the molecular mechanism and physiological functions of mammary inflammation in Chinese Holstein during late lactation.
View Full-Text
►

▼

Show Figures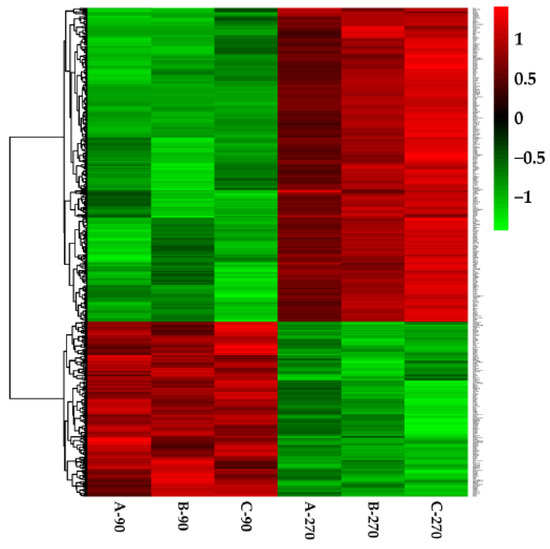 Figure 1
This is an open access article distributed under the
Creative Commons Attribution License
which permits unrestricted use, distribution, and reproduction in any medium, provided the original work is properly cited

MDPI and ACS Style
Han, Z.; Fan, Y.; Yang, Z.; Loor, J.J.; Yang, Y. Mammary Transcriptome Profile during Peak and Late Lactation Reveals Differentially Expression Genes Related to Inflammation and Immunity in Chinese Holstein. Animals 2020, 10, 510.
Show more citation formats
Show less citations formats
Note that from the first issue of 2016, MDPI journals use article numbers instead of page numbers. See further details
here
.