Effect of Dietary Crude Protein on Productive Efficiency, Nutrient Digestibility, Blood Metabolites and Gastrointestinal Immune Markers in Light Lambs
1
Departamento de Ciencia Animal, Universidad de Lleida, Av. Rovira Roure 191, 25198 Lleida, Spain
2
Centro de Investigación y Tecnología Agroalimentaria de Aragón, Av. Montañana 930, 50059 Zaragoza, Spain
*
Author to whom correspondence should be addressed.
Received: 26 December 2019 / Revised: 11 February 2020 / Accepted: 12 February 2020 / Published: 19 February 2020
Simple Summary
Animal production is considered to compete with human food due to land use for feed ingredients and their relationship with environmental pollution. Crude protein (CP) is vital for the normal development of growth and carcass conformation in lambs. Dietary CP may be dependent on breed, age and market weights at slaughter. However, it appears that the feed industry formulates dietary CP levels above the physiological needs of these animals. Therefore, this study was designed to assess the effect of reducing the level of dietary CP (−2%) in intensively-fed growing (14–19 kg of body-weight) and finishing (19–25 kg of body-weight) lambs. Our findings revealed that a 2% reduction of dietary protein did not negatively affect some selected nutrient metabolism or mucosal immune function markers in the gastrointestinal tract. In addition, it was observed that the growth performance and feed efficiency of lambs fed lower CP levels would be the same as those fed higher levels.
This study hypothesized that reducing the level of crude protein (CP) in lambs′ feed may improve nutrient utilization and did not negatively affect their productive efficiency, blood metabolites, oxidative status (OS) or intestinal immune barrier function. A total of 120 weaned male Ripollesa lambs (45–60 days old and 15.0 ± 1.5 kg of body weight) were used. Four feed concentrates were formulated for two different phases (growing and finishing): CP20/19 group (20% and 19% of CP on dry matter basis, for each phase, respectively) and CP18/17 group (18% and 17% of CP on dry matter basis, for each phase, respectively). Lambs were randomly assigned to feeding treatments by balancing initial body weight between groups. The reduction of dietary CP level did not impair their growth performance parameters, while it did improve the apparent digestibility of organic matter. Furthermore, the lambs of the CP18/17 group showed lower plasma urea levels with no effect on OS (malondialdehyde levels) or gastrointestinal immunity markers (gene expression of interleukin 10 (
IL10
), tumor necrosis factor-α (
TNFA
) and transforming growth factor-β1 (
TGFB
)).
View Full-Text
►

▼

Show Figures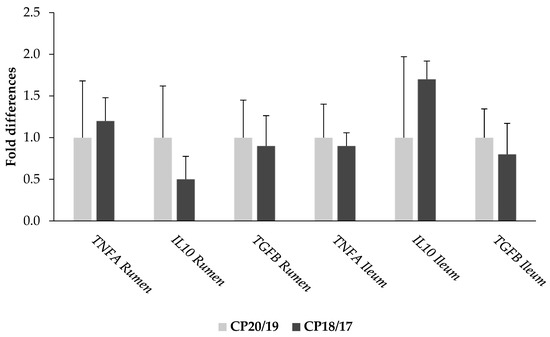 Figure 1
This is an open access article distributed under the
Creative Commons Attribution License
which permits unrestricted use, distribution, and reproduction in any medium, provided the original work is properly cited

MDPI and ACS Style
Pelegrin-Valls, J.; Serrano-Pérez, B.; Villalba, D.; Martín-Alonso, M.J.; Bertolín, J.R.; Joy, M.; Álvarez-Rodríguez, J. Effect of Dietary Crude Protein on Productive Efficiency, Nutrient Digestibility, Blood Metabolites and Gastrointestinal Immune Markers in Light Lambs. Animals 2020, 10, 328.
Show more citation formats
Show less citations formats
Note that from the first issue of 2016, MDPI journals use article numbers instead of page numbers. See further details
here
.