Stress-Induced Phosphaturia in Weaned Piglets
1
Department of Bioinformatics, Institute of Biochemistry and Biophysics PAS, ul. Pawinskiego 5A, 02-106 Warsaw, Poland
2
Department of Large Animals with Clinic, Warsaw University of Life Sciences, Nowoursynowska 100, 02-797 Warsaw, Poland
*
Authors to whom correspondence should be addressed.
†
These authors equally contributed to the study.
Received: 13 October 2020 / Revised: 18 November 2020 / Accepted: 21 November 2020 / Published: 26 November 2020
Simple Summary
The weaning period is a critical period in piglets' lives. Multiple elements, including diet change, social stress, handling, and change of physical environment, contribute to enormous stress that has health implications. This period has been studied extensively in the past, but some gaps in our knowledge remain. We attempted to fill them by biochemical characterizations of the changes in blood and urine before and after the weaning. The major finding is the observation of the release of phosphate in the urine in the apparent absence of a factor other than weaning. This release is followed by the drop of the phosphate in the blood. Additionally, we observed a population-level Bohr effect, suggesting a decrease in oxygen levels in the tissues. These results point to the development of systemic hypophosphatemia, even though modern diets used in pig breeding have an excess of phosphorus typically. This study sheds new light on the weaning period and will help researchers and veterinary practices in improving design studies and treatments around that time.
The weaning period in piglets draws significant attention from researchers, veterinarians, and breeders. A substantial change in diet accompanied by enormous stress has health and welfare implications (abnormal feeding intake, infections, umbilical lesions, etc.). While the parameters like optimal age or weight for the weaning have been studied extensively, relatively less attention has been devoted to the study of stress effects in the piglets' biochemistry. As one of the effects of stress is hyperventilation, a gasometric analysis supported by measurements of hypoxia biomarkers was conducted. Piglets blood and urine, one day and seven days before and one day and seven days after the weaning, were tested. There was no evidence of hyperventilation, but phosphaturia and hypophosphatemia were observed one and seven days postweaning, respectively. A statistical analysis across the population also pointed to minor tissue hypoxia. Our work contributes to an understanding of biochemical dynamics and helps in the interpretation of physiological changes observed in piglets in this critical period.
View Full-Text
►

▼

Show Figures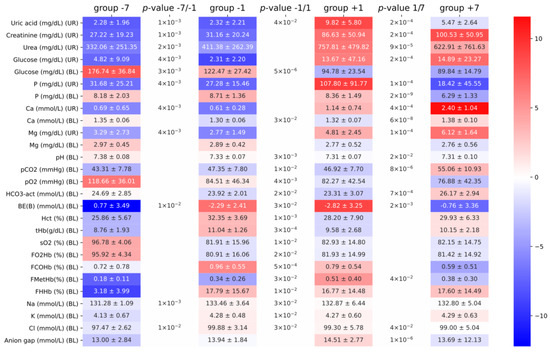 Figure 1
This is an open access article distributed under the
Creative Commons Attribution License
which permits unrestricted use, distribution, and reproduction in any medium, provided the original work is properly cited

MDPI and ACS Style
Habich, M.; Pawlinski, B.; Sady, M.; Siewruk, K.; Zielenkiewicz, P.; Gajewski, Z.; Szczesny, P. Stress-Induced Phosphaturia in Weaned Piglets. Animals 2020, 10, 2220.
AMA Style
Habich M, Pawlinski B, Sady M, Siewruk K, Zielenkiewicz P, Gajewski Z, Szczesny P. Stress-Induced Phosphaturia in Weaned Piglets. Animals. 2020; 10(12):2220.
Chicago/Turabian Style
Habich, Malgorzata; Pawlinski, Bartosz; Sady, Maria; Siewruk, Katarzyna; Zielenkiewicz, Piotr; Gajewski, Zdzislaw; Szczesny, Pawel. 2020. "Stress-Induced Phosphaturia in Weaned Piglets" Animals 10, no. 12: 2220.
Note that from the first issue of 2016, MDPI journals use article numbers instead of page numbers. See further details
here
.