Urban Hedgehog Behavioural Responses to Temporary Habitat Disturbance versus Permanent Fragmentation
1
Department of Evolutionary Ecology, Leibniz Institute for Zoo and Wildlife Research, Alfred Kowalke Straße 17, 10315 Berlin, Germany
2
Berlin Brandenburg Institute of Advanced Biodiversity Research (BBIB), 14195 Berlin, Germany
3
Department of Biology, Chemistry, Pharmacy, Freie Universität Berlin, Takustrasse 3, 14195 Berlin, Germany
4
Department of Veterinary Medicine, Freie Universität Berlin, Oertzenweg 19b, 14195 Berlin, Germany
5
Department of Ecological Dynamics, Leibniz Institute for Zoo and Wildlife Research, Alfred Kowalke Straße 17, 10315 Berlin, Germany
*
Author to whom correspondence should be addressed.
Received: 14 October 2020 / Revised: 4 November 2020 / Accepted: 10 November 2020 / Published: 13 November 2020
Simple Summary
Wildlife is exposed to environmental disturbances. Some are limited to a short period and pass by, others are of a permanent nature. Often these two kinds of disturbances occur simultaneously. This makes it difficult to disentangle the specific behavioural response to each disturbance. As species may respond to different disturbances in different ways, it is important to know the species-specific and disturbance-specific responses to develop effective species conservation action. We investigated the behavioural responses of European hedgehogs (Erinaceus europaeus) in Berlin to temporary disturbance (in the form of an open-air music festival) and permanent disturbance (in the form of habitat fragmentation). We show that a music festival is a major stressor that strongly influences all investigated behaviours. Urban hedgehogs in a highly fragmented area showed subtle behavioural changes compared to those in low-fragmented areas, suggesting that fragmentation was a moderate challenge which they could cope with. Thus, the temporary disturbance by a music festival had a more serious impact on hedgehog behaviour than permanent disturbance caused by fragmentation. Moreover, we show that males responded stronger to the transient disturbance and females responded stronger to habitat fragmentation.
Anthropogenic activities can result in both transient and permanent changes in the environment. We studied spatial and temporal behavioural responses of European hedgehogs (
Erinaceus europaeus
) to a transient (open-air music festival) and a permanent (highly fragmented area) disturbance in the city of Berlin, Germany. Activity, foraging and movement patterns were observed in two distinct areas in 2016 and 2017 using a "Before & After" and "Control & Impact" study design. Confronted with a music festival, hedgehogs substantially changed their movement behaviour and nesting patterns and decreased the rhythmic synchronization (DFC) of their activity patterns with the environment. These findings suggest that a music festival is a substantial stressor influencing the trade-off between foraging and risk avoidance. Hedgehogs in a highly fragmented area used larger home ranges and moved faster than in low-fragmented and low-disturbed areas. They also showed behaviours and high DFCs similar to individuals in low-fragmented, low disturbed environment, suggesting that fragmentation posed a moderate challenge which they could accommodate. The acute but transient disturbance of a music festival, therefore, had more substantial and severe behavioural effects than the permanent disturbance through fragmentation. Our results are relevant for the welfare and conservation measure of urban wildlife and highlight the importance of allowing wildlife to avoid urban music festivals by facilitating avoidance behaviours.
View Full-Text
►

▼

Show Figures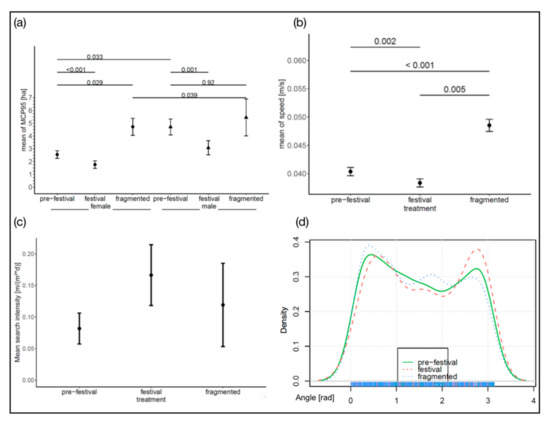 Figure 1
This is an open access article distributed under the
Creative Commons Attribution License
which permits unrestricted use, distribution, and reproduction in any medium, provided the original work is properly cited

Note that from the first issue of 2016, MDPI journals use article numbers instead of page numbers. See further details
here
.