Copper Supplementation, A Challenge in Cattle
1
Department of Animal Pathology, Faculty of Veterinary Medicine, Universidade de Santiago de Compostela, Campus Terra, 27002 Lugo, Spain
2
Department of Anatomy, Animal Production and Clinical Veterinary Sciences, Faculty of Veterinary Medicine, Universidade de Santiago de Compostela, Campus Terra, 27002 Lugo, Spain
*
Author to whom correspondence should be addressed.
Received: 2 September 2020 / Revised: 23 September 2020 / Accepted: 9 October 2020 / Published: 15 October 2020
Simple Summary
Copper supplementation in ruminants deserves special attention because of the narrow margin between deficiency and toxicity, both of which ruminants are susceptible to suffering from. Supplementation of copper above requirements to prevent deficiency has led to an increased number of outbreaks of copper toxicity being reported in recent years, particularly in dairy cattle. In this paper we describe the key points of copper metabolism in cattle that should be taken into consideration to guarantee an adequate copper supply while preventing toxic effects.
Ensuring adequate copper supplementation in ruminants is a challenging task due to the complexity of copper metabolism in these animals. The three-way interaction between copper, molybdenum and sulphur (Cu-Mo-S) in the rumen makes ruminants, particularly cattle, very susceptible to suffering from secondary copper deficiency. Paradoxically, excessive copper storage in the liver to prevent deficiency becomes a hazard when ruminants are fed copper-supplemented diets even slightly above requirements. While cattle were traditionally thought to be relatively tolerant of copper accumulation, and reports of copper poisoning were until recently somewhat rare, in recent years an increased number of episodes/outbreaks of copper toxicity in cattle, particularly in dairy cattle, have been reported worldwide. The growing number of lethal cases reported seems to indicate that copper intoxication is spreading silently in dairy herds, urging the development of strategies to monitor herd copper status and improve farmers' awareness of copper toxicity. In fact, monitoring studies carried out on numerous samples collected from culled animals in slaughterhouses and/or diagnostic laboratories have demonstrated that large numbers of animals have hepatic copper concentrations well above adequate levels in many different countries. These trends are undoubtedly due to copper supplementation aimed at preventing copper deficiency, as dietary copper intake from pasture alone is unlikely to cause such high levels of accumulation in liver tissue. The reasons behind the copper overfeeding in cattle are related both to a poor understanding of copper metabolism and the theory of "if adding a little produces a response, then adding a lot will produce a better response". Contrary to most trace elements, copper in ruminants has narrow margins of safety, which must also be formulated considering the concentrations of copper antagonists in the diet. This review paper aims to provide nutritionists/veterinary practitioners with the key points about copper metabolism in cattle to guarantee an adequate copper supply while preventing excessive hepatic copper loading, which requires à la carte copper supplementation for each herd.
View Full-Text
►

▼

Show Figures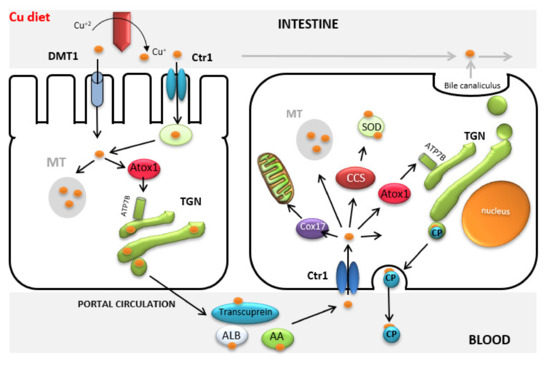 Figure 1
This is an open access article distributed under the
Creative Commons Attribution License
which permits unrestricted use, distribution, and reproduction in any medium, provided the original work is properly cited

MDPI and ACS Style
López-Alonso, M.; Miranda, M. Copper Supplementation, A Challenge in Cattle. Animals 2020, 10, 1890. https://doi.org/10.3390/ani10101890
AMA Style
López-Alonso M, Miranda M. Copper Supplementation, A Challenge in Cattle. Animals. 2020; 10(10):1890. https://doi.org/10.3390/ani10101890
Chicago/Turabian Style
López-Alonso, Marta, and Marta Miranda. 2020. "Copper Supplementation, A Challenge in Cattle" Animals 10, no. 10: 1890. https://doi.org/10.3390/ani10101890
Note that from the first issue of 2016, MDPI journals use article numbers instead of page numbers. See further details
here
.