Efficiency of Tris-Based Extender Steridyl for Semen Cryopreservation in Stallions
Russian Research Institute for Farm Animal Genetics and Breeding—Branch of the L.K. Ernst Federal Science Center for Animal Husbandry, Moskovskoye sh. 55A, St. Petersburg, Pushkin 196625, Russia
*
Author to whom correspondence should be addressed.
Received: 2 September 2020 / Revised: 26 September 2020 / Accepted: 2 October 2020 / Published: 4 October 2020
Simple Summary
The cryopreservation and long-term storage of semen is one of the methods for accelerated improvement of the genetic qualities of animals. However, horse breeders prefer to use fresh or chilled semen, as the fertilizing capacity of frozen equine semen is much lower. It is important to find extenders, or a combination of extenders, that will improve semen survival after freezing. It is also important that the extender can be easily and simply prepared for use. Steridyl is a concentrate to which you just need to add sterilized water. This extender was developed for ruminants. In this study we tested Steridyl for freezing stallion semen. The motility, morphology, energy metabolism, DNA damage, and fertility of sperm frozen in Steridyl were evaluated. As a result, Steridyl was shown to be a good extender for equine semen freezing.
The fertilizing ability of stallion sperm after freezing is lower than in other species. The search for the optimal extender, combination of extenders, and the freezing protocol is relevant. The aim of this study was to compare lactose-chelate-citrate-yolk (LCCY) extender, usually used in Russia, and Steridyl
®
(Minitube) for freezing sperm of stallions. Steridyl is a concentrated extender medium for freezing ruminant semen. It already contains sterilized egg yolk. Semen was collected from nine stallions, aged from 7 to 12 years old. The total and progressive motility of sperm frozen in Steridyl was significantly higher than in semen frozen in LCCY. The number of spermatozoa with normal morphology in samples frozen in LCCY was 60.4 ± 1.72%, and with Steridyl, 72.4 ± 2.10% (
p
< 0.01). Semen frozen in Steridyl showed good stimulation of respiration by 2.4-DNP, which indicates that oxidative phosphorylation was retained after freezing–thawing. No differences among the extenders were seen with the DNA integrity of spermatozoa. Six out of ten (60%) mares were pregnant after artificial insemination (AI) by LCCY frozen semen, and 9/12 (75%) by Steridyl frozen semen. No differences among extenders were seen in pregnancy rate. In conclusion, Steridyl was proven to be a good diluent for freezing stallion semen, even though it was developed for ruminants.
View Full-Text
►

▼

Show Figures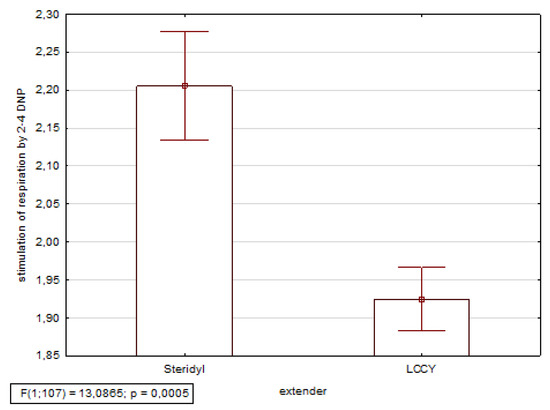 Figure 1
This is an open access article distributed under the
Creative Commons Attribution License
which permits unrestricted use, distribution, and reproduction in any medium, provided the original work is properly cited

MDPI and ACS Style
Nikitkina, E.; Musidray, A.; Krutikova, A.; Anipchenko, P.; Plemyashov, K.; Shiryaev, G. Efficiency of Tris-Based Extender Steridyl for Semen Cryopreservation in Stallions. Animals 2020, 10, 1801.
Show more citation formats
Show less citations formats
Note that from the first issue of 2016, MDPI journals use article numbers instead of page numbers. See further details
here
.