Phytate Degradation, Transcellular Mineral Transporters, and Mineral Utilization by Two Strains of Laying Hens as Affected by Dietary Phosphorus and Calcium
1
Institute of Animal Science, University of Hohenheim, 70599 Stuttgart, Germany
2
Institute for Genome Biology, Leibniz Institute for Farm Animal Biology, 18196 Dummerstorf, Germany
*
Author to whom correspondence should be addressed.
Received: 25 August 2020 / Revised: 21 September 2020 / Accepted: 22 September 2020 / Published: 24 September 2020
Simple Summary
Phosphorus is stored as phytate in plant seeds, which are the main components of poultry feed. Poultry can utilize phytate phosphorus after its cleavage catalyzed by enzymes. These enzymes are inhibited by high concentrations of calcium and phosphorus in diets. As laying hens require a high calcium concentration for eggshell production, the inhibition of enzymes might be high. Therefore, the objective of this study was to characterize the degradation of phytate and the utilization of phosphorus and calcium by two laying hen strains supplied with standard or reduced levels of dietary calcium and phosphorus at the egg production peak. The calcium level had a clear effect on phytate degradation products and mineral utilization. The phosphorus level had no effect on these traits, suggesting that actual recommendations for phosphorus supply of laying hens are too high. Differences were noted between the two hen strains and among individual hens regarding calcium and phosphorus metabolism. This is a first step in identifying individual birds that are more capable than others in using phytate phosphorus under challenging conditions. In the long term, our results could help to further reduce the mineral content of laying hen diets.
Laying hens require less phosphorus (P) but markedly more calcium (Ca) in their diet than broilers. These differences may cause more distinct interactions with phytate degradation and utilization of minerals in laying hens than those in broilers. The objective of the study was to characterize intestinal phytate degradation, ileal transcript copy numbers of transcellular Ca and P transporters, and mineral utilization by two laying hen strains fed with standard or reduced levels of dietary Ca and P at the laying peak. The strains showed differences regarding several traits driving Ca and P metabolism along the digestive tract. Thus, the two strains may use different mechanisms to meet their respective P demand, i.e., via effective phytate degradation and transcellular transport. Clear effects of the Ca level on
myo
-inositol concentrations and mineral utilization revealed the significance of this element for the measured traits. The absence of P-mediated effects confirmed the findings of several studies recommending that P concentrations used in laying hen feeds are too high. Differences were noted between individuals within one treatment. The next step would be to evaluate the data in individual birds to identify birds that better cope with a challenging diet.
View Full-Text
►

▼

Show Figures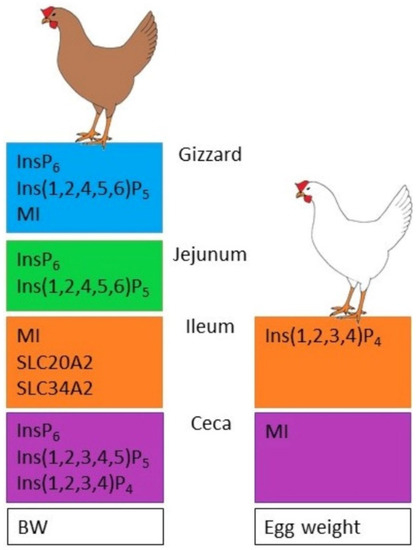 Figure 1
This is an open access article distributed under the
Creative Commons Attribution License
which permits unrestricted use, distribution, and reproduction in any medium, provided the original work is properly cited

MDPI and ACS Style
Sommerfeld, V.; Omotoso, A.O.; Oster, M.; Reyer, H.; Camarinha-Silva, A.; Hasselmann, M.; Huber, K.; Ponsuksili, S.; Seifert, J.; Stefanski, V.; Wimmers, K.; Rodehutscord, M. Phytate Degradation, Transcellular Mineral Transporters, and Mineral Utilization by Two Strains of Laying Hens as Affected by Dietary Phosphorus and Calcium. Animals 2020, 10, 1736.
Show more citation formats
Show less citations formats
Note that from the first issue of 2016, MDPI journals use article numbers instead of page numbers. See further details
here
.