Expression Changes of MHC and Other Immune Genes in Frog Skin during Ontogeny
1
Department of Evolutionary Studies of Biosystems, Sokendai (The Graduate University for Advanced Studies), Kamiyamaguchi 1560-35, Hayama, Kanagawa 240-0193, Japan
2
Amphibian Research Center, Hiroshima University, 1-3-1, Higashi-Hiroshima, Hiroshima 739-8526, Japan
3
Division of Biomedical Information Analysis, Iwate Tohoku Medical Megabank Organization, Disaster Reconstruction Center, Iwate Medical University, Idaidori 1-1-1, Yahaba, Iwate 028-3694, Japan
*
Author to whom correspondence should be addressed.
Animals 2020, 10(1), 91; https://doi.org/10.3390/ani10010091 (registering DOI)
Received: 3 December 2019 / Revised: 30 December 2019 / Accepted: 31 December 2019 / Published: 6 January 2020
Simple Summary
Tadpoles undergo many changes in physiology and immunology until metamorphosis into adult frogs. Major histocompatibility complex (MHC) molecules are an important part of vertebrate adaptive immunity, and our study measured the expression of two MHC genes (MHC class I and II) in skin during six tadpole stages of the Montane Brown frog (Rana ornativentris). First, using a qPCR method, we found that both MHC class I and II expression significantly increased between stage 24/25 ('early') and stage 28 ('mid') tadpole skin. Then, we conducted next-generation sequencing for 'early', 'mid' and 'late' stage tadpole skin mRNA of both R. ornativentris and a model species, Xenopus tropicalis, and confirmed that MHC expression increased from the 'mid' stage. We also performed further analyses of transcriptome data and found that several immune-related gene ontology terms were upregulated from the 'mid' tadpole stage. Our findings probably support that both MHC class I and II have a functional role during tadpole development.
Anuran amphibians undergo major physiological and immunological changes following metamorphosis. Genes of the major histocompatibility complex (MHC) code for receptors important for vertebrate adaptive immunity. We used qPCR to measure skin
MHC
expression in six different ontological stages of
Rana ornativentris
(
n
= 10 per stage); normalized
MHC
class I and II expression at the mRNA level was significantly higher in stage 28 (mid-larval) compared to stages 24/25 (early-larval) tadpoles. Subsequent transcriptomic analyses of three tadpole (early-, mid-, and late-larval) stages of
R. ornativentris
and model species
Xenopus tropicalis
focused on mRNA expression of immune-related genes in the skin. Normalized expression of most
MHC
class I and II transcripts in both species were significantly higher in mid- and late-larval stages compared to early-larval stage. In addition, gene ontology (GO) analyses of differentially expressed transcripts revealed several immune-related GO terms that were significantly upregulated from the mid-larval stage. Our study provides evidence that both
MHC
class I and II is expressed during development in both
R. ornativentris
and
X. tropicalis
.
View Full-Text
►

▼

Show Figures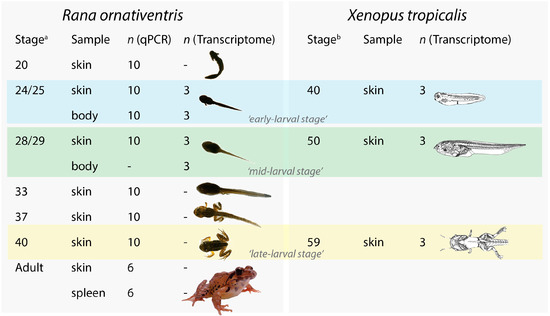 Figure 1
This is an open access article distributed under the
Creative Commons Attribution License
which permits unrestricted use, distribution, and reproduction in any medium, provided the original work is properly cited
Note that from the first issue of 2016, MDPI journals use article numbers instead of page numbers. See further details
here
.