Isolation of
Mycobacterium avium

Subsp.

Paratuberculosis

in the Feces and Tissue of Small Ruminants Using a Non-Automated Liquid Culture Method

1

Istituto Zooprofilattico Sperimentale del Lazio e della Toscana M. Aleandri, 00178 Roma, Italy

2

Istituto Zooprofilattico Sperimentale della Lombardia e dell'Emilia Romagna B. Ubertini, 25124 Brescia, Italy

*

Author to whom correspondence should be addressed.

Received: 25 November 2019 / Revised: 16 December 2019 / Accepted: 16 December 2019 / Published: 20 December 2019
Simple Summary
In Italy, the field isolates of Mycobacterium avium subsp. Paratuberculosis in bovine and goats (type II or C) are frequently found while the isolation of MAP in sheep (type I or S) is very rare. The aim of this study was to detect field isolates of MAP in ovine and goats using a non-automated method with liquid media culture. For this purpose, five flocks were investigated by ELISA and some feces of positive animals were tested by quantitative polymerase chain reaction (qPCR). All direct PCR positive samples were tested using a non-automated culture method using liquid media. Positive samples were analyzed by typing specific-PCR in order to determine the strain type (I or II). Twenty-eight samples, feces and tissues, were cultivated and 12 of these were positive by qPCR. From 12 positive samples, six strains resulted type I (S), from two flocks and four sheep respectively. We have evaluated a rapid and inexpensive culture method for the recovering of MAP type I, which are mycobacteria extremely growth demanding.
Paratuberculosis is a chronic disease of ruminants caused by
Mycobacterium avium
subsp.
Paratuberculosis
(MAP). Since isolation of MAP type I (S) is rarely reported in Italy, our research was aimed at isolating, by an inexpensive liquid culture manual method, this type of MAP isolates. At first, we used an ELISA to point out to serologically positive samples from five flocks. Secondly, we used a fecal direct IS
900
-qPCR on the ELISA positive samples, in order to detect shedder animals. Feces from IS900-qPCR positive samples were inoculated in solid and liquid culture media. IS
900
-qPCR was further used to test the growth of MAP isolates in liquid medium, which were further confirmed by f57-qPCR and submitted to typing by specific PCR in order to identify the MAP type. Twenty-eight samples (24 fecal and four tissutal samples) were processed by culture methods, resulting in the isolation of six type I MAP field isolates. Notably, no isolates were recovered by solid media, underlining the utility of this liquid method. Few data about this type of MAP are currently available in Italy, and further analyses should be carried out in order to study the origin and epidemiology of type I strains circulating in Italy.
View Full-Text
►

▼

Show Figures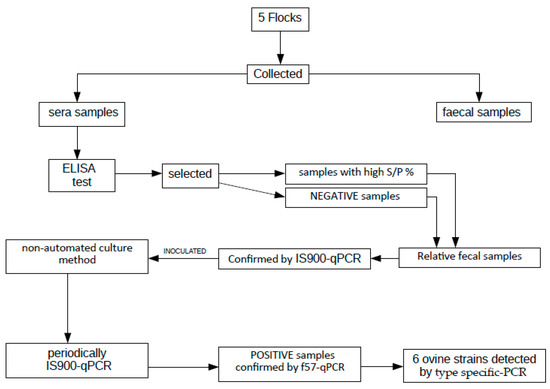 Figure 1
This is an open access article distributed under the
Creative Commons Attribution License
which permits unrestricted use, distribution, and reproduction in any medium, provided the original work is properly cited

MDPI and ACS Style
De Grossi, L.; Santori, D.; Barone, A.; Abbruzzese, S.; Ricchi, M.; Marcario, G.A. Isolation of Mycobacterium avium Subsp. Paratuberculosis in the Feces and Tissue of Small Ruminants Using a Non-Automated Liquid Culture Method. Animals 2020, 10, 20.
Show more citation formats
Show less citations formats
Note that from the first issue of 2016, MDPI journals use article numbers instead of page numbers. See further details
here
.