Characterization of Anaerobic Rumen Fungal Community Composition in Yak, Tibetan Sheep and Small Tail Han Sheep Grazing on the Qinghai-Tibetan Plateau
1
State Key Laboratory of Grassland Agro-ecosystems, College of Pastoral Agriculture Science and Technology, Lanzhou University, Lanzhou 730020, China
2
School of Life Sciences, Lanzhou University, Lanzhou 730020, China
3
Department of Animal Breeding and Genetics, Lasbela University of Agriculture Water and Marine Sciences, Uthal 90150, Pakistan
4
College of Veterinary Medicine, Nanjing Agricultural University, Nanjing 210095, China
5
Department of Agricultural, Food and Nutritional Science, University of Alberta, Edmonton, AB T6G 2P5, Canada
6
School of Public Health, Lanzhou University, Lanzhou 730020, China
*
Authors to whom correspondence should be addressed.
Received: 30 November 2019 / Revised: 6 January 2020 / Accepted: 14 January 2020 / Published: 16 January 2020
(This article belongs to the Section
Cattle
)
Simple Summary
Anaerobic rumen fungi play a vital role in fiber degradation. The objective of this study was to compare the anaerobic rumen fungal communities of full grazing ruminants in the Qinghai-Tibetan Plateau. Our results showed that the anaerobic rumen fungal community was affected by host species and the dynamic associations of them were host specific. This is the first study exploring the anaerobic rumen fungi in the full-grazing ruminants, which could lay a solid foundation to really identify fiber degradation fungal taxa using culture-dependent techniques in the future.
The anaerobic rumen fungal community play a critical role in fibrous material degradation. However, there is a lack of data describing the composition of anaerobic rumen fungal community of full grazing ruminants in the Qinghai-Tibetan Plateau. For this reason, we employed the next-generation sequencing technique to elucidate the rumen fungal structure composition and evaluate the effects of host species on fungal communities. Community comparisons (Bray–Curtis index) between yak and Tibetan sheep revealed that the rumen fungal community was affected by host species (
p
< 0.05). The alpha diversity indices in the yak were significantly higher than in the Tibetan sheep and Small Tail Han sheep. Neocallimastigomycota was predominant regardless of host species. Within this phylum, unidentified genus of Neocallimastigaceae was the most dominant in all samples, followed by
Piromyces
and
Orpinomyces
. Moreover, the shared and unique OTUs in the rumen were identified and most of them belonged to the
Orpinomyces
. Co-occurrence network analysis identified that each animal species had their own keystone species and most of them were non-dominant flora. Our data indicate that host breeds override living environment as the key factor that determines fungal community in the rumen of grazing ruminants in the Qinghai-Tibetan Plateau.
View Full-Text
►

▼

Show Figures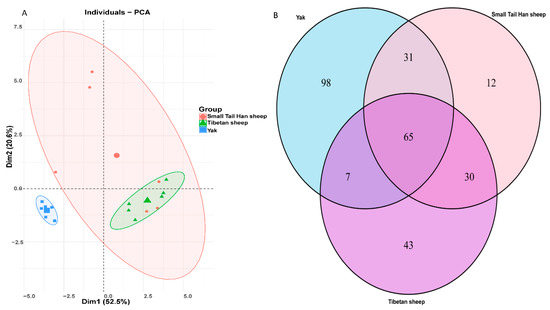 Figure 1
This is an open access article distributed under the
Creative Commons Attribution License
which permits unrestricted use, distribution, and reproduction in any medium, provided the original work is properly cited

MDPI and ACS Style
Guo, W.; Wang, W.; Bi, S.; Long, R.; Ullah, F.; Shafiq, M.; Zhou, M.; Zhang, Y. Characterization of Anaerobic Rumen Fungal Community Composition in Yak, Tibetan Sheep and Small Tail Han Sheep Grazing on the Qinghai-Tibetan Plateau. Animals 2020, 10, 144.
Show more citation formats
Show less citations formats
Note that from the first issue of 2016, MDPI journals use article numbers instead of page numbers. See further details
here
.