Advances in Chemical and Biological Methods to Identify Microorganisms—From Past to Present
1
CBMA (Centre of Molecular and Environmental Biology), Department of Biology, University of Minho, 4710-057 Braga, Portugal
2
Institute of Science and Innovation for Bio-Sustainability (IB-S), University of Minho, 4710-057 Braga, Portugal
3
Department of Microbiology and Virology, Faculty of Natural Sciences, Comenius University in Bratislava, Ilkovičova 6, 842 15 Bratislava, Slovakia
4
Ramalingaswami Re-entry Fellowship, Department of Biotechnology, Government of India, Pune 411045, India
5
Student Research Committee, School of Medicine, Bam University of Medical Sciences, Bam 14665-354, Iran
6
Department of the Science of Agriculture, Food and Environment, University of Foggia, 71121 Foggia, Italy
7
Institute of Fermentation Technology and Microbiology, Department of Biotechnology and Food Science, Lodz University of Technology, Wolczanska 171/173, 90-924 Lodz, Poland
8
Laboratory of Industrial Biotechnology, Bionanopark Ltd., Dubois 114/116, 93-465 Lodz, Poland
9
Laboratory of Microbiology and Molecular Biology (LMBM), Department of Biological Chemistry/CCBS/URCA, Crato 63105-000, Brazil
10
Departamento of Microbiology, Instituto Aggeu Magalhães/Fiocruz, Recife 50670-420, Brazil
11
Zabol Medicinal Plants Research Center, Zabol University of Medical Sciences, Zabol 61615-585, Iran
12
Faculty of Medicine, University of Porto, Alameda Professor Hernâni Monteiro, 4200-319 Porto, Portugal
13
Institute for Research and Innovation in Health (i3S), University of Porto, 4200-135 Porto, Portugal
14
LEPABE–Dep. of Chemical Engineering, Faculty of Engineering, University of Porto, Rua Dr. Roberto Frias, s/n, 4200-465 Porto, Portugal
*
Authors to whom correspondence should be addressed.
†
These authors have contributed equally to this work.
Received: 12 April 2019 / Revised: 30 April 2019 / Accepted: 8 May 2019 / Published: 13 May 2019
Abstract
Fast detection and identification of microorganisms is a challenging and significant feature from industry to medicine. Standard approaches are known to be very time-consuming and labor-intensive (e.g., culture media and biochemical tests). Conversely, screening techniques demand a quick and low-cost grouping of bacterial/fungal isolates and current analysis call for broad reports of microorganisms, involving the application of molecular techniques (e.g., 16S ribosomal RNA gene sequencing based on polymerase chain reaction). The goal of this review is to present the past and the present methods of detection and identification of microorganisms, and to discuss their advantages and their limitations.
View Full-Text
►

▼

Figures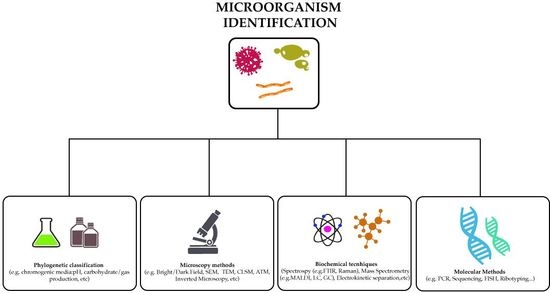 Graphical abstract
This is an open access article distributed under the
Creative Commons Attribution License
which permits unrestricted use, distribution, and reproduction in any medium, provided the original work is properly cited (CC BY 4.0).

Share & Cite This Article
MDPI and ACS Style
Franco-Duarte, R.; Černáková, L.; Kadam, S.; S. Kaushik, K.; Salehi, B.; Bevilacqua, A.; Corbo, M.R.; Antolak, H.; Dybka-Stępień, K.; Leszczewicz, M.; Relison Tintino, S.; Alexandrino de Souza, V.C.; Sharifi-Rad, J.; Melo Coutinho, H.D.; Martins, N.; Rodrigues, C.F. Advances in Chemical and Biological Methods to Identify Microorganisms—From Past to Present. Microorganisms 2019, 7, 130.
Note that from the first issue of 2016, MDPI journals use article numbers instead of page numbers. See further details here.
Related Articles
Comments
[Return to top]