Open Access This article is
freely available
re-usable
Review
Mycobacterium abscessus
: Environmental Bacterium Turned Clinical Nightmare
1
School of Life and Health Sciences, Aston University, Aston Triangle, Birmingham B4 7ET, UK
2
Birmingham Children's Hospital, Birmingham Women's and Children's NHS Foundation Trust, Steelhouse Lane, Birmingham B4 6NH, UK
*
Author to whom correspondence should be addressed.
Received: 27 January 2019 / Accepted: 19 March 2019 / Published: 22 March 2019
Abstract
:
Mycobacteria are a large family of over 100 species, most of which do not cause diseases in humans. The majority of the mycobacterial species are referred to as nontuberculous mycobacteria (NTM), meaning they are not the causative agent of tuberculous (TB) or leprosy, i.e.,
Mycobacterium tuberculous
complex and
Mycobacterium leprae
, respectively. The latter group is undoubtedly the most infamous, with TB infecting an estimated 10 million people and causing over 1.2 million deaths in 2017 alone TB and leprosy also differ from NTM in that they are only transmitted from person to person and have no environmental reservoir, whereas NTM infections are commonly acquired from the environment. It took until the 1950′s for NTM to be recognised as a potential lung pathogen in people with underlying pulmonary disease and another three decades for NTM to be widely regarded by the medical community when
Mycobacterium avium
complex was identified as the most common group of opportunistic pathogens in AIDS patients. This review focuses on an emerging NTM called
Mycobacterium abscessus
(
M. abs
).
M. abs
is a rapidly growing NTM that is responsible for opportunistic pulmonary infections in patients with structural lung disorders such as cystic fibrosis and bronchiectasis, as well as a wide range of skin and soft tissue infections in humans. In this review, we discuss how we came to understand the pathogen, how it is currently treated and examine drug resistance mechanisms and novel treatments currently in development. We highlight the urgent need for new and effective treatments for
M. abs
infection as well as improved in vivo methods of efficacy testing.
Keywords:
Mycobacterium abscessus
; non-tuberculous mycobacteria; antimicrobial drug discovery; cystic fibrosis
2.
M. abscessus

and Cystic Fibrosis
3.
M. abscessus

Infection in Non-CF Populations

M. abs

infection can also occur in non-CF populations. It is well documented that a risk factor for NTM pulmonary disease is patients with low body fat. The mechanisms behind this are not well understood; however, it is possible that leptin plays a role in NTM predisposition [

34

].

Aside from pulmonary infections,

M. abs

is also able to produce SSTIs in otherwise healthy hosts. There have been cases of

M. abs

outbreaks following the use of contaminated needles and other surgical instruments [

35

] and even, as was the case in a cohort of 'lipotourists' (i.e., people who travel abroad for cosmetic surgery for fat removal), severe outbreaks following cosmetic surgery [

36

]. Interestingly,

M. abs

has also been linked to late-onset wound infections following crush trauma sustained by Swedish survivors of the 2004 tsunami that killed over 200,000 people and caused serious crush injuries in another >2000 [

37

].

M. abs

pulmonary infections in non-CF patients have been previously reviewed [

38

].
4. Environmental Reservoirs and Transmission
5. Diagnosis and Treatment:
As
M. abs
and other NTM species are ubiquitous in the environment, including drinking water supplies, the presence of culture-positive respiratory tract sample for NTM does not always indicate NTM-pulmonary disease (NTM-PD). Therefore, patients must also have characteristic symptoms, compatible radiology, and two or more positive sputum samples for the same NTM species, as well as the exclusion of other potential causes of pulmonary disease [
55
].
For clinical laboratory identification of NTM species, the British Thoracic Society (BTS) recommends that isolates be obtained from sputum samples, and if this is not possible (for example in children), bronchoalveolar lavage or transbronchial biopsy samples should be taken when NTM pulmonary disease is suspected [
55
]. NTM infection can be validated in the laboratory, with the use of auramine-phenol staining and microscopy, as well as culture on solid and liquid media.
All clinical isolates of
M. abs
undergo susceptibility testing for clarithromycin, cefoxitin and amikacin. They also recommend that other antibiotics such as tigecycline, imipenem, minocycline, moxifloxacin and clofazimine are tested in this manner [
55
].
6. Treatment
The Resistance Problem: Why the Drugs Don't Work
7. Future Perspectives for
M. abscessus
Future Treatments
It perhaps goes without saying that there is an urgent, unmet need for safe and effective treatments against
M. abs
pulmonary disease. There have been instances of successful treatment of
M. abs
with already available antibiotics. One such case was reported in 2002, where a 63-year-old patient whose infection had not responded to the traditional regimen was prescribed a course of faropenem, a new member of the β-lactam antibiotic class. Treatment was successful and produced no adverse side effects [
84
]. It is not just antimicrobials that have potential in enhancing
M. abs
treatment. In 2012, Okazaki et al. reported that the use of clarithromycin, amikacin and imipenem/cilastatin to treat a case of
M. abs
pulmonary was greatly enhanced with the addition of corticosteroids. The authors recommend that the presence of organising pneumonia (a non-specific inflammatory pulmonary process) or an allergic reaction may have helped to explain the poor response to antibiotic treatment alone in some patients, and that this possibility should be considered when applicable to improve treatment outcomes [
85
].
One of the enzymatic resistance mechanisms employed by
M. abs
is the production of an endogenous β-lactamase, Bla
Mab
(
Figure 3
). Cefoxitin and imipenem, both β-lactam antibiotics, are commonly used to treat
M. abs
. In order to improve the efficacy of these antibiotics, a β-lactamase inhibitor may be administered in conjunction during therapeutic treatment. A 2015 study revealed that avibactam, a β-lactamase inhibitor is able to efficiently inhibit Bla
Mab
[
86
], and a subsequent 2017 study showed that avibactam improves the efficacy of imipenem against
M. abs
both in vitro and in macrophage and zebrafish models of infection [
87
].
Aside from these examples, very few case studies have reported successful treatment with repurposed antibiotics. Therefore, novel drug targets in
M. abs
must be discovered and elucidated, and novel compounds that safely and effectively inhibit these targets discovered.
There are potentially a wide variety of viable drug targets in
M. abs
(
Figure 4
). Many of the most promising leads against
M. abs
have come about as a result of concerted effort to find novel drugs for
M. tuberculosis
, which a handful of researchers have applied to
M. abs
and other NTM species. Unfortunately, only a small percentage of the novel drugs which are active against
M. tuberculosis
, are also active against
M. abs
, further highlighting just how resistant and dangerous this pathogen is proving to be.
One potential target in
M. abs
is DNA gyrase, despite the fact that
M. abs
is naturally resistant to quinolones [
78
], a novel fluoroquinolone, DC-159a was developed in 2010 as part of the Working Group on TB Drugs, and was found to be active against
M. abs
with an MIC of 16 µg/mL, which was four to eight-fold lower than the other already available quinolones tested [
88
]. The authors stressed the importance of in vivo testing of DC-159a; however, no publications attesting to the in vivo activity of DC-159a against
M. abs
have been released to date.
The mycobacterial cell wall, in all its complexity, can offer an attractive range of potential antibiotic targets. The three distinct layers of the mycobacterial cell wall: core peptidoglycan, arabinogalactan and mycolic acids are each essential to the pathogen and involve a number of exploitable processes [
89
]. A 2010 study subjected several species of NTM to a capuramycin analogue SQ641 [
90
]. Capuramycins are a novel class of nucleoside antibiotics that work by targeting phosphor-
N
-acetylmuramyl-pentapeptide-translocase (translocase-1 or TL-1), which is essential for peptidoglycan synthesis. They found that the drug had an MIC of 0.25-1 µg/mL, as well as finding synergy between SQ641 and rifabutin and streptomycin. This drug has great potential as it is fast-acting and displays a long post-antibiotic effect [
91
]. In 2017 a study was published in which several members of the newly synthesized MmpL3 inhibitors, indole-2-carboxamides, have shown potent activity against
M. abs
. These inhibitors have been shown to work by inhibiting the transfer of mycolic acids to their cell envelope acceptors in
M. abs
strains [
92
]. Further work has been done on this class of inhibitors; in 2019, Pandya et al. reported that oral administration of the inhibitors shows a statistically significant reduction in bacterial load in the lungs and spleens of
M. abs
-infected mice [
93
].
It has been demonstrated that
M. abs
displays high levels of intrinsic resistance to the tetracycline class of antibiotics via the monooxygenase, MabTetX, a
WhiB7
-independent pathway [
94
]. This is not the end of the road for this class of antibiotics. Tigecycline, the first developed glycylcycline, a new class of tetracycline antibiotics originally developed for SSTIs, was shown in 2014 to be highly effective in vivo against
M. abs
pulmonary disease [
95
]. Further work in 2018 revealed that tigecycline is a poor substrate of MabTetX and is incapable of inducing its expression, explaining its high efficacy in comparison with other tetracycline antibiotics [
94
]. Tigecycline is now one of the recommended treatment options for
M. abs
pulmonary disease, and is arguably one of the most effective, with one study citing clinical improvement in >60% patients with
M. abs
pulmonary disease when tigecycline is employed as part of the multi-drug regimen against
M. abs
[
95
]. Tigecycline is not the only tetracycline showing activity against
M. abs
. A 2012 study tested the in vitro activity of a novel fluorocycline antibiotic, TP-271 (a tetracycline-related antibiotic) against 22 isolates of
M. abs
. They found all the isolates to have an MIC of ≤1 µg/mL with an average of 0.5 µg/mL, which is decidedly superior to that of the other orally available tetracycline antibiotics [
96
].
Bedaquilin, the latest drug indicated for the treatment of multi-drug resistant TB (MDR-TB) was approved by the FDA in 2011, and it works by targeting the ATP synthase of mycobacteria. Obregon et al. [
97
] demonstrated an MICs of 1.0 µg/mL against
M. abs
reference strain and then in 2017, Vesenbeckh et al. pointed to bedaquiline as a potential antimicrobial against
M. abs
after the drug exhibited MICs of ≤1 µg/mL against 20
M. abs
clinical isolates in vivo [
98
]. In vitro activity has also been observed against a variety of
M. abs
isolates with both tedizolid and clofazimine; however, these compounds are yet to be tested for activity in vivo [
99
,
100
].
8. Summary
M. abs
is increasingly being recognised as an important pathogen responsible for a wide range of infections and implicated in severe, and often untreatable pulmonary infections in people with CF and other structural lung disorders. Despite considerable recent progress, there remain many unanswered questions about this pathogen's virulence, transmission and environmental persistence. Furthermore, almost all of the currently available antibiotics are useless against
M. abs
, with even official guideline treatment regimens having little to no evidence of in vivo efficacy. With such high treatment failure rates, clinicians are often forced to administer last-resort antibiotics in the hope of a cure. Coupled with increasing prevalence and its already extensively drug resistant profile, it is glaringly obvious that novel, effective and safe treatments are needed. Many of the novel drugs mentioned above are in various phases of clinical trial against
M. tuberculosis
and there is a significant paucity of data regarding their efficacy against
M. abs
and other NTM species. Furthermore, there is a startling lack of in vivo efficacy data for any of these drugs, which is particularly worrying considering the inconsistencies between in vitro and in vivo anti-
M. abs
activity. Whilst TB has many dedicated drug-discovery programmes, NTM has none. A dedicated NTM drug discovery pipeline is essential to ensure the disease burden of NTM does not become overwhelming.
Author Contributions
R.C.L., J.H., M.D. and J.A.G.C. reviewed the literature, intellectually conceived the research and wrote the manuscript.
Funding
This research was funded by Birmingham Women's and Children's Hospital Charity Research Foundation (BWCHCRF) (R.C.L. 50% PhD Studentship, match funded by Aston University Prize Scheme) and the Academy of Medical Sciences and Global Challenges Research Fund with a Springboard Grant (SBF003\1088:).
Acknowledgments
J.A.G.C. is grateful to the Academy of Medical Sciences, Global Challenges Research Fund and Birmingham Women's and Children's Hospital Charity Research Foundation (BWCHCRF) for their continued support of the Mycobacterial Research Group at Aston University.
Conflicts of Interest
The authors declare no conflict of interest.
Figure 1.
Timeline of
Mycobacterium abscessus
taxonomy from 1950 through to the present day. In the first 50 years since its discovery, no congruent terminology was in widespread use to accurately describe and differentiate
M. abs
from other nontuberculous mycobacteria (NTM). In the mid-2000s, improved molecular technology resulted in the discovery of the two
M. abscessus
subspecies;
M. abscessus
subsp.
massiliense
and
M. abscessus
subsp.
bolletii
in 2004 and 2006, respectively. Then, in 2011, it was proposed that
M. abscessus
subsp.
massiliense
and
M. abscessus
subsp.
bolletii
should be merged into one subspecies,
M. abscessus
subsp.
massiliense
. This caused some confusion within the medical community, until in 2013, when whole genome sequencing (WGS) showed genetic divisions that clearly identified the three subspecies within the
M. abs
complex.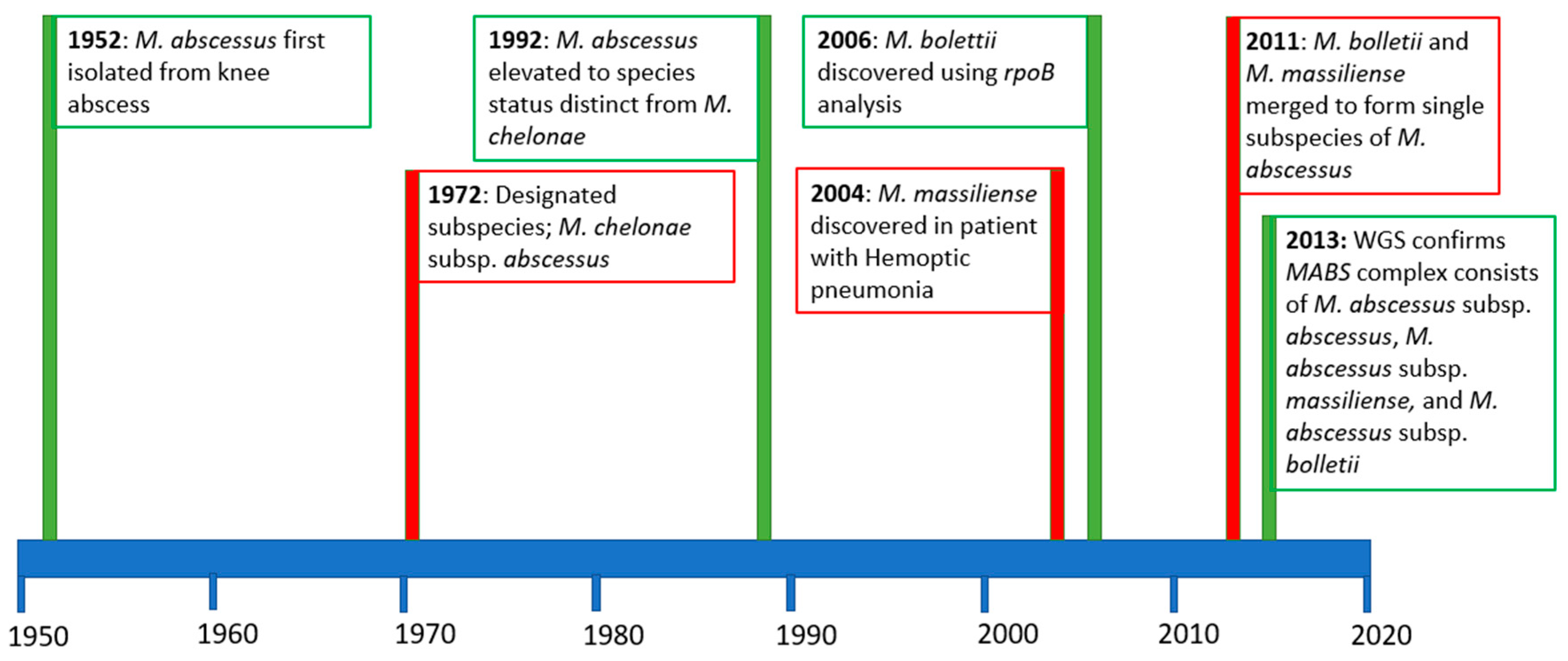 Figure 2.
Flow chart showing treatment regimen for
M. abs
-pulmonary disease based on laboratory susceptibility testing results as recommended by the British Thoracic Society. Treatment will differ based on the whether the isolate displays macrolide sensitivity/inducible macrolide resistance or constitutive macrolide resistance. The initial phase of treatment involves three intravenous (I.V.) antibiotics, and for macrolide sensitive/inducible macrolide resistance one of two oral macrolides, and this phase lasts one month. The continuation phase also depends on laboratory susceptibility testing results and clinicians will typically administer 1-4 oral antibiotics over a period of at least 12 months. It is also important to note that the American Thoracic Society (ATS) recommends surgical resection of infected area if the patient is not responding to therapy, if macrolide resistance develops and/or if the patient develops disease-related complications such as haemoptysis.
Figure 3.
Graphical summary of the resistance mechanisms exhibited by
Mycobacterium abscessus
(
M. abs
). There are several mechanisms involving different physiological, enzymatic and genomic processes that contribute to the notoriously drug-resistant profile of
M. abs
. It is likely that these processes, such as efflux pumps and drug resistance genes, work in synergy to produce a highly resistant pathogen.
Figure 4.
Graphical summary of the exploitable drug targets in
Mycobacterium abscessus
(
M. abs
). There are several potential target areas in
M. abs
including physiological, genomic, enzymatic and metabolic processes. Many of the drugs with potential to be used as part of
M. abs
treatment are old classes of antibiotics that have been repurposed, such as β-lactamase inhibitors, or have been discovered as part of the anti-tuberculous drug discovery pipelines, such as bedaquiline.

Table 1. Prevalence of non-tuberculous mycobacterial lung disease in cystic fibrosis patients in differing geographical areas between 2004 and 2014. CF: cystic fibrosis.
Study
Location
Sample Size
NTM Prevalence in CF
Oliver, KN (2004) [21]
USA
750
13% (majority

M. avium

complex)
Roux, AL, et al. (2009) [22]
France
1582
6.6% (

M. abs

most common)
Seddon, P, et al. (2013) [23]
UK
3805 adults
3317 children
5% adults
3.3% children
Adjemian, J, et al. (2014) [24]
USA
18,003
10–20%; depending on area
Mussaffi, H, et al. (2005) [25]
Israel
139
8.6%

© 2019 by the authors. Licensee MDPI, Basel, Switzerland. This article is an open access article distributed under the terms and conditions of the Creative Commons Attribution (CC BY) license (http://creativecommons.org/licenses/by/4.0/).