Quantitative Characterization of the Growth of
Deinococcus geothermalis

DSM-11302: Effect of Inoculum Size, Growth Medium and Culture Conditions

1

Université de Toulouse, Institut National des Sciences Appliquées (INSA), Université Paul Sabatier (UPS), Institut National Polytechnique (INP)

2

Institut National de la Recherche Agronomique (INRA), Unité Mixte de Recherche (UMR) 792 Ingénierie des Systèmes Biologiques et des Procédés, Toulouse F-31400, France

3

Centre National de la Recherche Scientifique (CNRS), UMR5504, Toulouse F-31400, France

*

Author to whom correspondence should be addressed.

Academic Editors: Ricardo Amils and Elena González Toril

Received: 9 June 2015 / Revised: 21 July 2015 / Accepted: 28 July 2015 / Published: 20 August 2015
Abstract
Due to their remarkable resistance to extreme conditions,
Deinococcaceae
strains are of great interest to biotechnological prospects. However, the physiology of the extremophile strain
Deinococcus geothermalis
has scarcely been studied and is not well understood. The physiological behaviour was then studied in well-controlled conditions in flask and bioreactor cultures. The growth of
D. geothermalis
type strains was compared. Among the strains tested, the strain from the German Collection of Microorganisms (Deutsche Sammlung von Mikroorganismen DSM) DSM-11302 was found to give the highest biomass concentration and growth rate: in a complex medium with glucose, the growth rate reached 0.75 h
−1
at 45 °C. Yeast extract concentration in the medium had significant constitutive and catalytic effects. Furthermore, the results showed that the physiological descriptors were not affected by the inoculum preparation steps. A batch culture of
D. geothermalis
DSM-11302 on defined medium was carried out: cells grew exponentially with a maximal growth rate of 0.28 h
−1
and
D. geothermalis
DSM-11302 biomass reached 1.4 g·L
−1
in 20 h. Then, 1.4 g
DryCellWeight
of biomass (X) was obtained from 5.6 g glucose (Glc) consumed as carbon source, corresponding to a yield of 0.3 Cmol
X
·Cmol
Glc
−1
; cell specific oxygen uptake and carbon dioxide production rates reached 216 and 226 mmol.Cmol
X
−1
·h
−1
, respectively, and the respiratory quotient (QR) value varied from 1.1 to 1.7. This is the first time that kinetic parameters and yields are reported for
D. geothermalis
DSM-11302 grown on a mineral medium in well-controlled batch culture.
View Full-Text
►

▼

Figures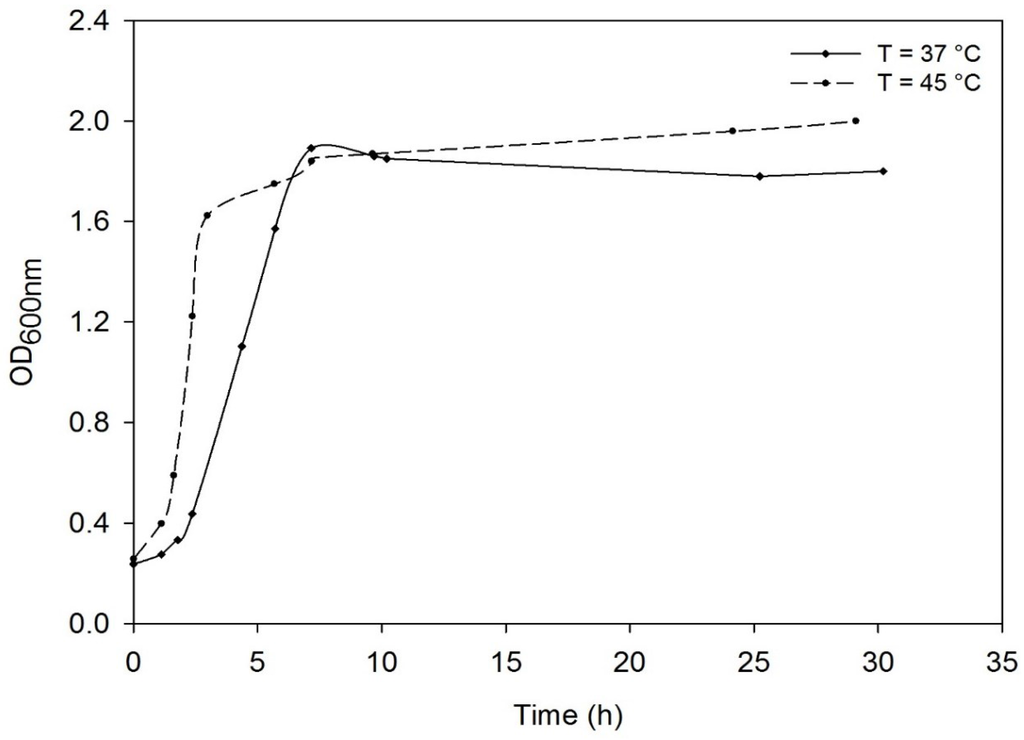 Figure 1
This is an open access article distributed under the
Creative Commons Attribution License
which permits unrestricted use, distribution, and reproduction in any medium, provided the original work is properly cited (CC BY 4.0).

Share & Cite This Article
MDPI and ACS Style
Bornot, J.; Molina-Jouve, C.; Uribelarrea, J.-L.; Gorret, N. Quantitative Characterization of the Growth of Deinococcus geothermalis DSM-11302: Effect of Inoculum Size, Growth Medium and Culture Conditions. Microorganisms 2015, 3, 441-463.
Related Articles
Comments
[Return to top]