Open Access This article is
freely available
re-usable
Article
Casino Business in the Context of Tourism Development (Case: Montenegro)
1
Faculty of tourism Montenegro Tourism School, Mediterranean University, Podgorica 81000, Montenegro
2
School of Advanced Social Studies, Gregorčičeva 19, 5000 Nova Gorica, Slovenia
3
DOBA Faculty of Applied Business and Social Studies, Prešernova ulica 1, 2000 Maribor, Slovenia
*
Author to whom correspondence should be addressed.
Received: 15 October 2017 / Accepted: 22 November 2017 / Published: 30 November 2017
Abstract
:
Special Interest tourism (SIT) represents an answer to mass tourism and its goal is to ensure tourist destination sustainability. The casino industry is growing intensively in the territory of Montenegro and a question arises whether casino tourism development is an opportunity or a danger for Montenegro and its sustainability. The goals of this paper are to show and assess the current offerings and potential for development of casino tourism in Montenegro, to point out advantages and challenges in development of casino tourism in this type of destination. Econometric models were used for the needs of this paper (time series correlations and regression for defining relation between casino business and tourism, ARIMA model for prognosis of casino business in the context of tourism until 2020). For the first time in the territory of Montenegro, 14 anonymous interviews were carried out with casino players to determine the quality of current offerings for development of casino tourism in Montenegro. The main finding suggests that casino tourism in Montenegro is not sufficiently developed, but that we can boast of a high-quality casino offering such as Slovenia. Limitations lie in the lack of data over a long period and the non-existence of the records on number of casino tourists in Montenegro. The emphasis is put on the economic effects of developing casino tourism, rather than the social ones.
Keywords:
casino; tourism; forecast; econometrics; Montenegro
1. Introduction
If there is a connection between tourism and casino business, it is evident now, but in this paper we will explore further this relationship and how to set the framework for planning casino tourism in Montenegro. In the forthcoming presentation we will review the literature, explain the methodology and the paper sample, present the results and arguments of our findings, and provide guidelines for the future development of casino tourism in Montenegro along with suggestions to improve this research.
2. Literature Review
Since the sector of games of chance is gaining in significance in many parts of the world, and is characterized by a strong growth trend, especially over the course of the last few decades, numerous scientific studies are dealing with this topic. Most of them focus on the advantages and drawbacks of the development of casino tourism, including positive and negative economic, social, cultural, environmental and other impacts. Conclusions are often based on the attitudes of the local population and the impacts that this kind of tourism can have on the local community as a whole. The negative social effects of casino tourism are often highlighted. In this section, we will give an overview of the most important findings of other authors about casino tourism and the most significant issues related to it.
It is an interesting fact that there are no significant papers in this area for Montenegro, which is another contribution of this paper.
3. Methodology and Sample
Within the scope of the point A: Casino tourism in Montenegro Actual Situation, we provide quantitative and qualitative analysis of the casino offer. In order to make the qualitative analysis more complete, we conducted an interview among casino players.
A total of 14 casino players who provided written answers via an electronic questionnaire were interviewed. The number of 14 is a relevant sample as we explained in the text above. The interview questionnaire contained a total of 15 questions, and casino players had the task to evaluate the total offer and individual segments of the casino offer in Montenegro, to highlight the most significant barriers to the development of casino tourism, list the best casino in Montenegro they had visited and argue their choice. They also had to propose priority measures to improve casino services. Likert scale 1 to 10 was used for certain questions (1): the most unfavorable answer; 10: the most favorable answer). The interview took place in the period from 1 September to 15 September 2017. Casino players are a special and highly-specific market segment, particularly if we consider the social and psychological aspect. Thus, we knew that it would be impossible to get an interview if we asked for information on the interviewed players. That's why this interview was completely anonymous. It should be noted that this is the first interview of the sort that has ever been carried out among casino players in Montenegro, which reflects special contribution of this paper.
4. Results and Discussion
For a more precise view of results and discussion, this section will be divided into four parts as explained in the previous chapter.
4.1. Point A: Actual Casino Tourism Offer in Montenegro
The table above shows the casino companies in Montenegro, hotels where casinos are located and the revenues of these casinos in 2016.
Within the Hotel Hilton 5 *, which is located in the heart of the capital, Podgorica, the hotel has 157 rooms, 23 suites, and 360 beds. Within the hotel is Casino Montenegro. Casino Montenegro, like the Royal Casino, is owned by Jack Pot doo, and since 2016 it is under the management of Merit.
The reinterpretation of anonymous interviews that we explained in detail in Methodology and Sample speaks of the modesty of current casino offerings in Montenegro.
The above statements give us the right to conclude that casino offerings in Montenegro are not sufficiently developed, or promoted to attract more wealthy tourists.
When we talk about effects of developing casino tourism, we saw that Montenegro has economic benefits of casino tourism. However, based on the experiences of developed casino tourism destinations, a number of negative, primarily social, consequences of the casino industry can be noticed. Some of them are: an increase in crime rates and the frequency of gambling-related crime, increase of drugs consumption and prostitution, increased number of vehicles, traffic jams and air pollution, as well as the reduction of free public spaces and green spaces due to the construction of a number of casino hotels and complementary entertainment facilities.
Furthermore, there are also negative economic consequences of the casino tourism. Although the development of a casino business provides opportunities for new jobs, negative repercussions can also be seen in the field of employment. One of them is an increase in the number of high school students and university students leaving school due to good opportunities for employment in the gambling industry. Also, many people decide to change their jobs and to switch to the casino industry, due to higher income, which results in the lack of highly skilled workers in many professions. Development of the casino industry is also accompanied by the increase in the cost of living and housing and the constant rise in inflation rates.
Additionally, it should be emphasized that the Governments usually provide global gambling companies with various privileges such as tax reduction, that negatively affects the economy, and even the changing of legal frameworks, which can affect the stability and the overall confidence in the legal and political system of the country.
Decisionmakers in casino tourism industry in Montenegro should analyze all above-mentioned variables and develop appropriate strategies to avoid these negative effects.
In addition to the aforementioned economic, social and environmental impacts of casino tourism on Montenegro, we must especially emphasize the importance of the relationship between casinos and money laundering phenomenon. Actually, casinos represent for criminal groups an effective tool for laundering "dirty" (illegally earned) money. Significant risk factors in this industry include the prevalence of cash transactions, accessibility to multiple premises and anonymity on the part of the customer. Money laundering has a devastating impact on the society, because it destabilizes the legal economy, and it is a risk to the fundamental principle of free competition, producing in the medium-long term devastating negative effects not only from an economic point of view but also from a social one. How to stop illegal transactions is the greatest challenge for the Montenegrin government. The Montenegrin anti-money laundering law will be amended soon.
For a better illustration of actual development of casino tourism in Montenegro, we identified a number of key advantages: luxury hotels with 4 and 5 stars that offer casinos, a high-quality and young workforce, growth of income of companies, growth of public revenues, growth of income of local people, excellent new casino area, variety of offers in small space, climate and geographical position, natural values, cultural and historical heritage, hospitality of the local population, food and drink, favorable ambience for investments, developed IT infrastructure, good relations with neighboring countries, new casino destinations, closeness to important European metropolises, economic benefits for the destination and the state budget, and foreign casino management with many years of experience in this field, such as Hit Nova Gorica and Merit Casino.
As key disadvantages of casino tourism in Montenegro, we recognized: negative impacts, increase in crime, prostitution, drug use, lack of protection measures for local population, undefined ethical codes of casino tourism, undefined product of casino tourism, lack of strategy for development of casino tourism, lack of control mechanisms, bad connectivity of Montenegro and other destinations, non-existence of educational programs in this field, a small number of experts, the emergence of money laundering, the increase in the gap of the rich and the poor and the north and the south, and poor connectivity between the public and the private sector in the field of casino tourism.
4.2. Point B: Casino Tourism in Montenegro—Realistic Scenario
Based on the sample, i.e., on the base time series, we have established a close connection between income from casinos and the number of tourist arrivals with the aid of autocorrelation and partial correlation. Using Pearson's correlation, we established the strength of the relationship between these two variables. The following
Table 5
gives the results of autocorrelation and partial correlations.
As we can see (
Table 5
), p (prob) is in all cases less than 0.05, which confirms the existence of a connection. The Pearson correlation coefficient (
n
= 48,
p
< 0.05,
r
= 0.283) shows that it is a weak link between these two phenomena (
Cohen 1988
). In order to anticipate the real scenario of developing casino tourism in Montenegro, we used the ARIMA model to predict how much casino income will be by the end of 2020 assuming that the connection strength will not change. Our findings say that by 2021 casinos in Montenegro will achieve revenues of 51,493,657 euros, which is 150.59% more compared to 2016.
4.3. Point C: Casino Tourism in Montenegro—Wanted Scenario
Our assumption is that casino revenues depend on the number of tourist arrivals. By applying line regression analysis of time series we come to the following results (
Table 6
):
From the table we can notice that the coefficients for creation of our model are statistically significant (
p
< 0.05).
This means that the regression model is:
Log(x) = 9.977738 + 0.236278*log(y) + 0.040997*T
where X: Casino revenues, Y: Number of tourist arrivals, and T: Trend.
In this case, correlation between the number of tourist arrivals and casino revenues is high (r = 0529). Thanks to this formula we can predict the future of casino revenues and we succeeded to form a wanted (desired) scenario.
By application of ARMA model (Akaike Info Criterion, KPSS significance 5%) we have obtained the value for casino revenues that are conditioned by the number of tourist arrivals. Graphical display of prognosis of casinos until 2020 is shown in
Figure 3
:
The graph shows (
Figure 3
) that casino revenue is calculated based on current (unadjusted) values. Our forecasts say that casino revenues by the end of 2020 will amount to 83,097,190 euros, which is 61.37% more than the realistic forecast estimates and 304.39% more than in 2016. Positive effects of this wanted scenario, can be easily noticed and it is evident that casino tourism would be important for growth and development of the Montenegrin economy. Our findings match the findings of
Greenwood and Dwyer
(
2017
);
Nickerson
(
1995
);
Back and Bowen
(
2009
);
Wan
(
2012
) and
Cho
(
2002
).
5. How to Achieve Wanted Scenario?
With the above analyses and forecasts we have created points A, B, and C. A question arises of how the desired casino revenues can be achieved by 2020. The answers can be found in the strategic management of a tourist destination. As
Piner and Paradis
(
2004
) have pointed out, we can also say that planning long-term casino tourism in Montenegro is a priority. One of the key disadvantages of the Montenegro casino tourism is the lack of strategy for its development. Strategic management primarily implies the analysis of the middle of the destination (internal and external) in order to define the vision of development of casino tourism in Montenegro. The basic assumption is that the vision must be precise, clear, specific, recognizable, and that it does not rely too much on superlatives. The vision of the casino of tourism in Montenegro by 2030 would be:
Montenegro will be recognized on the tourist map by the high-quality offer of sustainable casino tourism.
Montenegro can accomplish the given vision only by ensuring economic, ecological and socio-cultural sustainability. Economic benefits of casino tourism development in Montenegro would easily be noticeable, however, care must be taken about negative socio-cultural effects, as well as ecological effects as studied by
Greenwood and Dwyer
(
2017
);
Nickerson
(
1995
);
Back and Bowen
(
2009
);
Wan et al.
(
2011
)
Perdue et al.
(
1995
);
Lee and Back
(
2003
);
Cho
(
2002
);
Long
(
1996
);
Mallach
(
2010
);
McCartney
(
2015
) and
But and Ap
(
2017
). By establishing strong mechanisms, development of casino tourism can be monitored, controlled, and adjusted if needed. Casino tourism is an excellent opportunity for revitalization of the northern part of Montenegro, where apart from ski tourism and nature-based tourism, the casino tourism can develop as well. Construction of the Bar-Boljari highway, the possibility of reopening Berane airport, and enriching the existing hotels with casino content could contribute to achievement of the desired scenario.
However, it is clear that without a significant marketing effort, Montenegro as a casino destination will not sell itself. Defining marketing strategy under the strategy of casino tourism development is vital for revival of this type of tourism. Precisely defining sales policy represents a prerequisite for casino tourism development. Cooperation of casino hotels with specialized tourist agencies and travel organizers abroad is crucial in order to ensure high rates of hotel occupancy and high revenues from casinos. Hotel Maestral very well knows the complete casino tourism system and it represents the best practice example in this area in Montenegro. Certainly, there are good examples in the surrounding areas as well.
The emergence of Merit Company to the Montenegrin market is promising, but it is not sufficient. Without the support of state departments such as Montenegrin Government, Ministry of Tourism and National Tourist Organization of Montenegro, we cannot expect better results than the current casino tourism in Montenegro.
It should be noted that, although the casino tourism segment is small, as we have seen by the share of casino revenues in GDP, this segment should not be neglected. Owing to casinos, Montenegro can be a destination that will be visited throughout the entire year. Casino tourism is unavoidably followed by event tourism. Pairing these two forms of tourism enables a decrease in tourist seasonality. Casino tourism development may contribute to realization of a vision of Montenegro as a tourist destination as early as 2020, which means that it contributes to high quality touristic offerings for 365 days a year, while respecting the sustainability concept.
6. Conclusions and Suggestions for Future Research
Strategic planning of Special Interest tourism is necessary for all tourist destinations wishing to sustain for a longer period, as is the case with Montenegro. Casino tourism is becoming an increasingly popular form of tourism day by day, carrying a number of positive and negative effects. As such it is both a great opportunity and a danger to the development of tourism in Montenegro. In order for the casino tourism in Montenegro to be treated as an opportunity for development, there is a need for strong management that will base its business on the principles of sustainability and social responsibility.
Precise definition of a casino business policy and ethics is essential, as well as determining the social costs of casino tourism in Montenegro. Along with adequate strategic and marketing planning, it is also vital to determine a destination's carrying capacity (economic, socio-cultural, ecological, moral, and psychological) from the aspect of casino tourism. On the other hand, strong marketing management is needed, with strong promotion and cooperation at all levels and between all tourist system objects. Existing hotels that contain casinos must also work on networking urgently and establishing good cooperation with specialized travel agents. Social responsibility issues must be observed and studied, too.
Our findings open up the possibility of further research on this topic and represent the basic starting point for the development of strategic documentation for the development of casino tourism in Montenegro. On the other hand, the proposed models can be explored and used for analysis and forecast of casino tourism in other economies. As we have not addressed the ecological and socio-cultural effects of casino tourism at the destination in this paper, we suggest that our results are annexed with the analysis of the mentioned effects. While we have pointed out the main disadvantages of the development of casino tourism in Montenegro, the social and environmental costs must be precisely determined.
In the end, a closer look at the connection between the casino tourism and the event tourism can be further examined in Montenegro, as well as the surrounding regions.
Acknowledgments
This paper is a result of a bilateral project between Montenegro and Slovenia: Joint experience of the development of casino business in a tourist destination—Montenegro and Slovenia.
Author Contributions
Iva Bulatović prepared the concept of paper, designed survey and methodology, did statistical analysis and wrote results and discussion. Ana Stranjančević conducted survey, collected data, wrote literature review. Iva Bulatović and Ana Stranjančević wrote conclusion. Darko Lacmanović and Andrej Raspor prepared introduction, abstract and literature.
Conflicts of Interest
The authors declare no conflict of interest.
| | |
| --- | --- |
| 1 | Hit Nova Gorica—parent company; Hit Montenegro—sister company |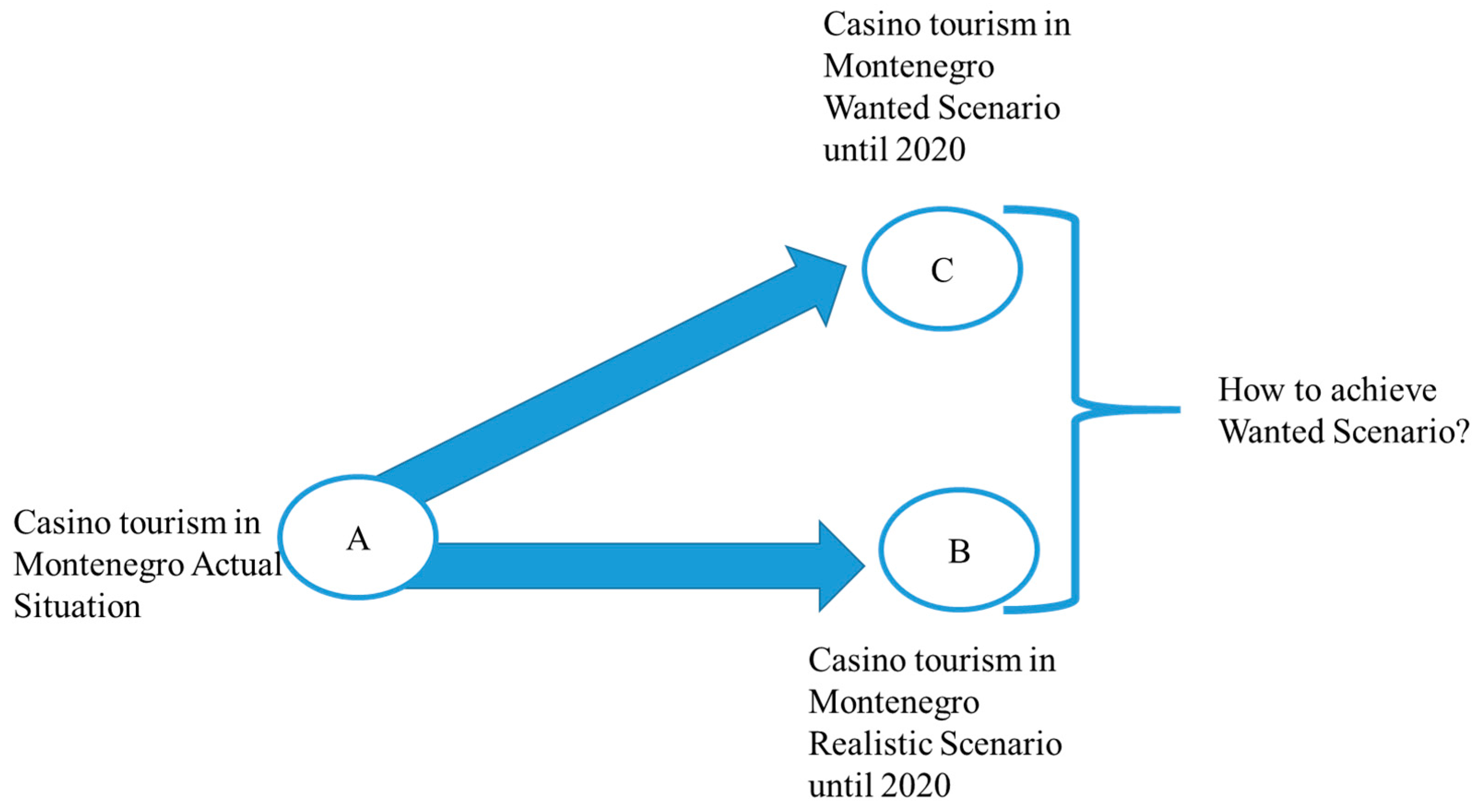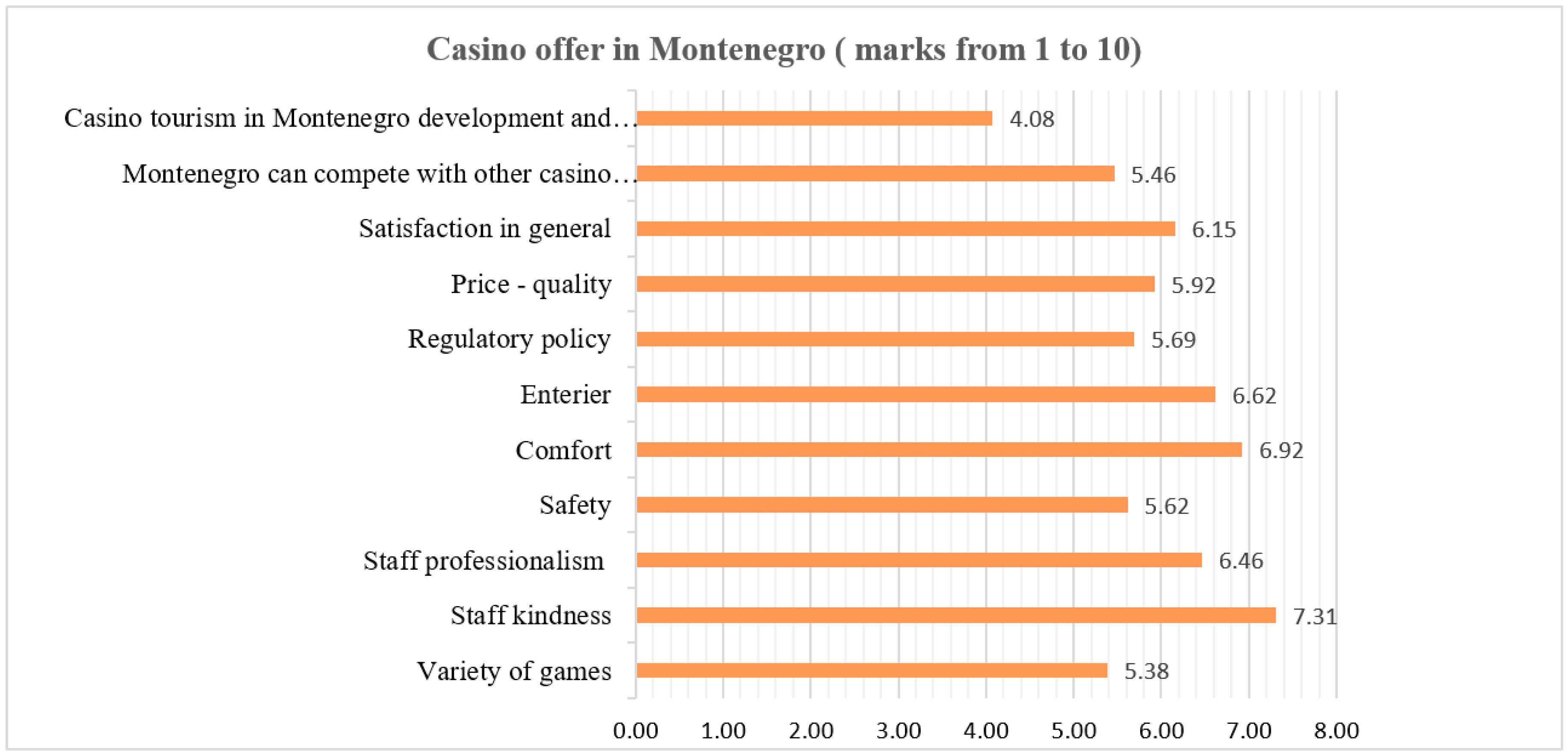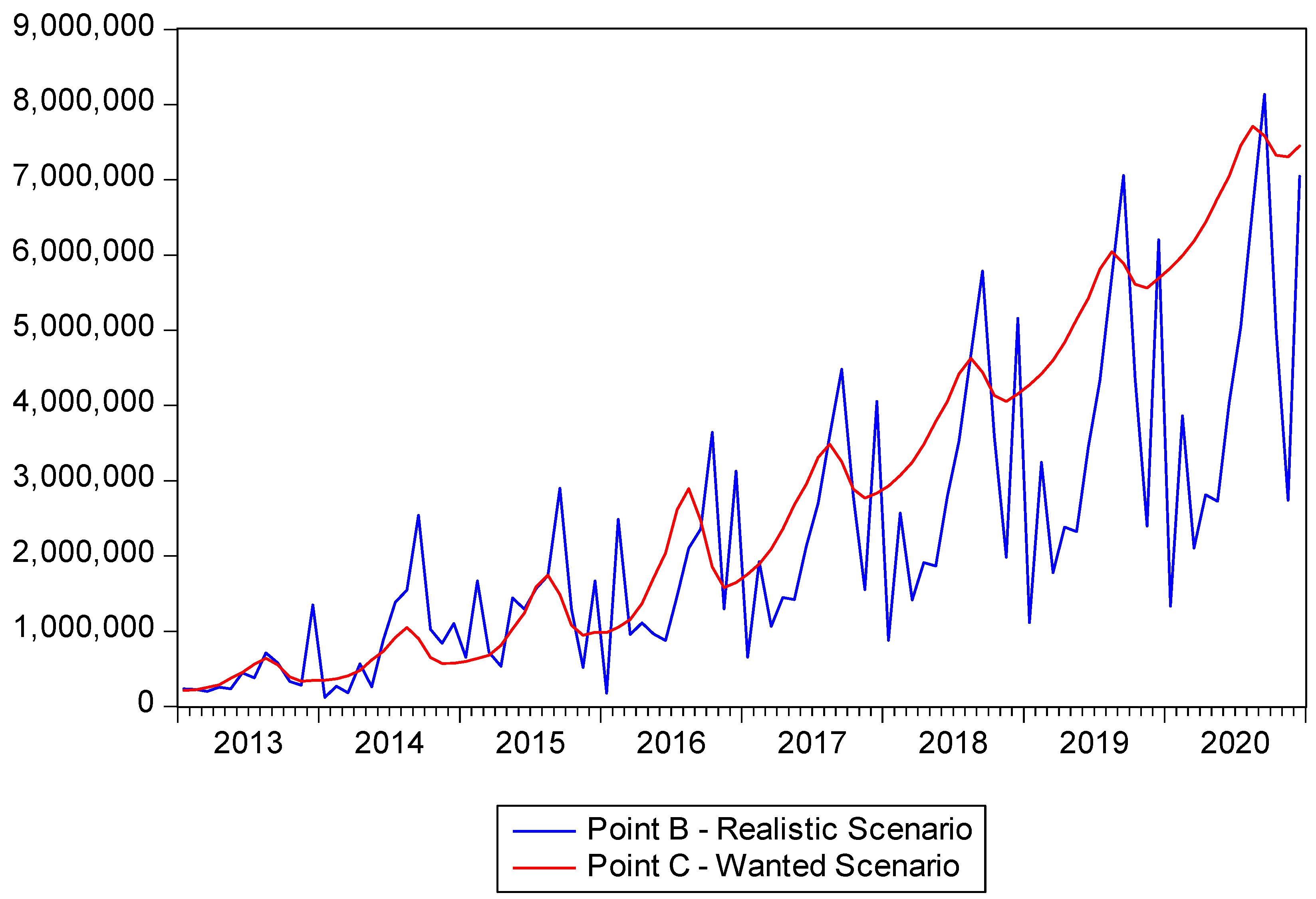 Casino Revenues (euros)
Number of Tourist Arrivals
Month
2013
2014
2015
2016
2013
2014
2015
2016
I
231,097.8
118,158.4
655,078.3
174,727.2
15,504
15,949
19,584
20,197
II
222,976.2
265,819.5
1,664,896
2,485,447
15,350
17,105
21,487
22,607
III
194,995.1
179,857.7
718,829.3
953,948.6
22,695
21,674
24,204
28,343
IV
254,502.7
563,292.3
535,241.3
1,109,694
32,750
36,395
43,808
48,754
V
233,398.5
256,942.9
1,441,538
962,468.2
89,139
91,270
99,980
104,964
VI
446,219.2
882,791.2
1,290,611
873,251.3
161,854
160,513
181,111
187,099
VII
379,090.9
1,381,679
1,562,868
1,468,816
348,190
343,518
442,461
452,126
VIII
708,533.8
1,543,044
1,739,630
2,100,312
500,779
513,317
547,597
583,276
IX
578,305.5
2,536,813
2,896,699
2,359,253
223,727
228,146
233,152
250,538
X
331,955.3
1,023,749
1,288,554
3,639,155
45,238
47,115
51,124
62,602
XI
282,464.6
839,705.6
514,316.1
1,292,788
18,823
22,800
24,282
26,688
XII
134,7826
1,100,509
1,664,594
3,128,669
17,957
19,574
24,319
26,623
| | Casino Revenues | Tourist Arrivals |
| --- | --- | --- |
| Mean | 1,092,190 | 136,173.1 |
| Median | 918,369.9 | 46,176.5 |
| Maximum | 3,639,155 | 583,276 |
| Minimum | 118,158.4 | 15,350 |
| Std. Dev. | 854,740.5 | 166,748.3 |
| Skewness | 1.077714 | 1.42484 |
| Kurtosis | 3.657795 | 3.75576 |
| Jarque-Bera | 10.15713 | 17.38371 |
| Probability | 0.006229 | 0.000168 |
| Sum | 52,425,110 | 6,536,308 |
| Sum Sq. Dev. | 3.43 × 1013 | 1.31 × 1012 |
| Observations | 48 | 48 |
| Company | Hotel Where Casino Is Located | Revenue of Casino 2016 (euros) |
| --- | --- | --- |
| Hit Montenegro Doo | "Maestral" 5* | 12,093,743.1 |
| Casino Avala Doo | "Avala" 4* | 2,592,037.6 |
| Dzek Pot Doo | "Royal" Hotel Splendid 5* | 1,753,664.6 |
| Dzek Pot Doo | "Montenegro" Hotel Hilton Crna Gora—Podgorica 5 * | 1,154,859.6 |
| Dzek Pot Doo | "The Queen of Montenegro" 4 * | 1,068,672.2 |
| Company | Casino | Number of Tables | Slot Machines | Electronic Roulette |
| --- | --- | --- | --- | --- |
| Dzek Pot Doo | "Royal" | 14 | 46 | 1 |
| Dzek Pot Doo | "The Queen of Montenegro" | 10 | 28 | / |
| Dzek Pot Doo | "Montenegro" | 9 | 46 | 1 |
| Hit Montenegro Doo | "Maestral" | 9 | 61 | 1 |
| Casino Avala Doo | "Avala" | 23 | 83 | 1 |
Date: 16 November 2017 Time: 22:05
Sample: 2013M01 2016M12
Included observations: 48
Autocorrelation
Partial Correlation
AC
PAC
Q-Stat
Prob
. |*** |
. |*** |
1
0.384
0.384
7.5137
0.006
. |**** |
. |*** |
2
0.489
0.400
19.975
0.000
. |** |
. | . |
3
0.264
−0.002
23.705
0.000
. |*. |
.*| . |
4
0.120
−0.190
24.495
0.000
. |*. |
. |*. |
5
0.184
0.120
26.387
0.000
. |*. |
. | . |
6
0.082
0.063
26.773
0.000
. |*. |
. | . |
7
0.133
0.023
27.808
0.000
. |*. |
. | . |
8
0.147
0.066
29.104
0.000
. | . |
.*| . |
9
0.052
−0.075
29.270
0.001
. |** |
. |*. |
10
0.217
0.169
32.247
0.000
. | . |
.*| . |
11
0.030
−0.074
32.304
0.001
. |** |
. |** |
12
0.351
0.334
40.518
0.000
. |*. |
. | . |
13
0.204
0.038
43.381
0.000
. |*. |
**| . |
14
0.136
−0.255
44.693
0.000
. |*. |
.*| . |
15
0.127
−0.100
45.863
0.000
.*| . |
.*| . |
16
−0.097
−0.084
46.571
0.000
. | . |
. | . |
17
−0.002
0.068
46.571
0.000
.*| . |
.*| . |
18
−0.128
−0.112
47.877
0.000
.*| . |
. | . |
19
−0.096
−0.040
48.639
0.000
.*| . |
.*| . |
20
−0.083
−0.115
49.226
0.000
Dependent Variable: LOG (Casino Revenues)
Method: Least Squares
Date: 11 Novemeber 2017 Time: 12:24
Sample: 2013M01 2016M12
Included observations: 48
Variable
Coefficient
Std. Error
t-Statistic
Prob.
C
9.977738
0.796491
12.52711
0.0000
LOG(DOLASCI)
0.236278
0.072060
3.278912
0.0020
@TREND
0.040997
0.006256
6.553280
0.0000
R-squared
0.576125
Mean dependent var
13.56290
Adjusted R-squared
0.557286
S.D. dependent var
0.892986
S.E. of regression
0.594164
Akaike info criterion
1.857139
Sum squared resid
15.88639
Schwarz criterion
1.974089
Log likelihood
−41.57134
Hannan-Quinn criter.
1.901335
F-statistic
30.58165
Durbin-Watson stat
2.186967
Prob (F-statistic)
0.000000

© 2017 by the authors. Licensee MDPI, Basel, Switzerland. This article is an open access article distributed under the terms and conditions of the Creative Commons Attribution (CC BY) license (http://creativecommons.org/licenses/by/4.0/).