Open Access This article is
freely available
re-usable
Article
A Database Tool for Systematic Analysis of Embodied Emissions in Buildings and Neighborhoods
1
Department of Architecture and Technology, Norwegian University of Science and Technology, 7491 Trondheim, Norway
2
Department of Applied Mathematics and Computer Science, Technical University of Denmark, 2800 Kgs. Lyngby, Denmark
*
Author to whom correspondence should be addressed.
Received: 30 June 2018 / Accepted: 8 August 2018 / Published: 12 August 2018
Abstract
:
There is a growing body of research on the embodied emissions of individual buildings, but the results and methods remain mostly inaccessible and incomparable due to insufficient reported information, and differences in system boundaries, methods, and data used. This inhibits further utilization of the results in statistical applications and makes interpretation and validation of results difficult. The database tool presented in this paper attempts to mitigate these challenges by systematizing and storing all relevant information for these studies in a compatible format. The tool enables comparison of results across system boundaries, improves the transparency and reproducibility of the assessments, and makes utilization of the results in statistical applications possible. Statistical applications include embodied emission benchmarking, identifying emission drivers, and quantifying relationships between variables. Other applications of the tool include the assessment of embodied emissions of buildings and neighborhoods. This paper presents the tool and exemplifies its use with preliminary results based on a dataset of 11 buildings. Work is ongoing to expand the dataset, which will provide more comprehensive results.
Keywords:
life cycle assessment; embodied emissions; carbon footprint; benchmark; comparative analysis; reproducibility; reporting; validation
2. Materials and Methods
This section first describes the structure of the database, then describes the handling of the data and the calculation method. Thereafter follows a description of the data used in the statistical analysis in this paper.
2.1. Database Design
The building LCA database-tool (bLCAd-tool) is a relational MySQL database that can store results from existing, and calculate new, process-based life cycle assessments of buildings. It is designed to apply this data for the analytical purposes described in the introduction. The Entity-Relationship-Diagram (ERD) for the database design is shown in
Figure A1
in the
appendix
. The database has three main components: a "building" component for storing attributional data about the building and study, a "material: component for storing information about the materials and products that make up the building, and a "results and inventory" component with modules for storing, calculating, and aggregating LCA results for the building. These three components contain information related to distinct parts of an LCA: the material component contains the background data on the unit processes used in the individual studies, serving a function similar to databases such as Ecoinvent [
27
]; the results and inventory component is calculating and storing the GWP results for each building element and inventory; and the building component classifies the buildings and the studies, with information relevant for interpreting the results. The information stored in these components are listed in
Figure 1
.
The building component contains attributional information specific to the building and the study related to that building. Building information includes typology, construction type, location, energy ambition level, floor area, surface areas and volume, stories (above and below ground), and heat loss number, in addition to the number of occupants. The number of occupants in a building allows for a representation of embodied emissions per capita, which can be useful when comparing lifestyles or the area provided to fulfill functions such as housing and workplaces. Since larger houses in general are more energy efficient per m
2
, embodied emissions per capita can be an important additional metric [
28
]. Study information includes the calculation method, main data source (e.g., EPD), study type (e.g., scientific), year of assessment, study lifetime period, the built-status (e.g., design phase/as-built phase), and the yearly GHG emissions results from the operational phase of the building (life cycle module B6 and B7).
The materials component is independent of the buildings and stores information about materials and products, including source and emission data. These materials are the per unit GWP background data that was used in each study. This background data is typically sourced from LCA databases such as Ecoinvent, or from Environmental Product Declarations (EPDs), where the sources used are either Generic or Specific, i.e., average emission values for a typical representative product, or emission values from a specific supplier, respectively. Both the location of production and the lifetime of the material (reference service life (RSL)) can be stored for each material and for each inventory entry. This is because those parameters can come either together with the background data, or they can be set by the LCA practitioner if the background data are used as a proxy for the actual materials used in the building. The lifetimes of the materials are also highly dependent on their use case and must therefore often be set specifically for each material inventory.
The third component, whose structure is illustrated in
Figure 2
, consists of the building elements and the material inventory. Each building has GWP results from an LCA connected to it. These results are stored in a hierarchical building elements tree-structure, where the total result for the whole building is at the top level, with sub-elements that have increasing resolutions. This hierarchical structure is organized according to the Norwegian standard NS 3451 Table of building elements [
23
], which has three sub-levels. This standard is widely used in the Norwegian context for assessing quantities, costs, and LCA organization of buildings. However, the tool is built for flexibility, and switching to a different category structure is trivial. These building elements are in turn optionally connected to material inventory entries, where each entry is associated with a material and include quantity, lifetime, transport distances and modes, and location of production. Furthermore, the emissions for each material inventory entry are calculated and stored in that entry.
Published research and other acquired study results come with varying data detail level. To be able to make use of these results regardless of the building element level at which they are reported, results can be added on a freely chosen level of resolution. Higher levels will be automatically calculated based on lower-level aggregation. Results with higher resolution reveal more information about where emissions arise and about study design. Consequently, a higher resolution is preferred but is not always available. To accommodate varying resolutions, there are two ways of entering GWP results: (1) entering results values directly into a chosen building element hierarchy level, or (2) entering material inventory data. The second option, which has the highest level of detail, involves selecting a material from the materials component, followed by entering material quantities, transport distances, and the expected service life of the materials. The material inventory entry will be associated with a chosen building element and building elements on all levels will subsequently be automatically calculated based on lower level aggregation. This last option is equivalent to conducting the LCA calculations from scratch and can also be used for this purpose.
In each case, the parent building elements are calculated as the sum of its subentries (where there exists any). If there are entries in the material inventory for a given building element, the material inventory emissions will overwrite any manually entered values in the building elements for that lifecycle phase. Likewise, if a value is entered into a building element, any values entered into a parent level of this building element will be overwritten for that lifecycle phase. In this way, entries on lower levels (higher resolution) have priority in the calculations and will overwrite entries on higher levels (lower resolution).
Results from building entries in the database may then be extracted with SQL queries, restricting the output to a chosen set of buildings, building elements, life cycle phases, inventories, and materials from studies that comply to some chosen set of parameters/criteria. In this way, the organization of the database makes it straightforward to query results and conduct analyses on the subset of entries where the chosen parameters/criteria apply.
2.2. Data Handling and Calculations Methodology
An emphasis has been put on making most data optional since data availability among building LCAs is a major concern. Although a full dataset is preferred, the lack of certain data should not exclude a building from being part of the database. Therefore, most attributional building data are optional. The same is true for materials. Likewise, a study can include a chosen selection of life cycle phases for the GWP results. These are organized according to the widely used European standard EN 15978 [
22
] for life cycle assessment, which separates emissions into lifecycle modules A–D. However, most studies are using much narrower system boundaries, and many modules cannot be computed directly based on available data. This version of the database tool is, therefore, focusing on the life cycle modules that are most often observed in building LCAs, namely A1–A3 (material production), A4 (transportation to the building site), and B4 (material replacements throughout study lifetime period), which all can be calculated based on basic inputs. In addition, there is an option to manually enter emissions for the modules A5, B1, B2, B3, B5, C1, C2, C3, C4, D1, D2, D3, and D4 into the inventory entries and the building elements. The two remaining modules, B6 (operational energy use) and B7 (operational water use), are covered on the whole building level and are therefore stored in the buildings component. The minimum requirement for manually entered results is that they are separated into life cycle phases.
The LCA calculation method has two parts: first, the emissions from each material inventory are calculated from material emission factors, quantities, distances, etc., and then an aggregation of the inventory emissions is carried on through the building parts hierarchy.
If material inventory data exist, the GWP in the material inventory is calculated for the three phases A1–A3, A4, and B4. Module A1–A3 is the product of the unitary GWP emission factor for the material and the quantity of that material. Module A4 is the sum of emissions from up to three transportation modes, where each is calculated as the product of the emission intensity of the mode, the weight of the material, and the distance. Module B4 is calculated as the fractional number of replacements needed for that material throughout the study lifetime period, based on the estimated lifetime of the material which is provided as input. The transportation of these future materials to the building site is also calculated (in the same way as A4) and stored separately from the materials part. The building elements are then calculated as described in the section above.
The database is designed for flexibility and future needs, in that, categorical data can easily be altered and added by changing the rows of tables. The tool has been designed to detect and avoid several systematic errors, such as unit inconsistency, incorrect data entries, and similar, by controlling them before they are entered into the database. In addition, the tool benefits from the comprehensive error checking built into the MySQL language on which the database is based, which ensures data relations are correct when entering, altering, and deleting entries and prevents duplicate entries and incorrect data types.
2.3. Data Collection and Application
During a data collection period, 11 studies were acquired from various sources. Of these, five are from the Research Centre on Zero Emission Buildings [
29
], and six are from two consultancy firms. All building projects are situated in Norway, where nine have been built, and two are concept buildings. Seven have full inventories entered into the database, while for the rest the results are entered at varying building element levels. There are three single-family residential buildings, two office buildings, five school buildings, and a swimming arena, all of which are designed with the goal of low lifecycle emissions. The buildings are in the following denoted by a letter (O: office, R: residential, S: school, SW: swimming arena) and a number, e.g., O1. The LCA calculation method applied in the collected studies was standardized and carried on to the calculation method in the bLCAd-tool which is described above.
3. Results
The building LCA database tool (bLCAd-tool) presented in this paper is designed to improve the transparency and reproducibility of embodied emission assessments of buildings by systematizing reporting, storing, and calculation procedures. This unified framework for systematically handling the data related to embodied emissions can, as already mentioned, be applied in various research and decision-making processes related to climate change mitigation. Some selected applications of the tool are presented and exemplified in this section. The capabilities of the tool presented in this section are
Transparent reporting of study results;

Comparing study results;

Benchmarking embodied emissions;

Exploring relationships between emissions and attributes;

The contribution from various building material categories;

Analyzing embodied emissions of neighborhoods.
4. Discussion
This paper has presented a database tool that systematizes embodied emission assessments of buildings by characterizing buildings as a hierarchical set of building elements, themselves composed of materials, to offer a high-resolution breakdown of their embodied emissions. In addition, the emissions are separated into lifecycle stages according to the European EN 15978 standard. Using this approach on a number of buildings will help produce systematic data that can then be used in statistical analysis to produce more reliable embodied emissions figures. Such applications were then demonstrated based on 11 previously conducted LCAs of Norwegian buildings. This systematization helps address the current inconsistency in reporting embodied environmental flows of buildings.
The characterization of emissions follows a logical structure based on adopted standards. The hierarchical structure of building elements is based on the Norwegian standard NS 3451 which by no means is the only way to perform such a breakdown. It is suitable in the setting of this study since the collected LCAs conform to this standard, however, alternative categories might be better suited for other geographical regions or other contexts. The hierarchical categories can easily be altered and are likely to be developed to suit different needs in the future, among them the inclusion of infrastructure to model neighborhoods. The breakdown of the lifecycle stages is done in accordance with EN 15978, where all modules A–D are implemented. Although many of these modules are excluded in most LCA studies, there is a possibility to include them in cases where this data exists.
Although previous studies have adopted a similar logic of a breakdown of a building's environmental flows into sub-elements and life cycle stages [
16
,
24
,
25
], as far as the authors are aware, no such database model for a complete characterization of all building elements and life cycle stages has previously been presented. In particular, in contrast to previous studies, the database model presented here has a focus on standardization and integration of existing studies into a common format to increase consistency and comparability.
Going forward, an extension of the model to include infrastructure is necessary to realistically model neighborhoods. This will be achieved by extending the hierarchical structure of building elements to also include the remaining neighborhood elements. In addition, the database component for storing building information must be extended to also include information on the infrastructure.
The SQL database used in this paper is a relational database that in addition to storing entered data also stores empty fields where data is not available. Considering the incompleteness of LCA data the proportion of empty fields is notable. Currently this is not a problem since the number of studies collected is limited, however, if the amount of studies increases significantly, a non-relational database may be considered as to save memory and increase performance.
The current database tool is able to store process-based LCAs while input-output and hybrid LCAs are outside the scope of this work. Most studies to date are applying the process-based LCI technique; the database thus has a large potential to utilize this pool of existing studies and future studies applying this technique. However, since process analysis is known to underestimate results, future work should consider an additional integration of the other LCI techniques. Such an integration of hybrid analysis can be made possible by the inclusion of the cost of materials and input-output based environmental impacts of materials and processes.
Life cycle assessment involves a great number of parameters and choices made by the analyst. In such contexts, mistakes will occasionally happen; either systematic errors, random errors or simply unreasonable choices made in the study design and throughout the process. Such mistakes will inevitably happen when a data-intensive method like LCA is carried out manually. Such errors were found in some of the collected studies and were corrected for in the bLCAd-tool. Random errors from variations in parameters as well as unreasonable choices made in the study design are also detectable with the tool. Outliers can be identified by comparing the results with representative materials, quantities, and buildings in the database, where anomalies can be further investigated.
The current database design is customized for the context of the collected studies but is built for flexibility. The categorical data can easily be customized to different needs, while the general database structure is likely to evolve. Although the collected studies are performed according to the Norwegian context, there is no limitation on the integration of studies from other geographical regions, as all that is needed is a sufficient data resolution to enable a breakdown into building elements and life cycle phases. The tool is especially well suited to handle large quantities of assessments. The database scales seamlessly, and as the size of the database increases, its utility increases with it. The flexibility of the query structure makes the access to the data a big advantage. Data can be assembled and pivoted across building attributes, building elements, inventory, and materials to access the information relevant to a specific purpose.
In this study, the dataset was limited to 11 buildings that span many buildings types. It follows that the analysis should not be taken as representative of buildings in general; rather, it expresses the results found in the collected studies and the variations between them. The results in the applications presented here are indications based on this sample, and results are likely to change considerably as the sample size increases.
The deployment and systematical use of such a database must ultimately happen through adoption by practitioners. This can take place as standards and buildings regulations adopt reporting schemes for embodied emission results. These reporting schemes should require high resolution on results such as presented in this paper, in a digital, universally compatible format. To facilitate this deployment, the data entering process of the database must in future work be streamlined and simplified, taking into consideration the time-constraints of practitioners. This roadmap will enforce a standardization of embodied emissions results for buildings.
5. Conclusions
Embodied emission assessments of buildings suffer from a lack of consistency. This paper presented a database tool for handling large quantities of embodied emission assessments of buildings in a systematic way to improve consistency and comparability and demonstrated some useful applications based on a preliminary dataset. A model for standardizing the reporting and characterization of embodied emissions in the built environment was presented. The adoption of this method by practitioners would help produce systematic data, leading to comparable results and reliable embodied emission statistics. With a growing dataset to base the analyses on, the tool shows potential to be valuable for addressing the knowledge gap of how to reduce the carbon footprint of buildings and neighborhoods and to establish benchmarks by which this reduction can be measured.
Author Contributions
Conceptualization, E.R. and I.A.; Data curation, E.R.; Formal analysis, E.R.; Methodology, E.R. and I.A.; Software, E.R.; Supervision, I.A.; Visualization, E.R.; Writing—original draft, E.R.; Writing—review and editing, E.R. and I.A.
Funding
This research received no external funding.
Acknowledgments
The authors would like to thank the reviewers for their valuable constructive feedback.
Conflicts of Interest
The authors declare no conflict of interest.
Appendix A
The ERD of the database is shown in
Figure A1
, showing the structure of the data storage.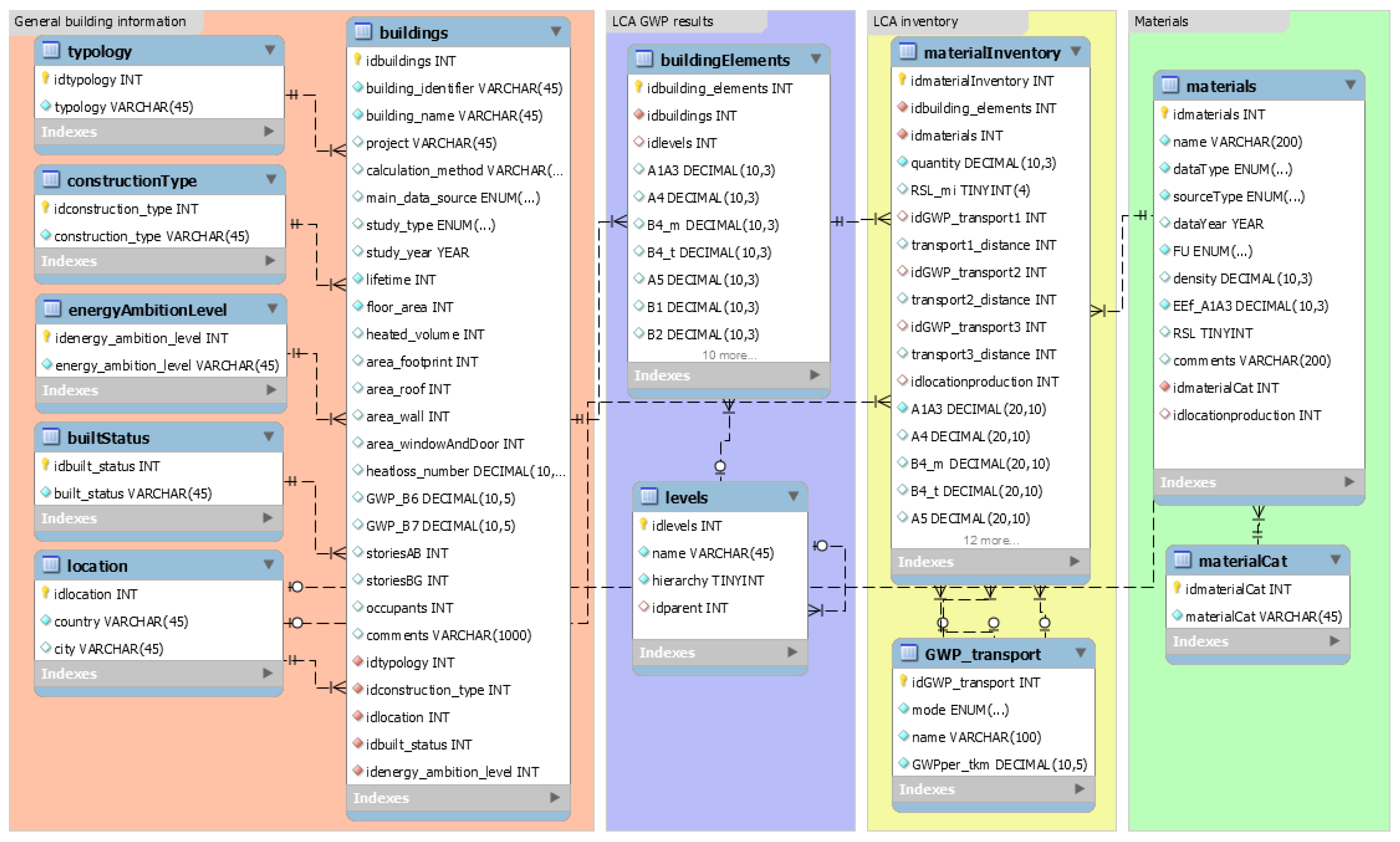 References
Edenhofer, O.; Pichs-Madruga, R.; Sokona, Y.; Farahani, E.; Kadner, S.; Seyboth, K.; Adler, A. (Eds.) IPCC Summary for Policymakers. In

Climate Change 2014, Mitigation of Climate Change. Contribution of Working Group III to the Fifth Assessment Report of the Intergovernmental Panel on Climate Change

; IPCC: Geneva, Switzerland, 2014. [Google Scholar]
Geng, S.; Wang, Y.; Zuo, J.; Zhou, Z.; Du, H.; Mao, G. Building life cycle assessment research: A review by bibliometric analysis.

Renew. Sustain. Energy Rev.

2017,

76

, 176–184. [Google Scholar] [CrossRef]
Optis, M.; Wild, P. Inadequate documentation in published life cycle energy reports on buildings.

Int. J. Life Cycle Assess.

2010,

15

, 644–651. [Google Scholar] [CrossRef]
Yung, P.; Lam, K.C.; Yu, C. An audit of life cycle energy analyses of buildings.

Habitat Int.

2013,

39

, 43–54. [Google Scholar] [CrossRef]
Crawford, R.H.; Bontinck, P.-A.; Stephan, A.; Wiedmann, T.; Yu, M. Hybrid life cycle inventory methods—A review.

J. Clean. Prod.

2018,

172

, 1273–1288. [Google Scholar] [CrossRef]
Chastas, P.; Theodosiou, T.; Bikas, D. Embodied energy in residential buildings-towards the nearly zero energy building: A literature review.

Build. Environ.

2016,

105

, 267–282. [Google Scholar] [CrossRef]
Crawford, R.H.; Stephan, A. The significance of embodied energy in certified passive houses. In Proceedings of the International Conference on Construction and Building Materials, Copenhagen, Denmark, 13–14 June 2013; p. 453. [Google Scholar]
Stephan, A.; Stephan, L. Reducing the total life cycle energy demand of recent residential buildings in Lebanon.

Energy

2014,

74

, 618–637. [Google Scholar] [CrossRef]
Lotteau, M.; Loubet, P.; Pousse, M.; Dufrasnes, E.; Sonnemann, G. Critical review of life cycle assessment (LCA) for the built environment at the neighborhood scale.

Build. Environ.

2015,

93

, 165–178. [Google Scholar] [CrossRef]
Anand, C.K.; Amor, B. Recent developments, future challenges and new research directions in LCA of buildings: A critical review.

Renew. Sustain. Energy Rev.

2017,

67

, 408–416. [Google Scholar] [CrossRef][Green Version]
Dixit, M.K. Life cycle embodied energy analysis of residential buildings: A review of literature to investigate embodied energy parameters.

Renew. Sustain. Energy Rev.

2017,

79

, 390–413. [Google Scholar] [CrossRef]
Fjola Kristjansdottir, T.; Heeren, N.; Andresen, I.; Brattebø, H. Comparative emission analysis of low-energy and zero-emission buildings.

Build. Res. Inf.

2018,

46

, 367–382. [Google Scholar] [CrossRef]
Wiik, M.; Fufa, S.M.; Kristjansdottir, T.; Andresen, I. Lessons learnt from embodied GHG emission calculations in zero emission buildings (ZEBs) from the Norwegian ZEB research centre.

Energy Build.

2018,

165

, 25–34. [Google Scholar] [CrossRef]
Ruuska, A.P.; Häkkinen, T.M. The significance of various factors for GHG emissions of buildings.

Int. J. Sustain. Eng.

2015,

8

, 317–330. [Google Scholar] [CrossRef]
Blengini, G.A.; Di Carlo, T. The changing role of life cycle phases, subsystems and materials in the LCA of low energy buildings.

Energy Build.

2010,

42

, 869–880. [Google Scholar] [CrossRef]
Hollberg, A.; Ruth, J. LCA in architectural design—A parametric approach.

Int. J. Life Cycle Assess.

2016,

21

, 943–960. [Google Scholar] [CrossRef]
Crawford, R.H.; Bartak, E.L.; Stephan, A.; Jensen, C.A. Evaluating the life cycle energy benefits of energy efficiency regulations for buildings.

Renew. Sustain. Energy Rev.

2016,

63

, 435–451. [Google Scholar] [CrossRef]
Säynäjoki, A.; Heinonen, J.; Junnila, S. An empirical evaluation of the significance of the carbon spike in the construction. In Proceedings of the World Sustainable Building Conference, Helsinki, Finland, 18–21 October 2011; pp. 70–71. [Google Scholar]
Muller, S.; Mutel, C.; Lesage, P.; Samson, R. Effects of Distribution Choice on the Modeling of Life Cycle Inventory Uncertainty: An Assessment on the Ecoinvent v2.2 Database.

J. Ind. Ecol.

2018,

22

, 300–313. [Google Scholar] [CrossRef]
Björklund, A.E. Survey of approaches to improve reliability in lca.

Int. J. Life Cycle Assess.

2002,

7

, 64–72. [Google Scholar] [CrossRef]
Khasreen, M.M.; Banfill, P.F.G.; Menzies, G.F. Life-Cycle Assessment and the Environmental Impact of Buildings: A Review.

Sustainability

2009,

1

, 674–701. [Google Scholar] [CrossRef][Green Version]

NS-EN 15978:2011 Sustainability of Construction Works—Assessment of Environmental Performance of Buildings—Calculation Method

; European Committee for Standardization: Brussels, Belgium, 2012.

NS 3451:2009 Table of Building Elements

; Standards Norway: Lysaker, Norway, 2009.
Stephan, A.; Crawford, R.H.; de Myttenaere, K. Multi-scale life cycle energy analysis of a low-density suburban neighbourhood in Melbourne, Australia.

Build. Environ.

2013,

68

, 35–49. [Google Scholar] [CrossRef][Green Version]
Stephan, A.; Athanassiadis, A. Quantifying and mapping embodied environmental requirements of urban building stocks.

Build. Environ.

2017,

114

, 187–202. [Google Scholar] [CrossRef]
For, B.D.

Utredning av Livsløpsbaserte Miljøkrav i TEK

; Direktoratet for byggkvalitet: Oslo, Norway, 2018. [Google Scholar]
ECOINVENT 2015 Ecoinvent Database v.3.2. Available online: www.ecoinvent.org (accessed on 28 June 2018).
Stephan, A.; Crawford, R.H. The relationship between house size and life cycle energy demand: Implications for energy efficiency regulations for buildings.

Energy

2016,

116

, 1158–1171. [Google Scholar] [CrossRef]
Ruth, W.; Morten, S. (Eds.)

ZEB Final Report

; ZEB: Trondheim, Norway, 2017. [Google Scholar]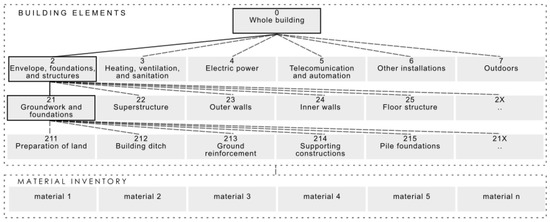 Figure 2. The hierarchical structure of the building elements according to NS 3451, and the material inventory. The elements with bold outlines are expanded to show their sub-elements. Each building element has its level ID above its name. The inventory items are connected to specified building elements.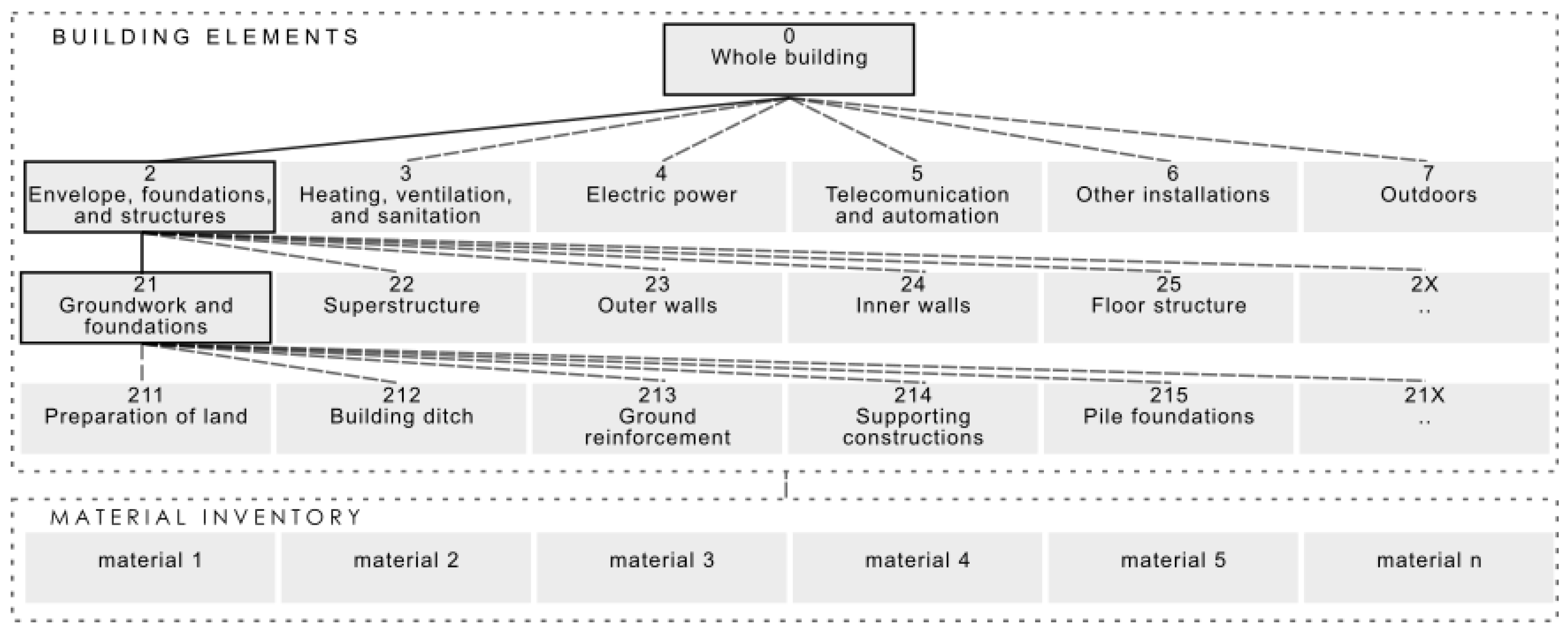 Figure 3. The embodied emissions in kgCO2e./m2year from material production (A1–A3) and replacements (B4) for 11 buildings from four different typologies. The building elements in the category "Envelope, foundation, and structure" are shown for each building (left axis) together with the total for this building element (right axis).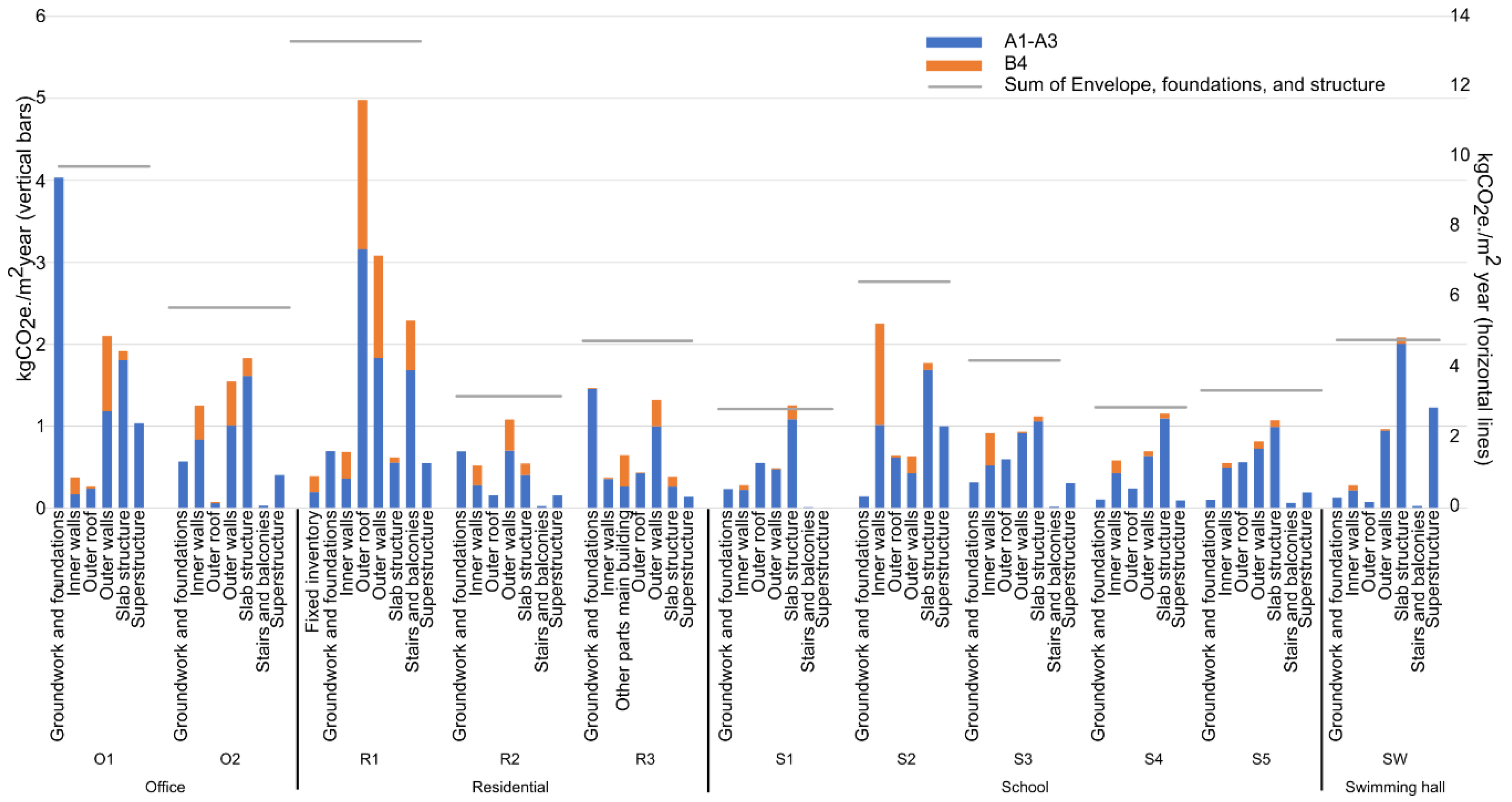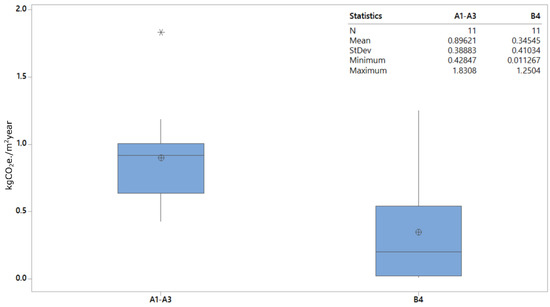 Figure 4. The distribution of embodied emissions per floor area and a lifetime of 60 years for the outer walls of the 11 buildings (kgCO2e./m2year).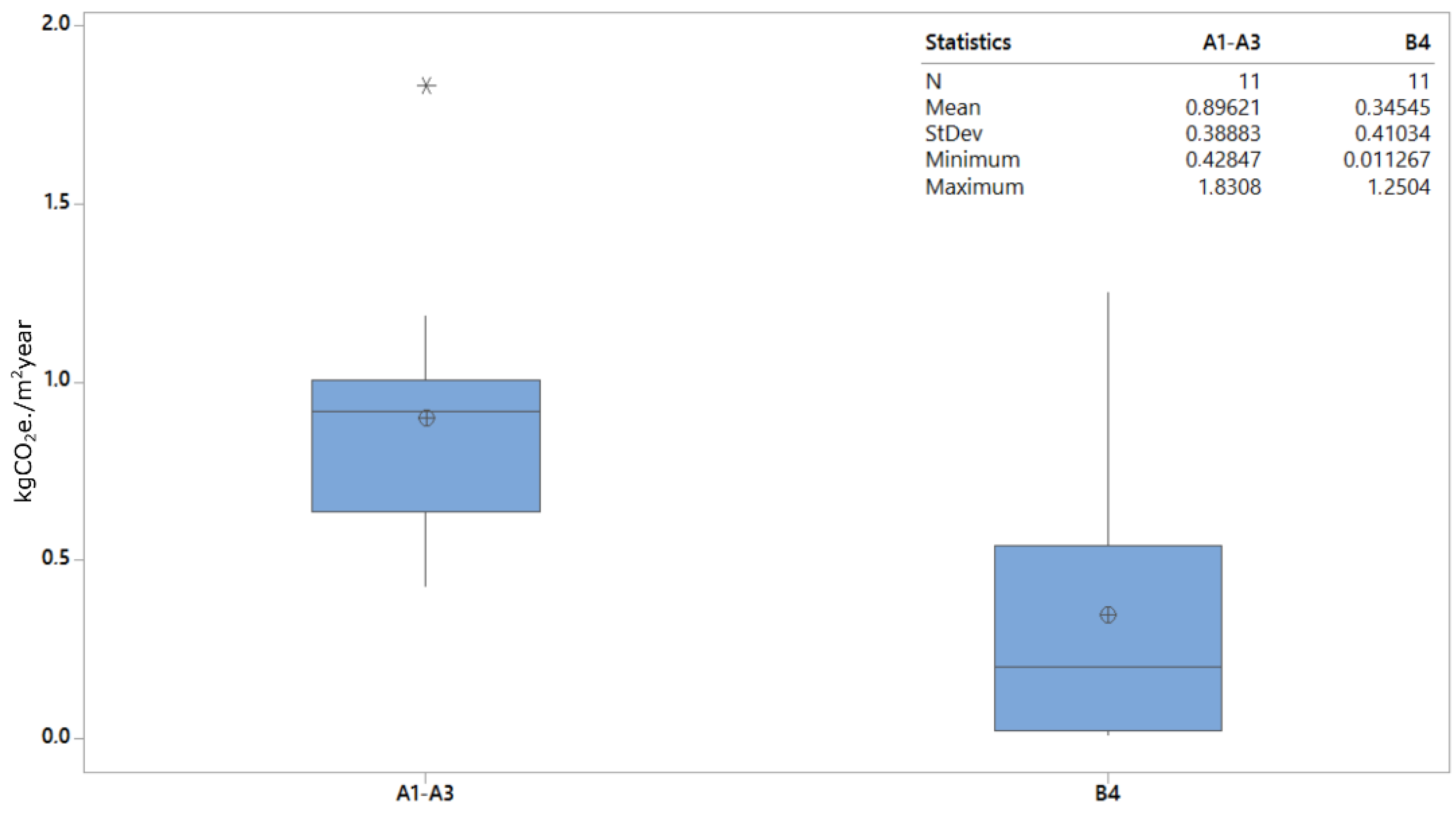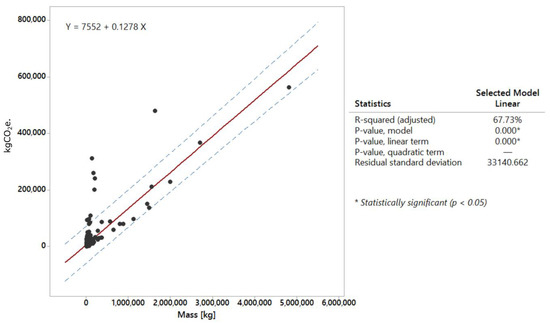 Figure 5. The weight of all inventory items plotted against emissions from material production (A1–A3) in kgCO2e., together with a regression model of the correlation. One outlier which is related to a special case of ground reinforcement was removed.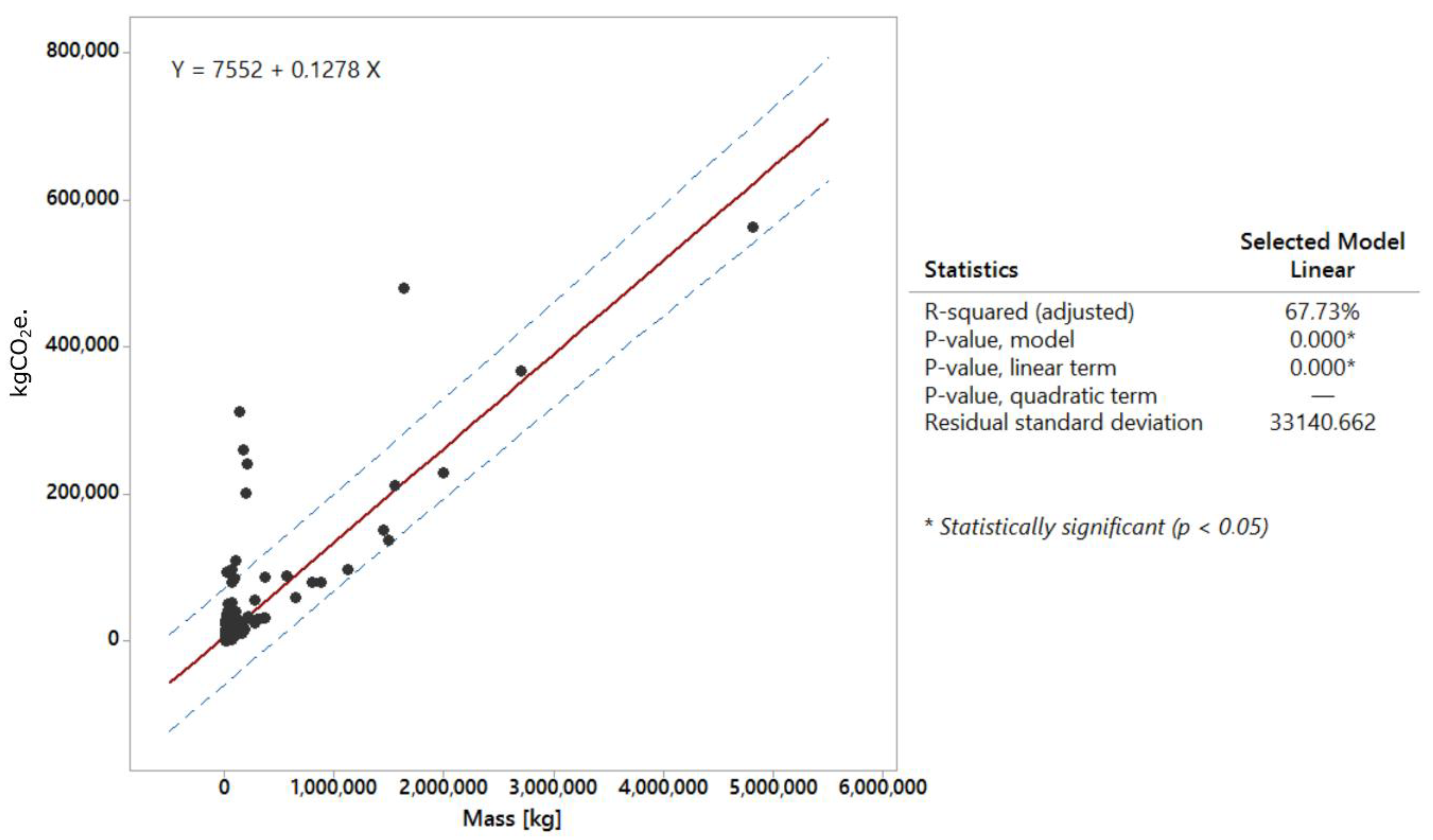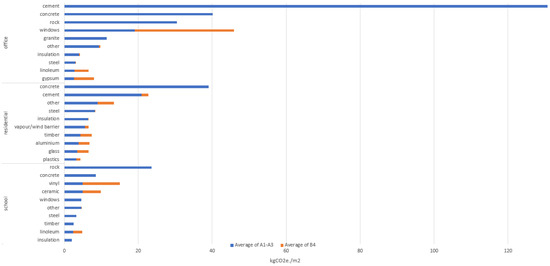 Figure 6. The ten material groups with the largest average contributions to production emissions per floor area for three typologies from the building element "Envelope, foundation, and structure."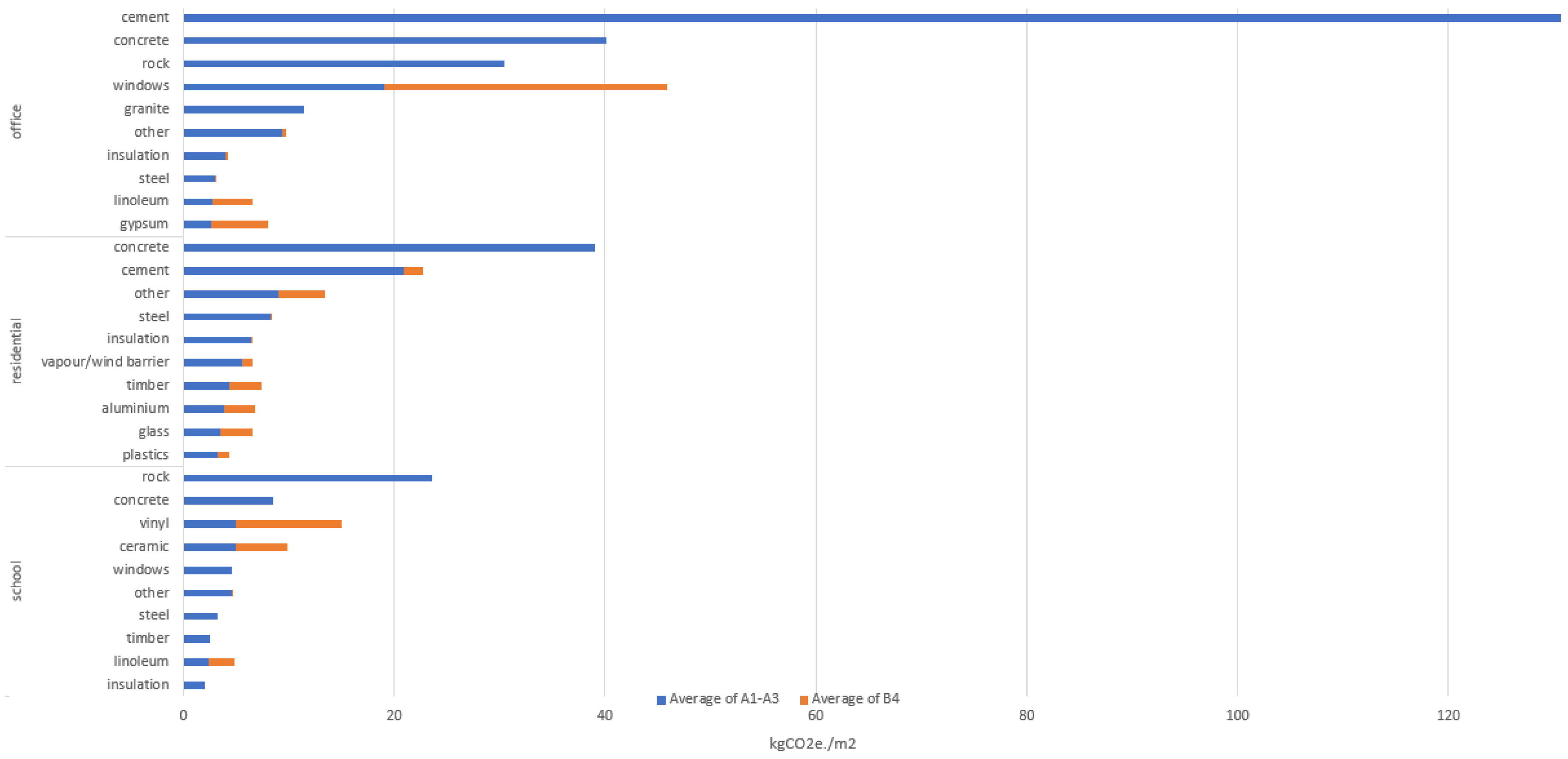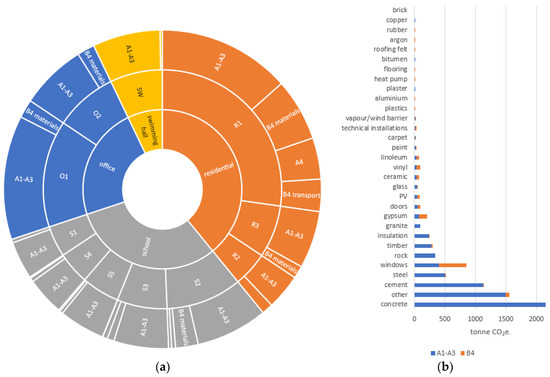 Figure 7. Example of how the distribution of emissions in a planned neighborhood could look like: (a) How the emissions for all buildings are distributed across typologies (inner circle), buildings (middle circle), and the life cycle phases included in each building study (outer circle); (b) The material groups that contribute the most to the overall emissions in A1–A3 and B4 (for all buildings with inventory) and thus where the largest potential for reduction in these life cycles lies. The buildings used here are not connected to an actual neighborhood; they are merely used as examples.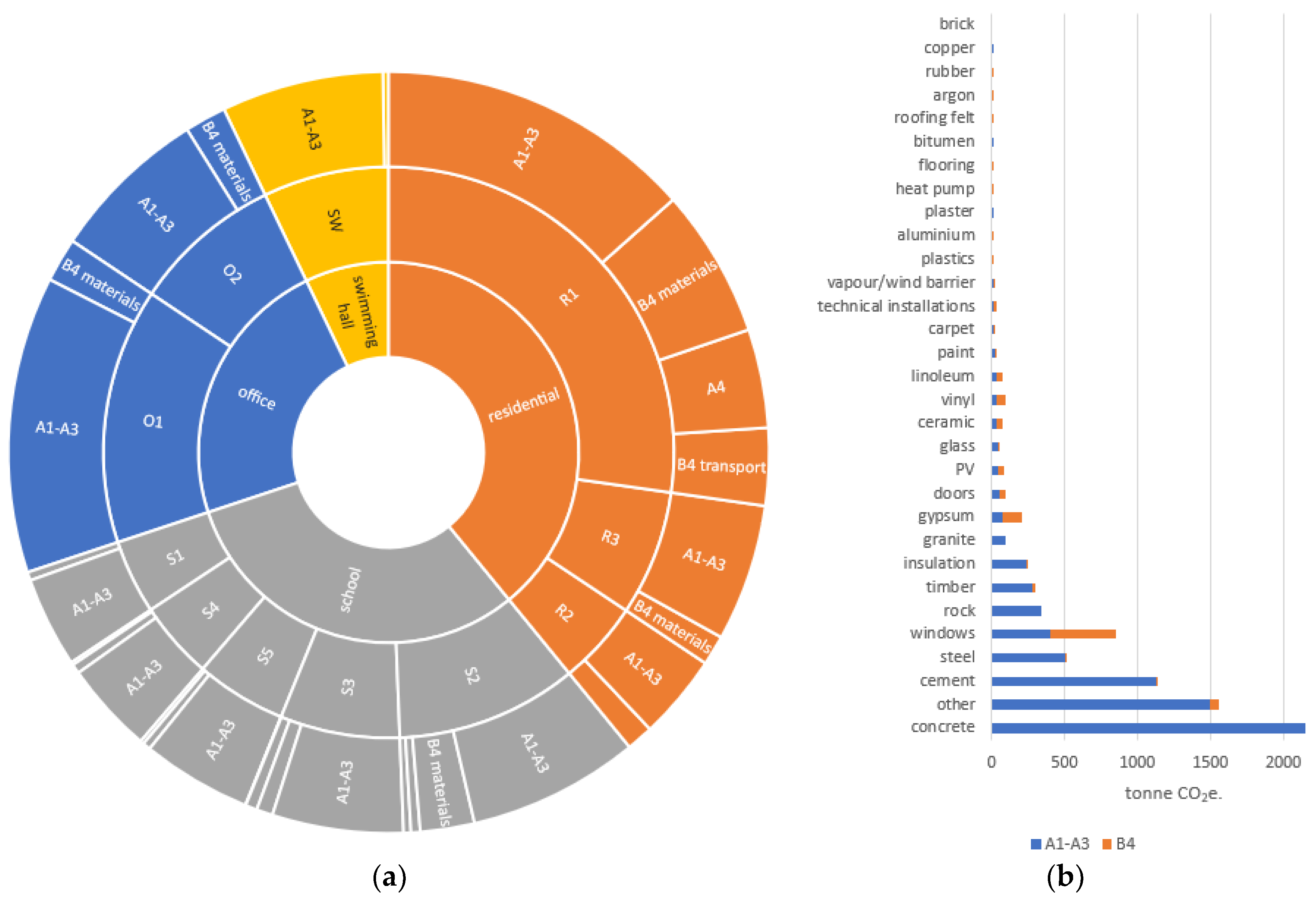 | Category | Stored Information |
| --- | --- |
| Building | General information about the building as well as morphological parameters. |
| Study | Information about the study such as calculation method, year, and lifetime. |
| Materials | Information about all the materials such as GWP per unit, source, data type. |
| Inventory | The quantities of each material, the transport distance, lifetime, GWP results. |
| Results | Emission results for each building element and for each life cycle phase. |

© 2018 by the authors. Licensee MDPI, Basel, Switzerland. This article is an open access article distributed under the terms and conditions of the Creative Commons Attribution (CC BY) license (http://creativecommons.org/licenses/by/4.0/).