Open Access This article is
freely available
re-usable
Article
Calcium Extraction from Blast-Furnace-Slag-Based Mortars in Sulphate Bacterial Medium
1
Institute of Environmental Engineering, Faculty of Civil Engineering, Technical University of Kosice, 042 00 Kosice, Slovakia
2
Institute of Geotechnics, Slovak Academy of Science, 040 01 Kosice, Slovakia
*
Author to whom correspondence should be addressed.
Received: 23 November 2017 / Accepted: 8 January 2018 / Published: 10 January 2018
Abstract
:
Wastewater structures, such as treatment plants or sewers can be easily affected by bio-corrosion influenced by microorganisms living in waste water. The activity of these microbes results in deterioration and can cause the reduction in structural performance of such structures. In order to improve the durability of mortar and concrete, different admixtures are being used and the best impact is observed in cement based materials combined with blast furnace slag. In this study, mortar samples with blast furnace slag were exposed to bacterial sulphate attack for 90 and 180 days. The leaching of calcium ions from the cement matrix and equivalent damaged depths of studied mortar samples were evaluated. The results showed more significant leaching of samples placed in bacterial environment, compared to the samples placed in non-bacterial environment. Similarly, the equivalent damaged depths of mortars were much higher for the bacteria-influenced samples. The slag-based cement mortars did not clearly show improved resistance in bacterial medium in terms of calcium leaching.
Keywords:
calcium leaching; bio-deterioration; microbiological corrosion; cement mortars; blast furnace slag
1. Introduction
The facilities for sewage transportation and treatment are generally underground and because this they are subjected to many different corrosive agents like sulphates, chlorides or different types of microorganisms [
1
]. These aggressive agents can easily deteriorate the structures, causing the reduction in material durability and performance [
2
,
3
]. This is thus a challenging problem mainly because of significant maintenance costs [
4
,
5
,
6
].
Durability of wastewater facilities can be influenced by chemical (i.e., acid), physical (i.e., erosion) or biological agents (i.e., living microorganisms). Microbes are known to produce the enzymes and corrosive metabolites such as acids, which can react with the binding material of concrete and mortar materials surface. Microbial involvement in deterioration of concrete was first reported by Parker [
7
], who isolated five strains of bacteria belonging to
Thiobacillus
sp. from corroded concrete exposed to atmosphere rich of H
2
S in sewer pipes [
8
]. It was proven that sulphate-reducing bacteria in anoxic water and sewer sediments produce hydrogen sulphide (H
2
S) and carbon dioxide (CO
2
). These gases volatilise and react with fresh alkaline concrete or mortar surfaces and gradually reduce the initial alkaline pH to tolerable pH for acid-producing microbes. At low pH, strong sulphur-oxidising bacteria such as
Acidithiobacillus thiooxidans
and
Acidithiobacillus intermedius
, start colonising the surface of concrete material. These bacteria are capable of further reducing the pH by oxidising thiosulphate and elemental sulphur to sulphuric acid [
4
]. Microbiological sulphate attack include a series of interactions occurring within the cement matrix as sulphates penetrate through it [
9
,
10
]. The reason why these sulphur-oxidising bacteria are so damaging to cement based structures is because sulphuric acid produced by the
A. thiooxidans
reacts with calcium hydroxide present in concrete and mortar and forms gypsum and ettringite. Both of these compounds are expandable products and the result of their action increases internal pressure of concrete material and production of cracks. Cracks in the structure provide greater surface area for the aggressive sulphuric acid to react and also enable deeper penetration of acid, causing structural failure [
4
].
Another main concern in sulphate attack of mortar and concrete structures constantly exposed to low pH environment is the leaching of calcium ions from the cement paste matrix [
11
]. The concentration gradients between the pore solution and the waste water cause diffusion of calcium ions from the pore solution to the surrounding water. The reduction in concentration of calcium ions in the pore solution forces the dissolution of calcium hydroxide and calcium–silicate–hydrate gel and decrease the alkalinity of the pore solution [
12
,
13
]. Calcium leaching also causes the increased porosity, and permeability of material and the reduction of concrete strength [
2
,
11
].
Both blast furnace slag used in mixture and the reduction in water-binder ratio can improve microstructures of concrete and mortars. Because of the improved microstructure, both of these measures could also increase the calcium leaching resistance of concrete in water environment [
2
].
Several methods have been developed to control calcium leaching and bio-deterioration concerning concrete and mortar structures. There are mainly two kinds of measures, the modification of concrete or mortars mixtures and coating protection [
3
,
14
,
15
]. The objective of modification of mixtures is to improve the acid resistance, impermeability and crack resistance of the used cement based materials [
3
,
16
]. The replacement of cement with waste materials such as ground granulated blast furnace slag has previously been recognised as a substantial factor in increasing the sulphate resistance. This was observed particularly at higher levels of replacement [
10
,
17
,
18
,
19
].
The aim of this work was to evaluate the leaching characteristic of calcium ions of mortar composites with blast furnace slag of various proportions. The novelty of study is the examination of the durability of mortars with high replacements of cement by blast furnace slag, up to 95 wt %, under bacterial attack. Based on the leaching results, the damaged depth of the studied mortars exposed to bacteria
Acidithiobacillus thiooxidans
were evaluated.
3. Results and Discussion
3.1. Leaching Trends of Calcium Ions
3.2. Durabilty of Mortars in Terms of the Leached Quantities of Calcium Ions
The leaching of calcium ions was proven to be more significant for mortars exposed to
A. thiooxidans
(R/A, CM1/A, CM2/A, CM3/A, and CM4/A) compared to samples exposed to the medium without bacteria (R/C, CM1/C, CM2/C, CM3/C, and CM4/C) during both 90 and 180-day experiments.
The most intensive leaching in the medium with
A. thiooxidans
, was observed with sample CM1/A with 65 wt % of blast furnace slag followed by the reference sample (
Figure 3
a). Completely largest amount of leached calcium ions (8.012 mg/cm
2
) was noticed for the reference specimen R/A during the 180-day extraction (
Figure 3
a).
On the contrary, the least leached quantities have been found for the sample with 95 wt % of blast furnace slag (CM4/A) in the 90-day experiment and for the sample CM2/A (75 wt % of blast furnace slag) in the 180-day experiment. Considering the leached calcium amounts as deterioration parameter, the most durable were proven to be the CM2/A and CM4/A samples. These samples with 75 and 95 wt % of blast furnace slag, respectively, had proved a higher resistance against bacterial sulphate attack compared to the reference samples, evaluating the calcium leaching only.
3.3. Damaged Depths of Mortars
The calculated indicators of damaged depths of mortars due to bacterial influence during 90 and 180-day extractions ranged from 0.19 to 0.40 mm. Similarly, the DDs of mortar samples without any bacteria were ranging from 0.007 to 0.126 mm (
Table 2
and
Table 3
). Rozière et al. [
26
] reported that the evolution of the equivalent damaged depth of concretes was in the range of 0.25 to 0.63 mm after exposure to sodium sulphate solutions.
As mentioned above, the most intensive calcium leaching was observed for samples exposed to bacteria and therefore, the calculated theoretical damage depths (DD) of these samples reached much higher values than DDs calculated for the mortars with no bacterial exposure. When evaluating the DDs of the blast furnace slag-based samples, the lowest value was observed for CM2/A sample with blast furnace slag of 75 wt % during both 90 and 180-day extractions in bacterial medium. Since the least calcium leached samples do not necessarily show the lowest DDs, the long-term leaching experiment (365 days) is in progress.
4. Conclusions
This study has dealt with calcium ions leaching from cement mortars with different proportions of blast furnace slag in bacterial and non-bacterial environments. To predict the deterioration of the concrete materials the theoretical damaged depths were calculated.
Samples exposed to the medium with sulphur-oxidising bacteria

A. thiooxidans

had proven higher calcium leaching rates and significantly deeper degradation than the samples exposed to the nutrient medium without bacteria.

The blast furnace slag modified paste did not show definitely lower values in calculated damaged depths, comparing to the reference one.

When evaluating the calculated damaged depths of blast furnace slag-based mortars, the sample with 75 wt % of blast furnace slag was found out to be the most resistant in

A. thiooxidans

bacterial environment. The assumption of the best performance of the sample with the highest proportion of blast furnace slag was not confirmed.
Calculation of the theoretical damaged depths of cement materials can be helpful in prediction of the deterioration stage of concrete composites, e.g., in sewage systems. However, to give a clear conclusion about the durability of the blast furnace slag-based composites, more research considering other deterioration parameters (changes in mass of composites, compressive strengths, water absorbability, surface changes, etc.) is needed. The future research is aimed at designing the optimal composition of the composites modified by blast furnace slag, regarding the improvement in durability of concretes.
Acknowledgments
This paper has been prepared within the Grants No. 2/0145/15 and 1/0648/17 of the Slovak Grant Agency for Science.
Author Contributions
Adriana Estokova and Alena Luptakova conceived and designed the experiments; Michaela Smolakova performed the experiments; Adriana Estokova and Michaela Smolakova analysed the data; Alena Luptakova contributed with reagents; Adriana Estokova and Michaela Smolakova wrote the paper.
Conflicts of Interest
The authors declare no conflict of interest.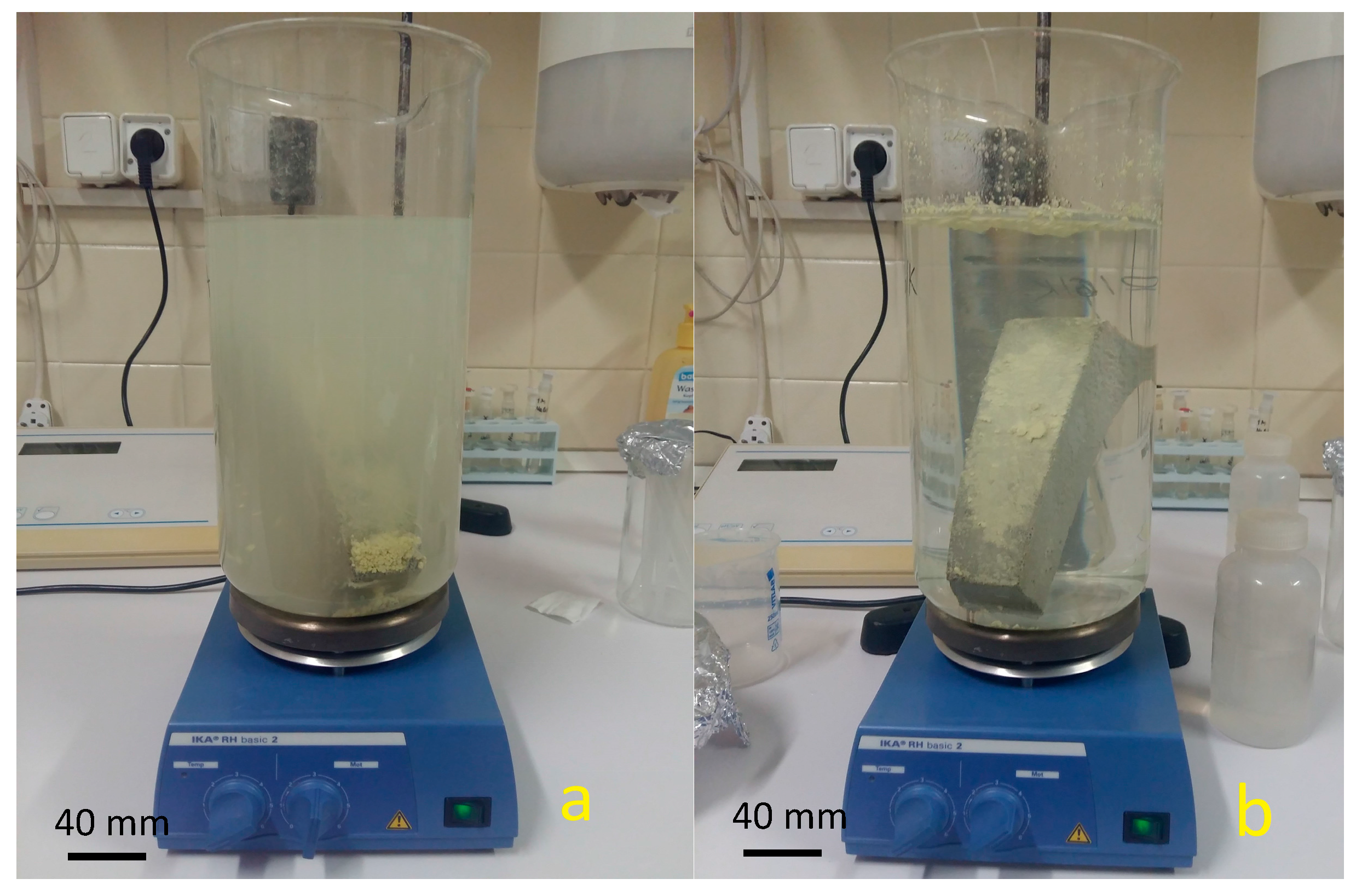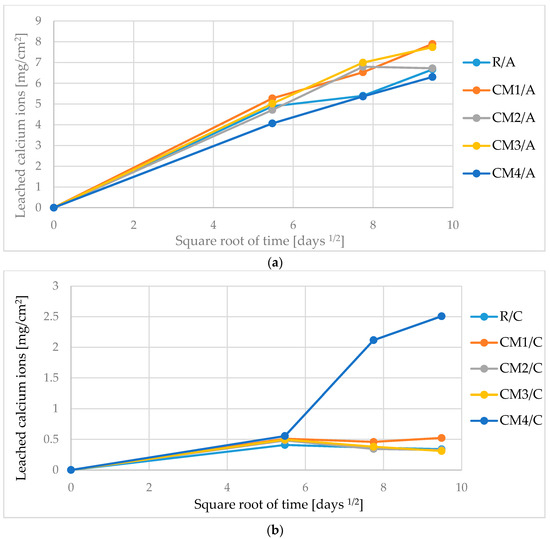 Figure 2. Leached calcium ions in (a) in bacterial and (b) non-bacterial medium during the 90-day experiment.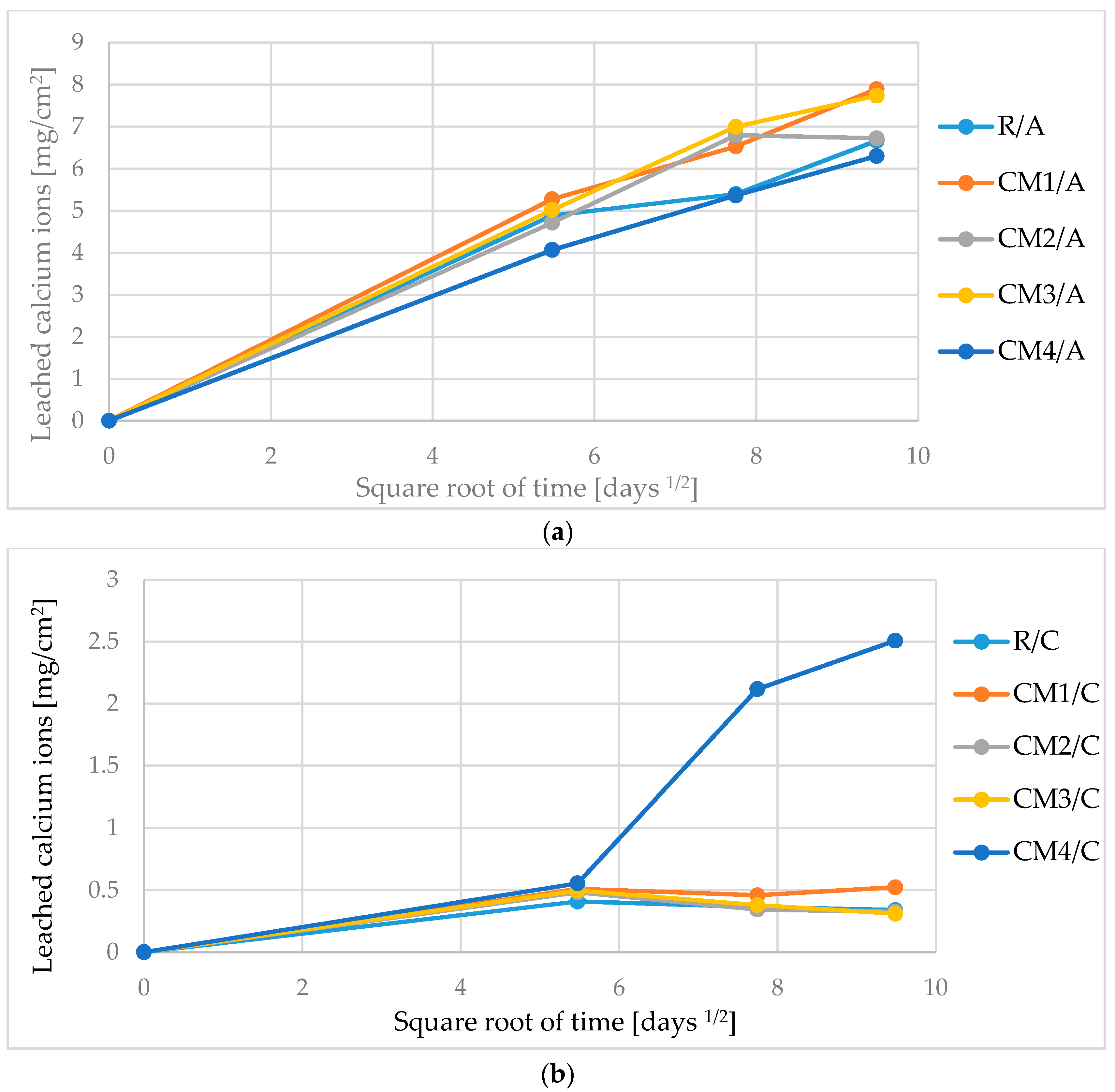 Figure 3. Leaching of calcium ions in (a) bacterial and (b) non-bacterial medium during the 180-day experiment.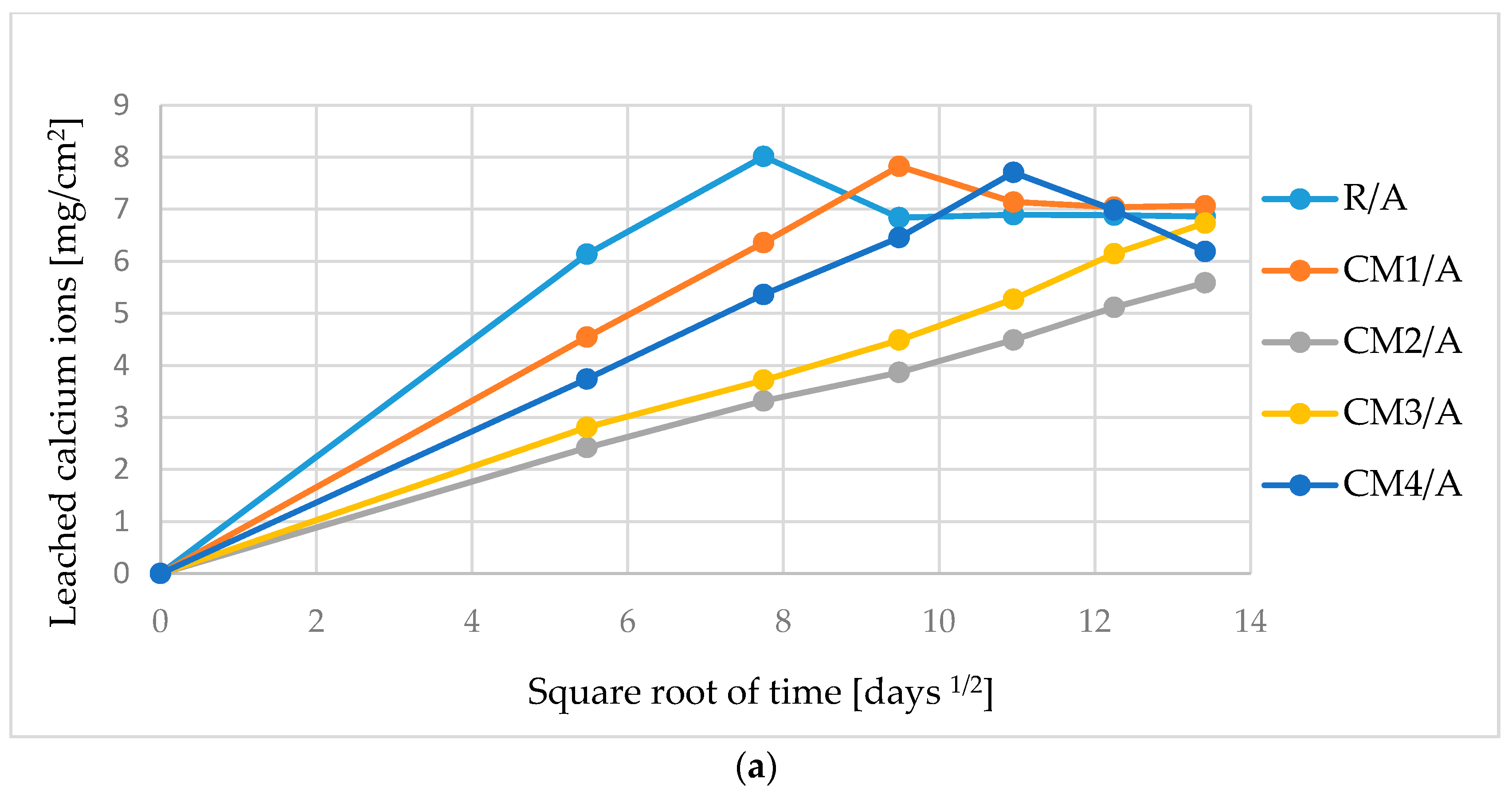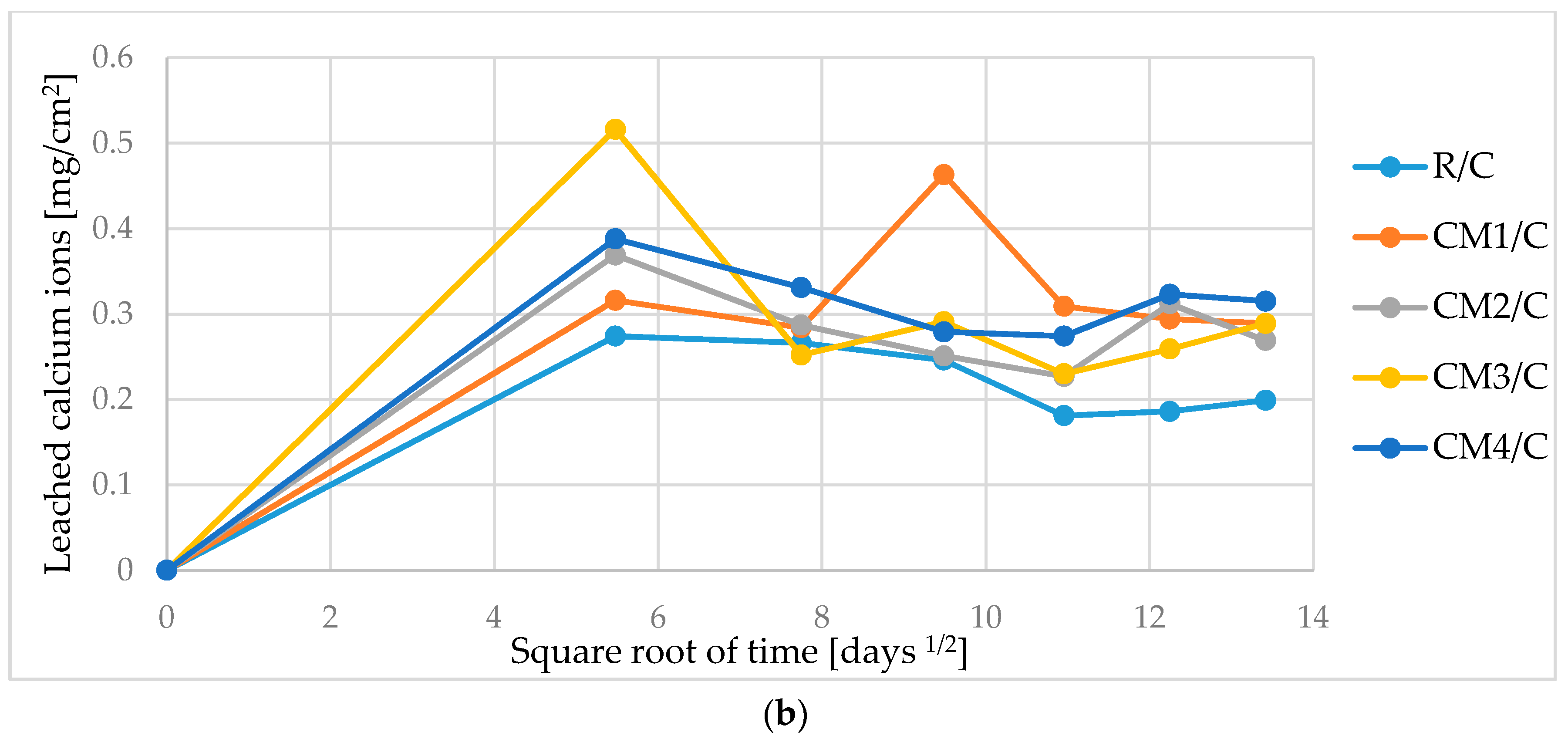 Table 1. Cement and slag composition.
Components
OPC
GBFS
Chemical composition [% by mass]
Calcium oxide (CaO)
57.15
39.55
Silica (SiO2)
19.01
38.95
Alumina (Al2O3)
4.02
8.33
Iron oxide (Fe2O3)
2.69
0.54
Sulphur trioxide (SO3)
1.49
0.57
Magnesium oxide (MgO)
1.37
10.11
Potassium oxide (K2O)
1.12
0.48
Phosphorus pentoxide (P2O5)
0.33
0.04
Magnesium oxide (MnO)
-
0.74
Titanium dioxide (TiO2)
0.18
0.37
Clorine (Cl)
0.06
0.02
Other
12.58
0.30
Mineralogical composition [% by mass]
Tricalcium silicate (C3S)
64.10
-
Dicalcium silicate (C2S)
11.34
Tricalcium aluminate (C3A)
8.18
Tetracalcium aluminoferrite (C4AF)
6.12
Gypsum (C

S

H2)
up to 5
Other
5.26
Table 2. Damaged depths of mortars over the 90-day extraction.

| Mortar Sample | Leached Calcium (mg/cm2) | Initial Calcium Content (mg/cm3) | DD (mm) |
| --- | --- | --- | --- |
| R/A | 6.66 | 348.22 | 0.19 |
| R/C | 0.34 | 353.86 | 0.01 |
| CM1/A | 7.89 | 254.57 | 0.31 |
| CM1/C | 0.52 | 253.05 | 0.02 |
| CM2/A | 6.72 | 306.24 | 0.22 |
| CM2/C | 0.33 | 307.45 | 0.01 |
| CM3/A | 7.74 | 314.66 | 0.25 |
| CM3/C | 0.31 | 313.15 | 0.01 |
| CM4/A | 6.30 | 193.49 | 0.33 |
| CM4/C | 2.51 | 197.63 | 0.13 |
Table 3. Damaged depths of mortars over the 180-day extraction.

| Mortar Sample | Leached Calcium (mg/cm2) | Initial Calcium Content (mg/cm3) | DD (mm) |
| --- | --- | --- | --- |
| R/A | 8.01 | 350.36 | 0.23 |
| R/C | 0.27 | 357.72 | 0.01 |
| CM1/A | 7.06 | 254.80 | 0.28 |
| CM1/C | 0.29 | 255.03 | 0.01 |
| CM2/A | 5.59 | 304.99 | 0.18 |
| CM2/C | 0.27 | 309.74 | 0.01 |
| CM3/A | 6.73 | 314.56 | 0.21 |
| CM3/C | 0.37 | 315.68 | 0.01 |
| CM4/A | 7.71 | 193.61 | 0.40 |
| CM4/C | 0.39 | 197.84 | 0.02 |

© 2018 by the authors. Licensee MDPI, Basel, Switzerland. This article is an open access article distributed under the terms and conditions of the Creative Commons Attribution (CC BY) license (http://creativecommons.org/licenses/by/4.0/).