Improving Strength and Ductility of a Mg-3.7Al-1.8Ca-0.4Mn Alloy with Refined and Dispersed Al2Ca Particles by Industrial-Scale ECAP Processing
1
College of Mechanics and Materials, Hohai University, Nanjing 211100, China
2
Suqian Research Institute, Hohai University, Suqian 223800, China
3
Ocean and Coastal Engineering Research Institute, Hohai University, Nantong 226300, China
*
Authors to whom correspondence should be addressed.
Received: 24 June 2019 / Revised: 5 July 2019 / Accepted: 8 July 2019 / Published: 9 July 2019
Abstract
Tailoring the morphology and distribution of the Al
2
Ca second phase is important for improving mechanical properties of Al
2
Ca-containing Mg-Al-Ca based alloys. This work employed the industrial-scale multi-pass rotary-die equal channel angular pressing (RD-ECAP) on an as-cast Mg-3.7Al-1.8Ca-0.4Mn (wt %) alloy and investigated its microstructure evolution and mechanical properties under three different processing parameters. The obtained results showed that RD-ECAP was effective for refining the microstructure and breaking the network-shaped Al
2
Ca phase. With the increase of the ECAP number and decrease of the processing temperature, the average sizes of Al
2
Ca particles decreased obviously, and the dispersion of the Al
2
Ca phase became more uniform. In addition, more ECAP passes and lower processing temperature resulted in finer α-Mg grains. Tensile test results indicated that the 573 K-12p alloy with the finest and most dispersed Al
2
Ca particles exhibited superior mechanical properties with tensile yield strength of 304 MPa, ultimate tensile strength of 354 MPa and elongation of 10.3%. The improved comprehensive mechanical performance could be attributed to refined DRX grains, nano-sized Mg
17
Al
12
precipitates and dispersed Al
2
Ca particles, where the refined and dispersed Al
2
Ca particles played a more dominant role in strengthening the alloys.
View Full-Text
►

▼

Figures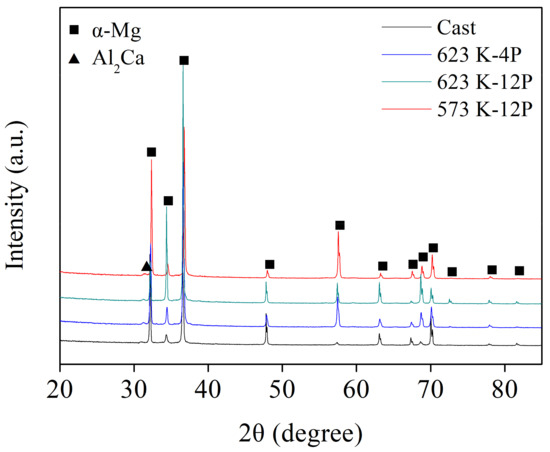 Figure 1
This is an open access article distributed under the
Creative Commons Attribution License
which permits unrestricted use, distribution, and reproduction in any medium, provided the original work is properly cited (CC BY 4.0).

Share & Cite This Article
MDPI and ACS Style
Wang, C.; Ma, A.; Sun, J.; Zhuo, X.; Huang, H.; Liu, H.; Yang, Z.; Jiang, J. Improving Strength and Ductility of a Mg-3.7Al-1.8Ca-0.4Mn Alloy with Refined and Dispersed Al2Ca Particles by Industrial-Scale ECAP Processing. Metals 2019, 9, 767.
Note that from the first issue of 2016, MDPI journals use article numbers instead of page numbers. See further details here.
Related Articles
Comments
[Return to top]