Increase in the Mechanical Strength of Mg-8Gd-3Y-1Zn Alloy Containing Long-Period Stacking Ordered Phases Using Equal Channel Angular Pressing Processing
1
Departamento de Metalurgia Física, Centro Nacional de Investigaciones Metalúrgicas, CENIM, CSIC, Avda. Gregorio del Amo 8, 28040 Madrid, Spain
2
Departamento de Ingeniería Industrial, Universidad Nebrija, Campus Dehesa de la Villa, C. Pirineos 55, 28040 Madrid, Spain
3
Institute of Materials Research, Helmholtz-Zentrum Geesthacht, Max-Planck-Str. 1, 21502 Geesthacht, Germany
4
Structural Research on New Materials, Helmholtz-Zentrum Geesthacht, Outstation at DESY, Notkestraße 85, 22607 Hamburg, Germany
*
Author to whom correspondence should be addressed.
Received: 11 January 2019 / Revised: 21 January 2019 / Accepted: 1 February 2019 / Published: 13 February 2019
Abstract
The evolution of the microstructure and mechanical properties during equal channel angular pressing processing has been studied in an extruded Mg-Gd-Y-Zn alloy containing long-period stacking ordered phases. After extrusion, the microstructure is characterized by the presence of long-period stacking ordered fibers elongated along the extrusion direction within the magnesium matrix. The grain structure is a mixture of randomly oriented dynamic recrystallized and coarse highly oriented non-dynamic recrystallized grains. Rare-earth atoms are in solid solution after extrusion at 400 °C and precipitation takes place during the thermal treatment at 200 °C. Precipitation of β' prismatic plates and lamellar γ' in the basal plane increases the tensile yield stress from 325 to 409 MPa. During equal channel angular pressing processing at 300 °C, the volume fraction of dynamic recrystallized grains continuously increases with the strain introduced during the equal channel angular pressing process. Precipitation of β phase is equally observed at grain boundaries of the ECAPed alloy. Dynamic recrystallized grain size decreases from 1.8 µm in the extruded material to 0.5 µm in the ECAPed alloy. Thermal treatment at 200 °C of ECAPed materials results in an increase of the yield stress up to 456 MPa, which is maintained up to 200 °C.
View Full-Text
►

▼

Figures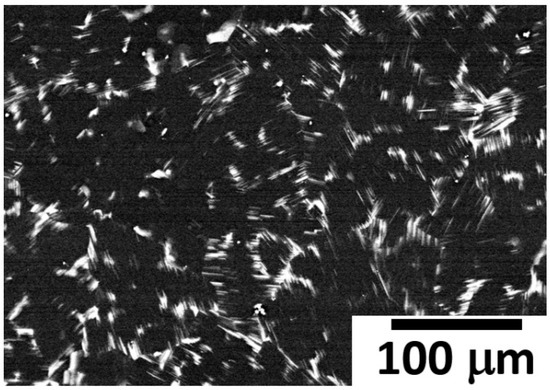 Figure 1
This is an open access article distributed under the
Creative Commons Attribution License
which permits unrestricted use, distribution, and reproduction in any medium, provided the original work is properly cited (CC BY 4.0).

Share & Cite This Article
MDPI and ACS Style
Garces, G.; Pérez, P.; Barea, R.; Medina, J.; Stark, A.; Schell, N.; Adeva, P. Increase in the Mechanical Strength of Mg-8Gd-3Y-1Zn Alloy Containing Long-Period Stacking Ordered Phases Using Equal Channel Angular Pressing Processing. Metals 2019, 9, 221.
Note that from the first issue of 2016, MDPI journals use article numbers instead of page numbers. See further details here.
Related Articles
Comments
[Return to top]