Advanced Mechanical Strength in Post Heat Treated SLM 2507 at Room and High Temperature Promoted by Hard/Ductile Sigma Precipitates
1
Division of Materials Science, Department of Engineering Sciences and Mathematics, Luleå University of Technology, SE-97187 Luleå, Sweden
2
Department of Ceramics, Institute of Mater. Res. of the Slovak Academy of Sciences, Watsonova 47, Košice, Slovakia
*
Author to whom correspondence should be addressed.
Received: 21 January 2019 / Accepted: 31 January 2019 / Published: 8 February 2019
Abstract
Duplex stainless steel, 71 wt.% austenite, 13 wt.% ferrite and 16 wt.% sigma, was made upon heat treating of fully ferritic as-built selective laser melted (SLM) 2507 stainless steel at 1200 °C. Formation of sigma phase in the heat treated SLM 2507 was investigated using optical microscopy and scanning electron microscopy (SEM). The heat treated SLM 2507 demonstrated a yield strength of 686 MPa, ultimate tensile strength of 920 MPa and an elongation of 1.8% at room temperature with a brittle fracture morphology. Precipitation of sigma phase during heat treatment and slow cooling improved the mechanical and wear properties at high temperatures (1200 °C and 800 °C, respectively). The tensile strength and elongation of the heat treated SLM 2507 was measured 400 MPa and 20% as compared to casted duplex steel with 19 MPa and 30% elongation at 1200 °C. The 20 times higher mechanical strength as compared to casted duplex steel was attributed to sigma precipitates. Tribological behaviour of heat treated duplex SLM 2507 containing sigma at 800 °C showed very low wear rate of 4.5 × 10
−5
mm
3
/mN compared to casted duplex steel with 1.6 × 10
−4
mm
3
/mN.
View Full-Text
►

▼

Figures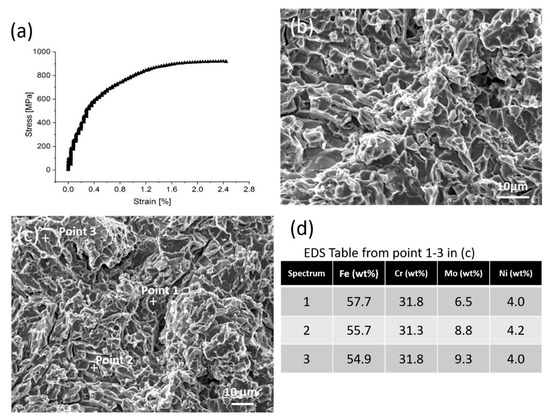 Figure 1
This is an open access article distributed under the
Creative Commons Attribution License
which permits unrestricted use, distribution, and reproduction in any medium, provided the original work is properly cited (CC BY 4.0).

Share & Cite This Article
MDPI and ACS Style
Saeidi, K.; Alvi, S.; Lofaj, F.; Petkov, V.I.; Akhtar, F. Advanced Mechanical Strength in Post Heat Treated SLM 2507 at Room and High Temperature Promoted by Hard/Ductile Sigma Precipitates. Metals 2019, 9, 199.
Note that from the first issue of 2016, MDPI journals use article numbers instead of page numbers. See further details here.
Related Articles
Comments
[Return to top]