Open Access This article is
freely available
re-usable
Article
Microstructure Evolution and Biodegradation Behavior of Laser Rapid Solidified Mg–Al–Zn Alloy
1
State Key Laboratory of High Performance Complex Manufacturing, Central South University, Changsha 410083, China
2
Department of Oncology, Third Xiangya Hospital of Central South University, Changsha 410013, China
3
College of Chemistry, Xiangtan University, Xiangtan 411105, China
4
School of Material Science and Engineering, Central South University, Changsha 410083, China
5
Human Reproduction Center, Shenzhen Hospital of Hongkong University, Shenzhen 518053, China
6
Key Laboratory of Organ Injury, Aging and Regenerative Medicine of Hunan Province, Changsha 410008, China
7
State Key Laboratory for Powder Metallurgy, Central South University, Changsha 410083, China
*
Author to whom correspondence should be addressed.
Academic Editor: Daolun Chen
Received: 2 February 2017 / Accepted: 20 March 2017 / Published: 22 March 2017
Abstract
:
The too fast degradation of magnesium (Mg) alloys is a major impediment hindering their orthopedic application, despite their superior mechanical properties and favorable biocompatibility. In this study, the degradation resistance of AZ61 (Al 6 wt. %, Zn 1 wt. %, remaining Mg) was enhanced by rapid solidification via selective laser melting (SLM). The results indicated that an increase of the laser power was beneficial for enhancing degradation resistance and microhardness due to the increase of relative density and formation of uniformed equiaxed grains. However, too high a laser power led to the increase of mass loss and decrease of microhardness due to coarsened equiaxed grains and a reduced solid solution of Al in the Mg matrix. In addition, immersion tests showed that the apatite increased with the increase of immersion time, which indicated that SLMed AZ61 possessed good bioactivity.
Keywords:
AZ61; selective laser melting; microstructure; biodegradation behavior
1. Introduction
In this paper, the influences of laser power on formability, microstructure, mechanical properties and degradation behavior of AZ61 were evaluated. In addition, the apatite layer deposition ability was identified by immersing the samples in simulated body fluid (SBF).
2. Materials and Methods
2.1. Material
Spherical AZ61 powder with a mean particle size of 70 μm was obtained from Tangshan Weihao Materials Co., Ltd (Tangshan, China). Its X-ray diffraction (XRD) pattern and typical morphology were shown in
Figure 1
.
2.2. Processing
SLMed AZ61 was prepared by a homemade laser melting system, which consisted of a fiber laser, an optical focusing system, a control system and a building platform. The detailed information could be seen in [
19
]. All the samples were fabricated in an argon atmosphere. After a series of pre-experiments, the scanning speed was set at 200 mm·min
−1
, and the laser power ranged from 10 to 110 W. The other processing parameters: laser spot size 150 μm, layer thickness and hatch spacing 50 μm. Cubic samples with a size of 10 × 10 × 5 mm
3
were built.
2.3. Microstructure and Mechanical Characterization
The SLMed AZ61 was ground and polished, and then dried in a drying cabinet at 40 °C for 6 h. The metallographic microstructures of the samples were observed using an optical microscopy (PMG3, Olympus Corporation, Tokyo, Japan), and the grain sizes were measured by the intercept method [
19
]. The phase composition was analyzed by XRD (Rigaku, Hashima, Japan) using Cu Kα radiation (14 mA, 30 kV) with 2θ = 20°–80° at the rate of 10°·min
−1
. The surfaces were characterized by a scanning electron microscopy (SEM) (Tescab Co., Brno, the Czech Republic) at an accelerating voltage of 10 kV. In addition, the microstructure and chemical distribution were detected by an energy dispersion spectrometry (EDS) (Jeol JSM5910LV, Tokyo, Japan) at accelerating voltage of 20 kV.
Relative densities of SLMed AZ61 were measured by using the Archimedes' method [
20
]. In addition, its microhardness tests were examined using a microhardness tester (Shanghai Taiming Optical Instrument Co. Ltd., Shanghai, China) at a loading force of 2.45 N and a holding time of 15 s.
2.4. Immersion Measurements
The in vitro immersion test was examined at 36.5 ± 0.5 °C in a simulated body fluid (SBF), which was prepared according to [
21
], and the composition was as followed: Na
+
142.0 mM, K
+
5.0 mM, Ca
2+
2.5 mM, Mg
2+
1.5 mM, C 147.8 mM, 4.2 mM, 1.0 mM, and 0.5 mM. The section parallel to deposition direction of SLMed AZ61 samples were ground and polished, and then dried in a drying cabinet at 40 °C and then weighed on the electric balance (EP225SM-DR, Precisa, Bern, Switzerland). Then, the samples were immersed in SBF for 144 h. At a different time point, the samples were removed from SBF, washed with absolute ethyl alcohol, dried in warm flowing air and immersed in a solution comprising 200 g·L
−1
CrO
3
and 19 g·L
−1
AgNO
3
for 10 min to remove the corrosion products. After that, they were quickly cleaned with distilled water, dried in warm flowing air and weighed for the final weight (mass loss = (mass before immersion−mass after cleaning in chromic acid)/surface area). The hydrogen evolution volume was also used to assess the degradation rate, and the surface and the chemical compositions of samples after immersion were studied using SEM.
2.5. Statistical Analysis
Statistical analysis was performed to assess the difference in grain size, relative density, microhardness and mass loss by the analysis of variance. Furthermore, the statistical significance was considered for
p
< 0.05 (significance level).
3. Results and Discussion
4. Conclusions
The forming zone of SLMed AZ61 was between 60 and 90 W. The metallographic structure of SLMed AZ61 changed from finer dendrites to uniformed equiaxed grains as the power increased to 80 W. However, equiaxed grains significantly coarsened at a further increased power. SLMed AZ61 fabricated at 80 W had a minimum mass loss of 12.26 mg·cm−2 after immersion for 144 h and maximum microhardness of 93.00 Hv. In addition, SLMed AZ61 exhibited apatite-forming ability in SBF.
Acknowledgments
This work was supported by the following funds: (1) the Natural Science Foundation of China (51575537, 81572577); (2) Overseas, Hong Kong and Macau Scholars Collaborated Researching Fund of the National Natural Science Foundation of China (81428018); (3) Hunan Provincial Natural Science Foundation of China (14JJ1006, 2016JJ1027); (4) the Project of an Innovation-Driven Plan of Central South University (2015CXS008, 2016CX023); (5) the Open-End Fund for the Valuable and Precision Instruments of Central South University; (6) the fund of the State Key Laboratory of Solidification Processing in NWPU (SKLSP201605); (7) the fund of the State Key Laboratory for Powder Metallurgy; and (8) the Fundamental Research Funds for the Central Universities of Central South University.
Author Contributions
Cijun Shuai and Chengde Gao conceived the idea of enhancing the degradation resistance of Mg–Al–Zn alloy by laser rapid solidification. Pei Feng, Youwen Yang and Ping Wu designed the experiments. Shizhen Bin and Chongxian He prepared the alloy samples, analyzed the formability and the microstructure of SLMed AZ61. Yuanzhuo Zhou and Long Liu carried out the phase and dispersion of SLMed AZ61. Mingchun Zhao and Sheng Yang analyzed the microhardness and degradation of SLMed AZ61. All of the authors discussed the results and reviewed the manuscript.
Conflicts of Interest
The authors declare no conflict of interest.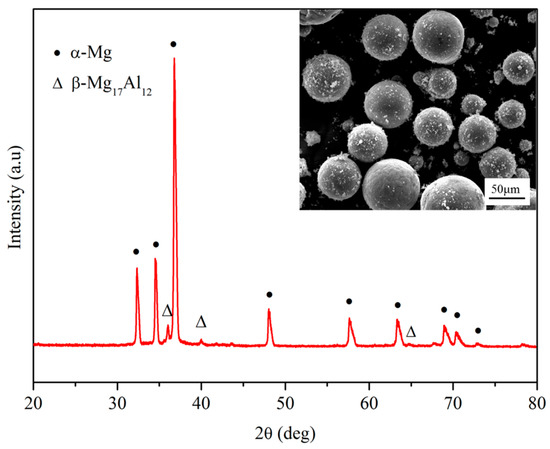 Figure 1. The X-ray diffraction (XRD) pattern and scanning electron microscopy (SEM) image of AZ61 powder.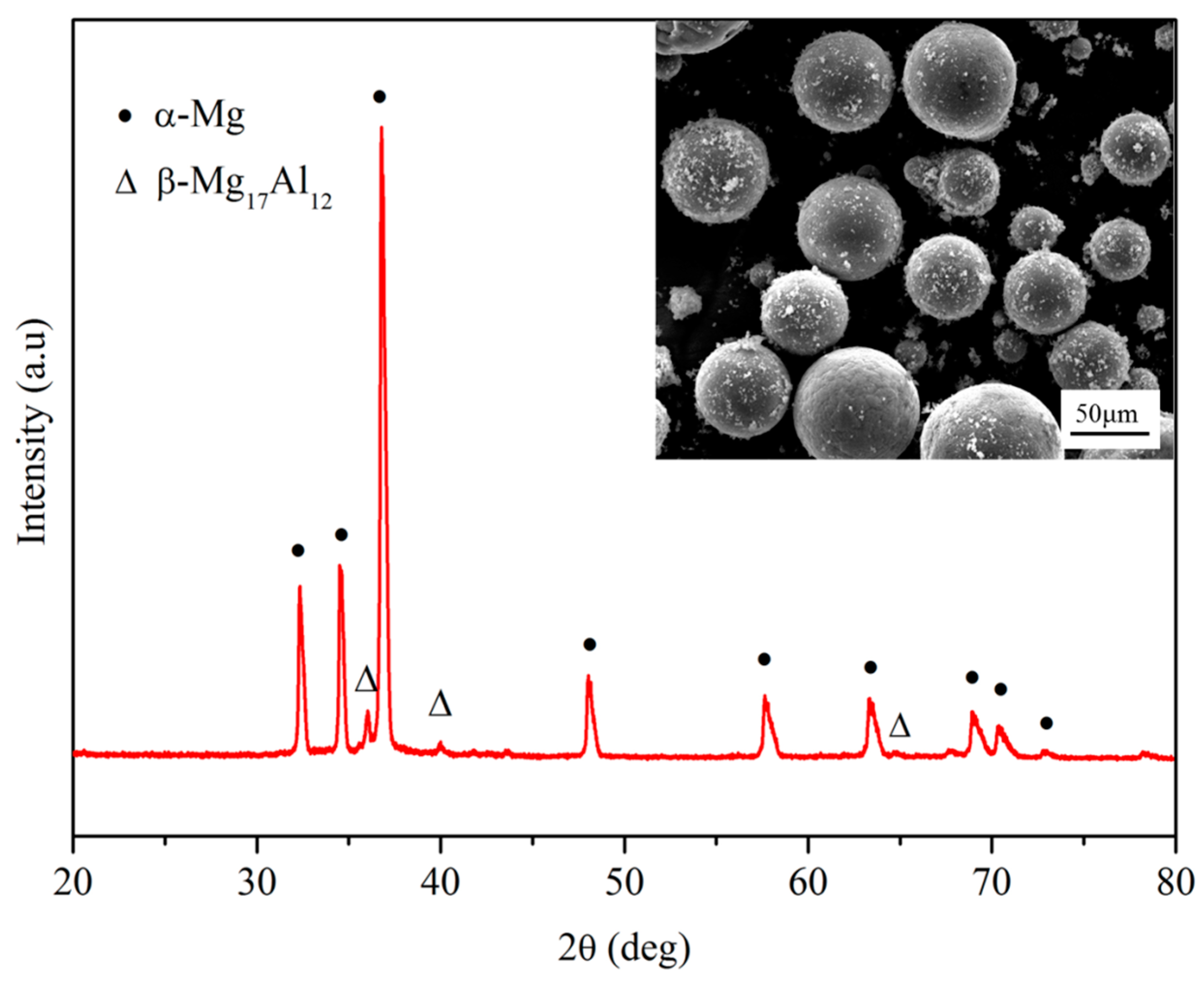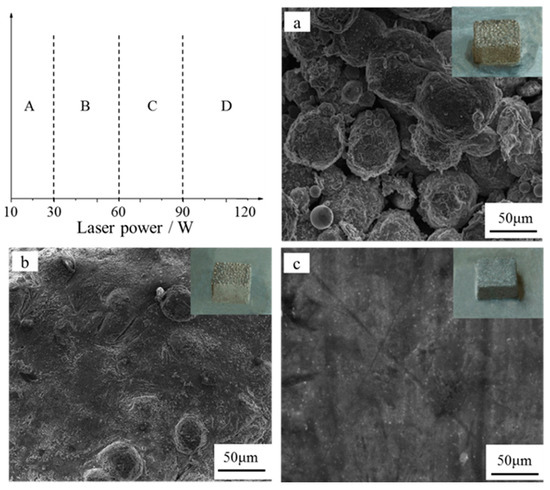 Figure 2. Formability of selective laser melted (SLMed) AZ61 at different laser power: (a) 20 W, zone A; (b) 50 W, zone B; (c) 70 W, zone C.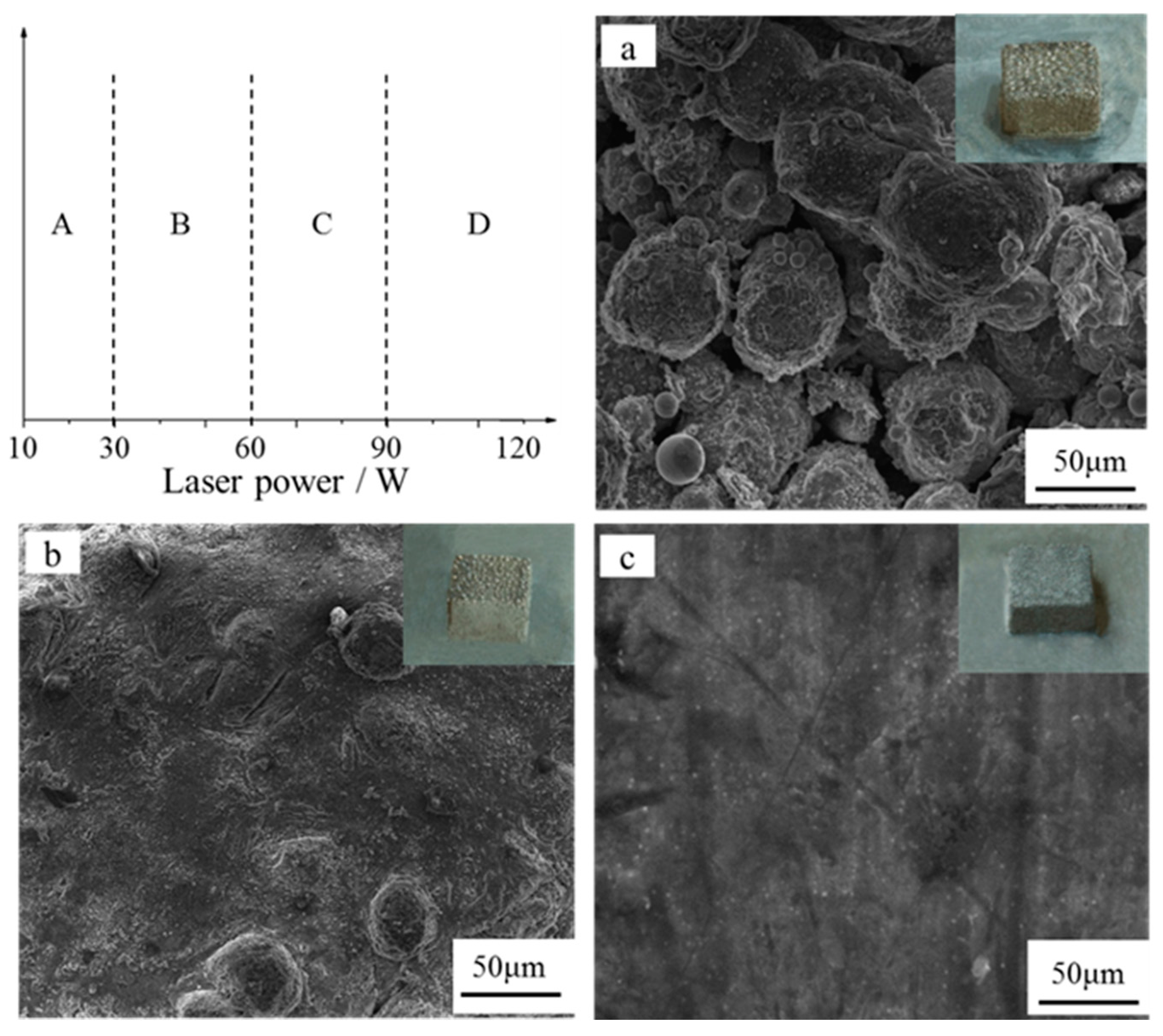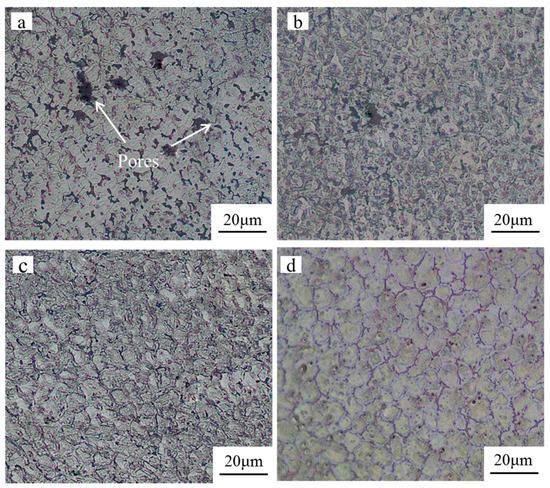 Figure 3. Optical images showing microstructure characteristic of SLMed AZ61 fabricated at different laser power: (a) 60 W; (b) 70 W; (c) 80 W; (d) 90 W.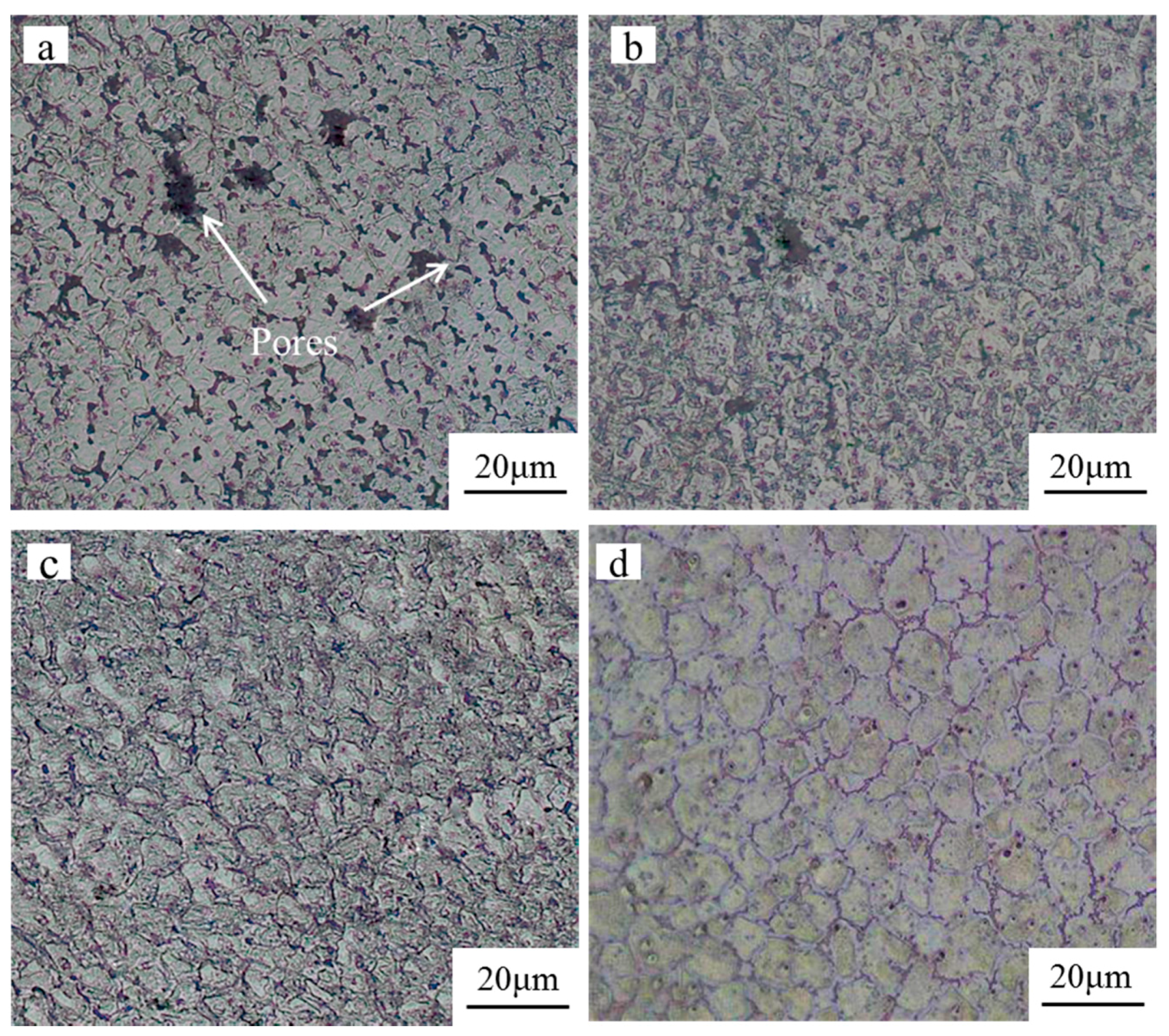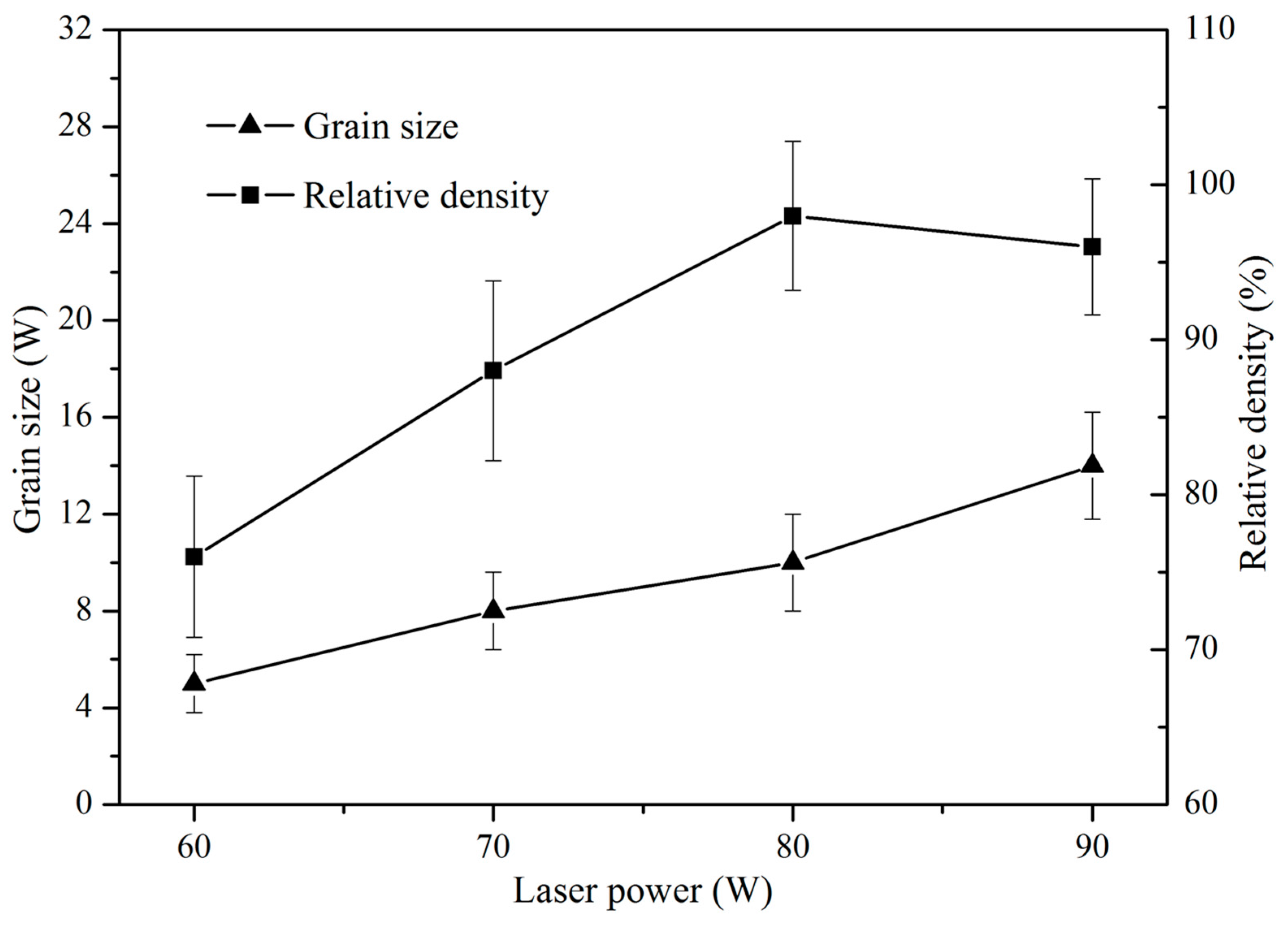 Figure 5. (a) The XRD pattern of SLMed AZ61 at different laser power; (b) details at angle range of 2θ = 36–37.5°. The red dashed line in (b) is the standard α-Mg phase peak location (36.618°).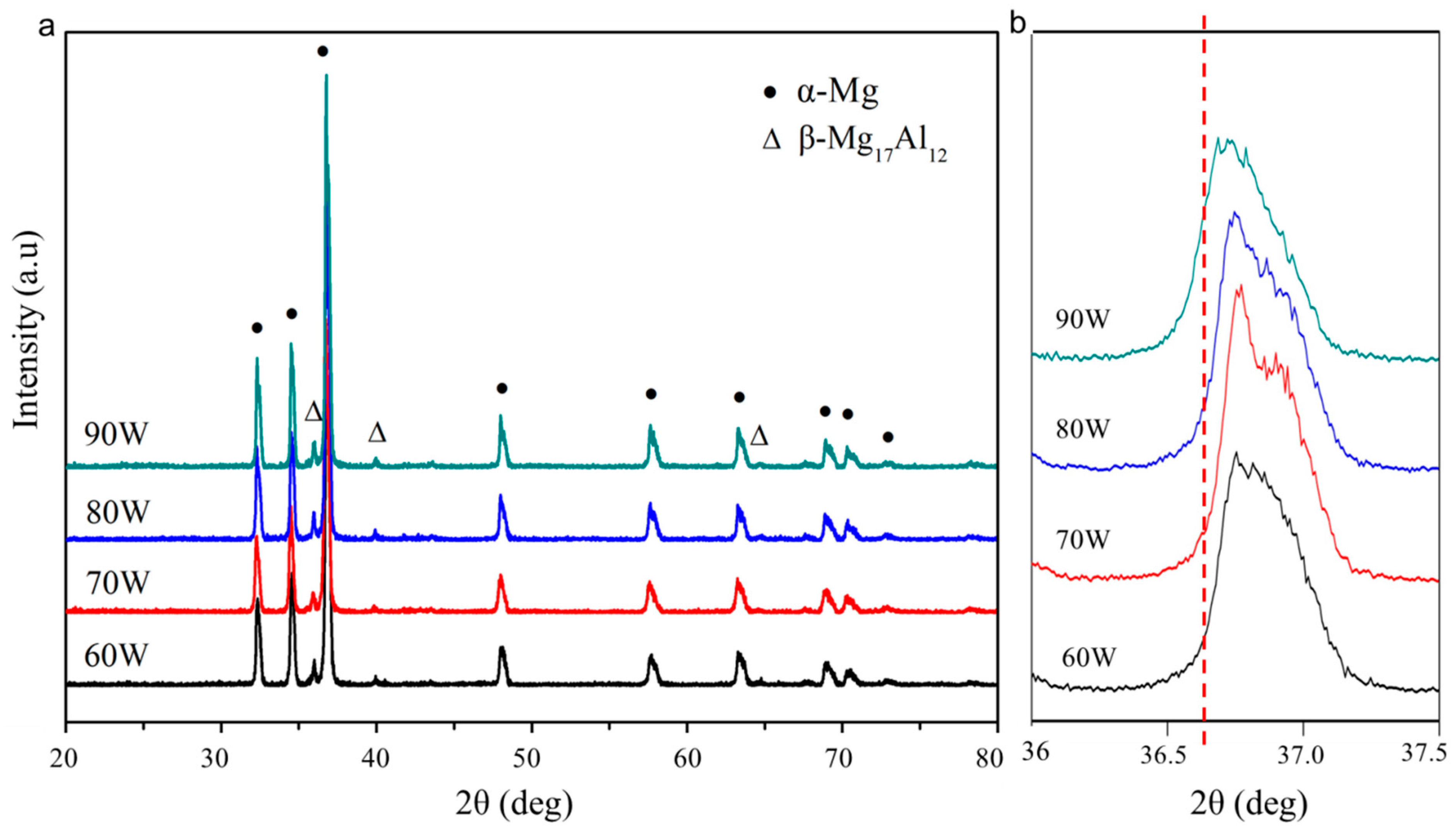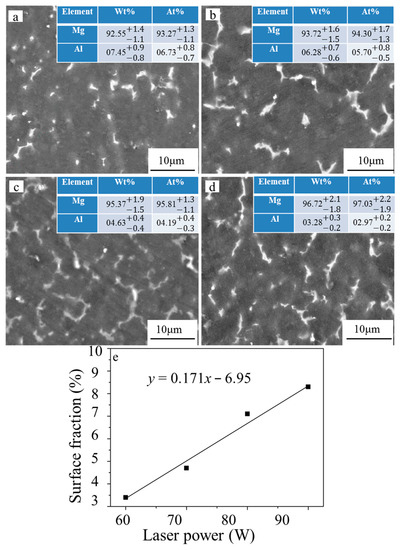 Figure 6. SEM and energy dispersion spectrometry (EDS) images of SLMed AZ61 at laser power of (a) 60 W; (b) 70 W; (c) 80 W; (d) 90 W; (e) surface fraction of α-Mg covered by β-Mg17Al12 as a function of laser power.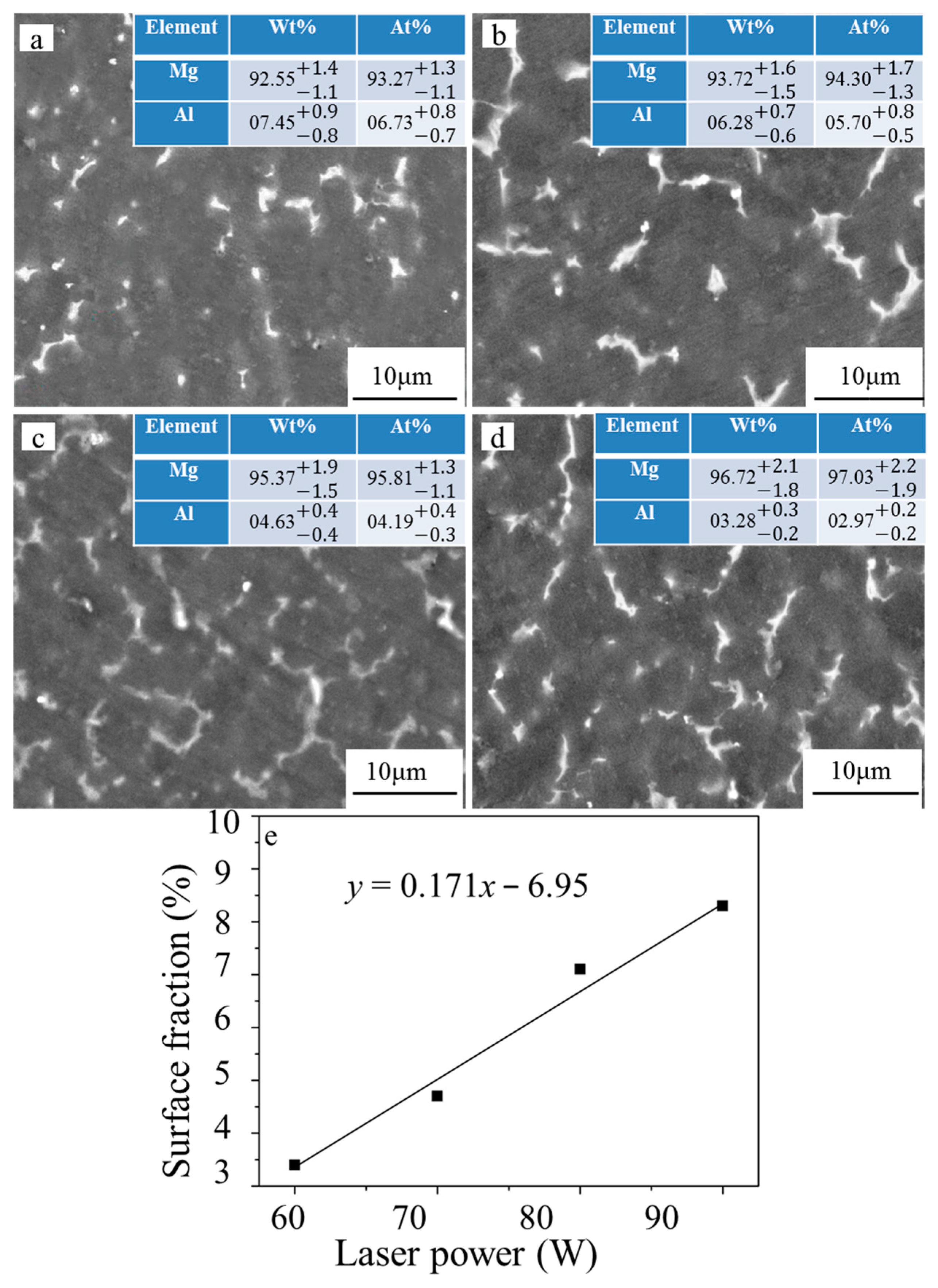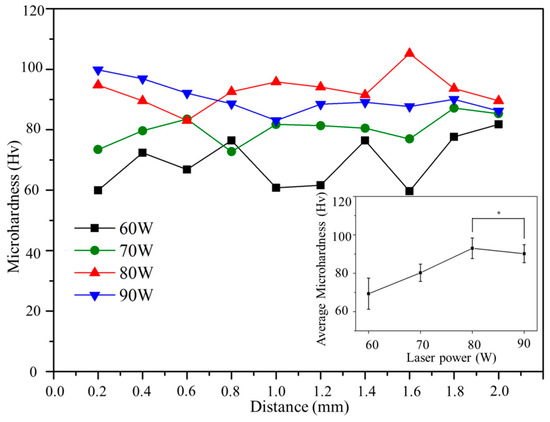 Figure 7.
Microhardness of SLMed AZ61. Significant difference of average microhardness between 80 and 90 W (
* p
< 0.05).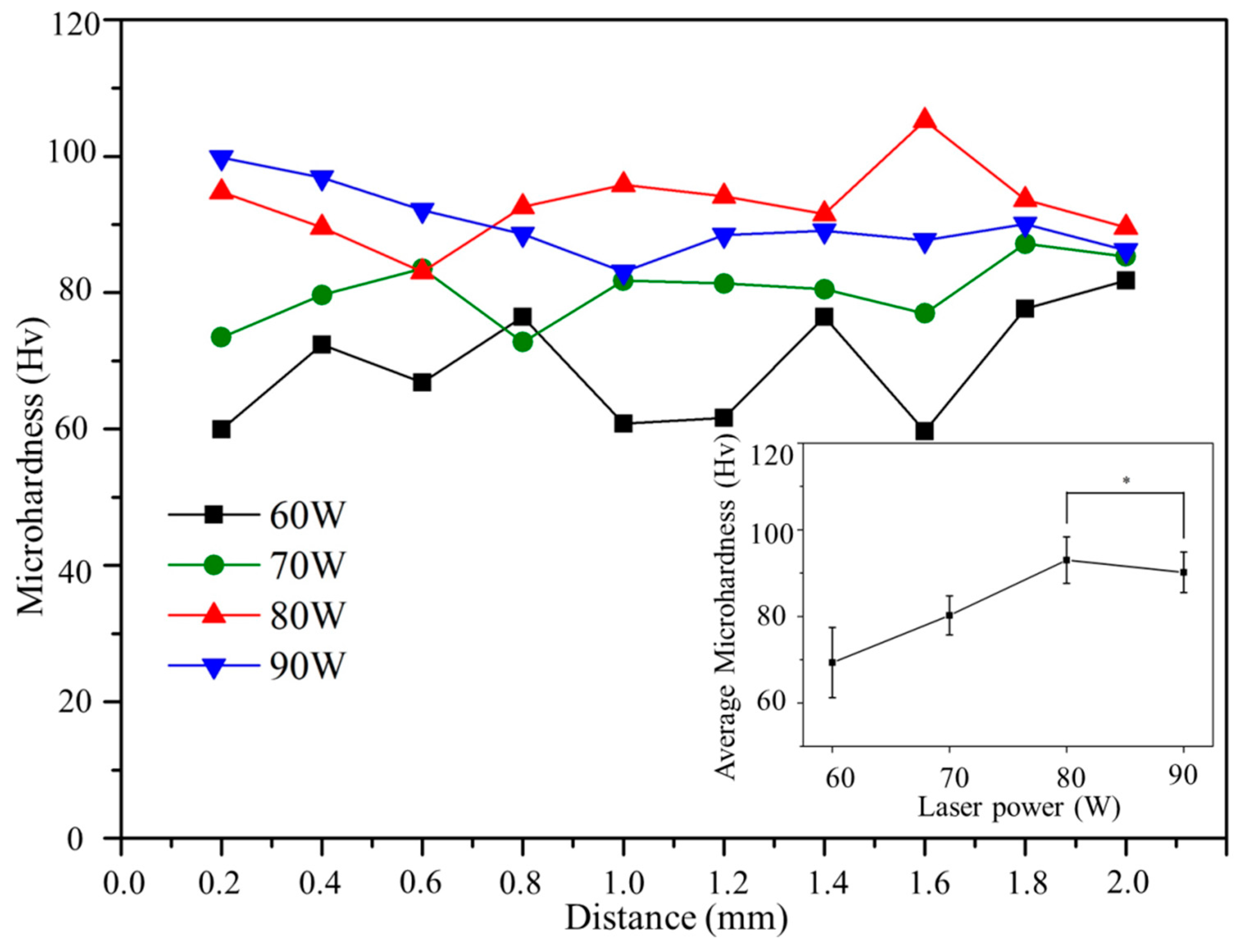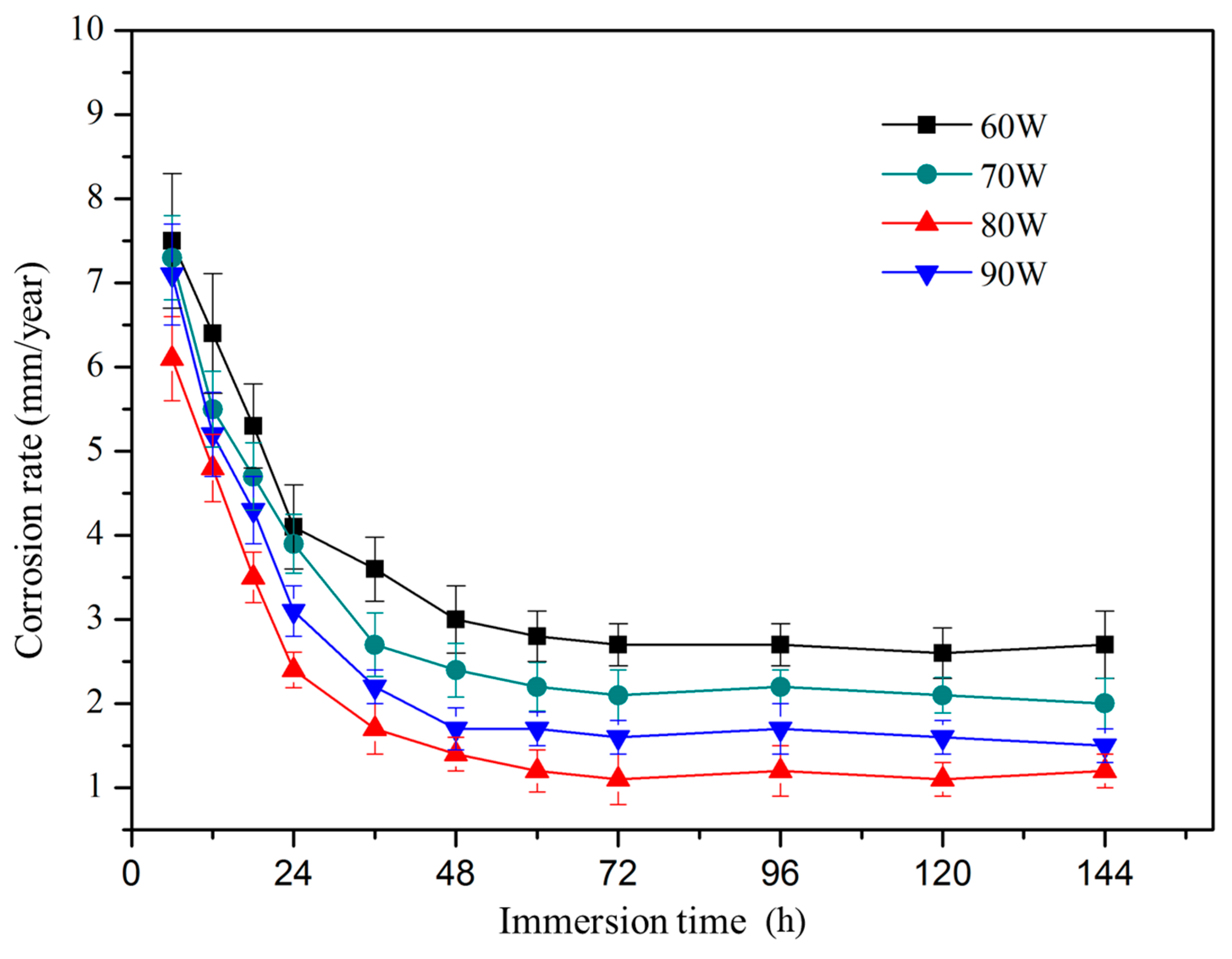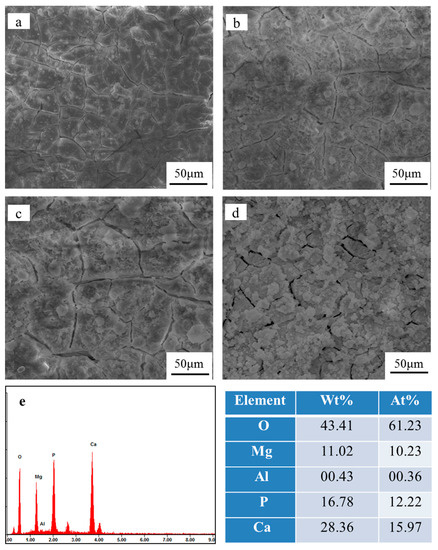 Figure 9. SEM images of SLMed AZ61 after immersion for different times: (a) 24 h; (b) 48 h; (c) 96 h; (d) 144 h and (e) EDS analysis results of (d).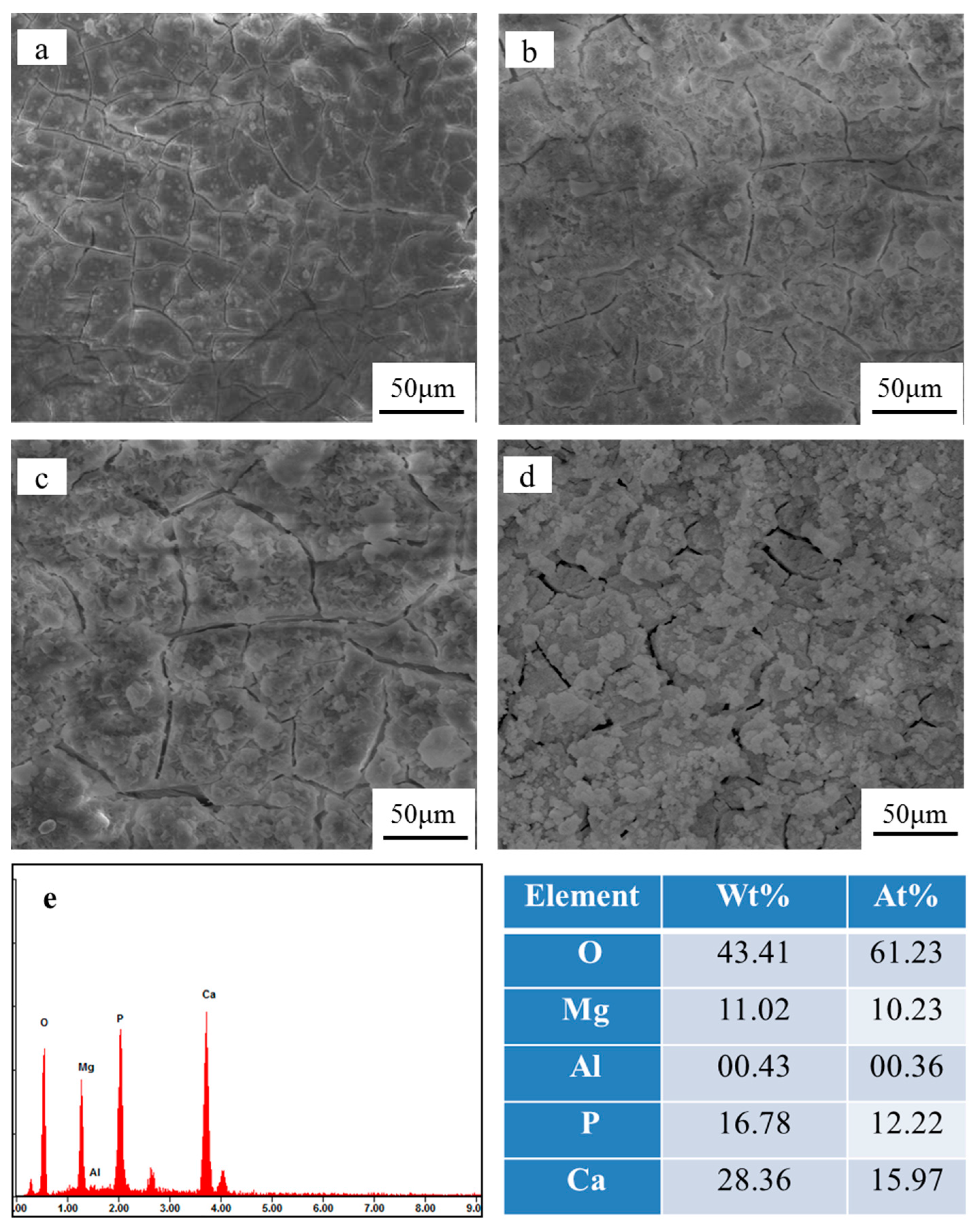 © 2017 by the authors. Licensee MDPI, Basel, Switzerland. This article is an open access article distributed under the terms and conditions of the Creative Commons Attribution (CC BY) license ( http://creativecommons.org/licenses/by/4.0/).