The Native Hawaiian Insect Microbiome Initiative: A Critical Perspective for Hawaiian Insect Evolution
1
Department of Plant and Environmental Protections Sciences, University of Hawaii at Manoa, 2500 Campus Rd., Honolulu, HI 96822, USA
2
C-MAIKI Consortium, University of Hawaii at Manoa, 1991 East-West Rd., Honolulu, HI 96822, USA
3
Department of Botany, University of Hawaii at Manoa, 2500 Campus Rd., Honolulu, HI 96822, USA
4
College of Agriculture, Forestry and Natural Resource Management, University of Hawaii at Hilo, 200 W Kawili St., Hilo, HI 96720, USA
5
Pacific Biosciences Research Center, University of Hawaii at Manoa, 1993 East West Road, Honolulu, HI 96822, USA
6
Bernice Pauahi Bishop Museum, 1525 Bernice St., Honolulu, HI 96822, USA
*
Author to whom correspondence should be addressed.
Academic Editor: Kenneth Wilson
Received: 25 October 2017 / Revised: 12 December 2017 / Accepted: 15 December 2017 / Published: 19 December 2017
Abstract
Insects associate with a diversity of microbes that can shape host ecology and diversity by providing essential biological and adaptive services. For most insect groups, the evolutionary implications of host–microbe interactions remain poorly understood. Geographically discrete areas with high biodiversity offer powerful, simplified model systems to better understand insect–microbe interactions. Hawaii boasts a diverse endemic insect fauna (~6000 species) characterized by spectacular adaptive radiations. Despite this, little is known about the role of bacteria in shaping this diversity. To address this knowledge gap, we inaugurate the Native Hawaiian Insect Microbiome Initiative (NHIMI). The NHIMI is an effort intended to develop a framework for informing evolutionary and biological studies in Hawaii. To initiate this effort, we have sequenced the bacterial microbiomes of thirteen species representing iconic, endemic Hawaiian insect groups. Our results show that native Hawaiian insects associate with a diversity of bacteria that exhibit a wide phylogenetic breadth. Several groups show predictable associations with obligate microbes that permit diet specialization. Others exhibit unique ecological transitions that are correlated with shifts in their microbiomes (e.g., transition to carrion feeding from plant-feeding in
Nysius wekiuicola
). Finally, some groups, such as the Hawaiian
Drosophila
, have relatively diverse microbiomes with a conserved core of bacterial taxa across multiple species and islands.
View Full-Text
►

▼

Figures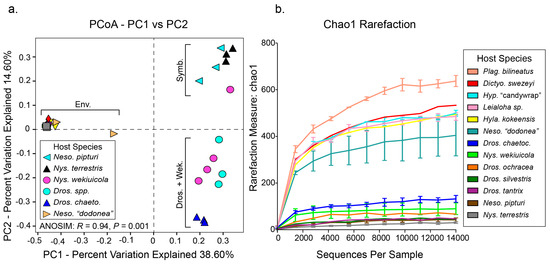 Figure 1
This is an open access article distributed under the
Creative Commons Attribution License
which permits unrestricted use, distribution, and reproduction in any medium, provided the original work is properly cited (CC BY 4.0).

Share & Cite This Article
MDPI and ACS Style
Poff, K.E.; Stever, H.; Reil, J.B.; Seabourn, P.; Ching, A.J.; Aoki, S.; Logan, M.; Michalski, J.R.; Santamaria, J.; Adams, J.W.; Eiben, J.A.; Yew, J.Y.; Ewing, C.P.; Magnacca, K.N.; Bennett, G.M. The Native Hawaiian Insect Microbiome Initiative: A Critical Perspective for Hawaiian Insect Evolution. Insects 2017, 8, 130.
Note that from the first issue of 2016, MDPI journals use article numbers instead of page numbers. See further details here.
Related Articles
Comments
[Return to top]