Honey Bee Health in Maine Wild Blueberry Production
1
School of Biology and Ecology, University of Maine, Orono, ME 04469, USA
2
Department of Agriculture, Conservation and Forestry, Augusta, ME 04330, USA
3
Department of Analytical Chemistry, The Connecticut Agricultural Experiment Station, New Haven, CT 06511, USA
*
Author to whom correspondence should be addressed.
Academic Editors: Alberto Satta and Panagiotis Theodorou
Received: 4 May 2021 / Revised: 29 May 2021 / Accepted: 31 May 2021 / Published: 5 June 2021
Simple Summary
Wild blueberry is an important native North American crop that requires insect pollination. Migratory western honey bee colonies constitute the majority of commercial bees brought into Maine for pollination of wild blueberry. Currently, many stressors impact the western honey bee in the US. We designed a two-year monitoring study (2014 and 2015) to assess the potential health of honey bee colonies hired for pollination services in wild blueberry fields. We monitored the colony health of nine hive locations (three hives/location) in 2014 and nine locations (five hives/location) in 2015 during bloom (May–June). Queen health status, colony strength, rate of population increase, and pesticide residues on pollen, wax, and honey bee workers were measured. In addition, each hive was sampled to assess levels of mite parasites, viruses, and Microsporidian and Trypanosome pathogens. Different patterns in colony health were observed over the two years. Factors predicting colony growth rate over both years were Varroa mite infestation and risk due to pollen pesticide residues during bloom. In addition, recently discovered parasites and pathogens were already observed in most of the colonies suggesting that parasites and diseases spread rapidly and become established quickly in commercial honey bee colonies.
A two-year study was conducted in Maine wild blueberry fields (
Vaccinium angustifolium
Aiton) on the health of migratory honey bee colonies in 2014 and 2015. In each year, three or five colonies were monitored at each of nine wild blueberry field locations during bloom (mid-May until mid-June). Colony health was measured by assessing colony strength during wild blueberry bloom. Potential factors that might affect colony health were queen failure or supersedure; pesticide residues on trapped pollen, wax comb, and bee bread; and parasites and pathogens. We found that Varroa mite and pesticide residues on trapped pollen were significant predictors of colony health measured as the rate of change in the amount of sealed brood during bloom. These two factors explained 71% of the variance in colony health over the two years. Pesticide exposure was different in each year as were pathogen prevalence and incidence. We detected high prevalence and abundance of two recently discovered pathogens and one recently discovered parasite, the trypanosome
Lotmaria passim
Schwartz, the Sinai virus, and the phorid fly,
Apocephalus borealis
Brues.
View Full-Text
►

▼

Show Figures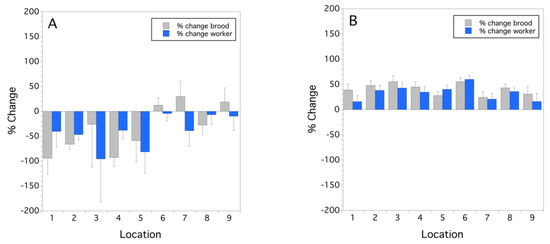 Figure 1
This is an open access article distributed under the
Creative Commons Attribution License
which permits unrestricted use, distribution, and reproduction in any medium, provided the original work is properly cited

MDPI and ACS Style
Drummond, F.A.; Lund, J.; Eitzer, B. Honey Bee Health in Maine Wild Blueberry Production. Insects 2021, 12, 523. https://doi.org/10.3390/insects12060523
AMA Style
Drummond FA, Lund J, Eitzer B. Honey Bee Health in Maine Wild Blueberry Production. Insects. 2021; 12(6):523. https://doi.org/10.3390/insects12060523
Chicago/Turabian Style
Drummond, Francis A., Jennifer Lund, and Brian Eitzer. 2021. "Honey Bee Health in Maine Wild Blueberry Production" Insects 12, no. 6: 523. https://doi.org/10.3390/insects12060523
Note that from the first issue of 2016, MDPI journals use article numbers instead of page numbers. See further details
here
.