Supporting Bees in Cities: How Bees Are Influenced by Local and Landscape Features
Department of Biology, York University, Toronto, ON M3J 1P3, Canada
*
Author to whom correspondence should be addressed.
Academic Editors: Theresa Pitts-Singer, Jonathan B. Koch and Lindsie M. McCabe
Received: 15 December 2020
/
Revised: 20 January 2021
/
Accepted: 23 January 2021
/
Published: 2 February 2021
Simple Summary
Cities are complex ecosystems that, while generally contributing to an overall reduction in biodiversity, can support surprisingly unique communities of organisms including bees. Bees are both ecologically and economically essential, therefore preserving and conserving these insects represents a significant challenge as cities continue to expand and diminish surrounding landscapes. Some attempts to support bees in cities have included establishing and improving urban green spaces. Exactly how bees and, to a lesser extent, other pollinators respond to these green spaces in addition to other urban landscape and local features, however, remains incompletely understood. Therefore, this review summarizes the current literature and generalizable trends in pollinator response to urban landscape and local features. While some functional traits or characteristics of bees such as dietary breadth and nesting strategy are more conclusively understood and supported, other characteristics such as sociality remain less generalizable. Lack of knowledge on bee responses to city features is in part due to the individual variation exhibited across different groups and species. To promote greater biodiversity in urban spaces, research should focus on specific responses to urban local and landscape features and how green spaces can be optimized for sustainable bee conservation.
Urbanization is a major anthropogenic driver of decline for ecologically and economically important taxa including bees. Despite their generally negative impact on pollinators, cities can display a surprising degree of biodiversity compared to other landscapes. The pollinating communities found within these environments, however, tend to be filtered by interacting local and landscape features that comprise the urban matrix. Landscape and local features exert variable influence on pollinators within and across taxa, which ultimately affects community composition in such a way that contributes to functional trait homogenization and reduced phylogenetic diversity. Although previous results are not easily generalizable, bees and pollinators displaying functional trait characteristics such as polylectic diet, cavity-nesting behavior, and later emergence appear most abundant across different examined cities. To preserve particularly vulnerable species, most notably specialists that have become underrepresented within city communities, green spaces like parks and urban gardens have been examined as potential refuges. Such spaces are scattered across the urban matrix and vary in pollinator resource availability. Therefore, ensuring such spaces are optimized for pollinators is imperative. This review examines how urban features affect pollinators in addition to ways these green spaces can be manipulated to promote greater pollinator abundance and diversity.
View Full-Text
►

▼

Show Figures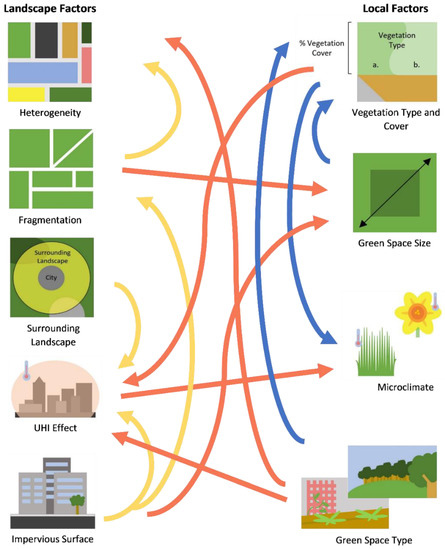 Figure 1
This is an open access article distributed under the
Creative Commons Attribution License
which permits unrestricted use, distribution, and reproduction in any medium, provided the original work is properly cited

MDPI and ACS Style
Ayers, A.C.; Rehan, S.M. Supporting Bees in Cities: How Bees Are Influenced by Local and Landscape Features. Insects 2021, 12, 128. https://doi.org/10.3390/insects12020128
AMA Style
Ayers AC, Rehan SM. Supporting Bees in Cities: How Bees Are Influenced by Local and Landscape Features. Insects. 2021; 12(2):128. https://doi.org/10.3390/insects12020128
Chicago/Turabian Style
Ayers, Anthony C., and Sandra M. Rehan. 2021. "Supporting Bees in Cities: How Bees Are Influenced by Local and Landscape Features" Insects 12, no. 2: 128. https://doi.org/10.3390/insects12020128
Note that from the first issue of 2016, MDPI journals use article numbers instead of page numbers. See further details
here
.