Carry-Over Niches for Lepidopteran Maize Stemborers and Associated Parasitoids during Non-Cropping Season
1
International Centre of Insect Physiology and Ecology (ICIPE), Nairobi P.O. Box 30772-00100, Kenya
2
Department of Plant Science and Crop protection, University of Nairobi, Kangemi, Nairobi P.O. Box 29053 00625, Kenya
3
UMR IRD 247 Laboratoire Evolution, Génomes, Comportement et Ecologie, Diversité, Ecologie et Evolution des Insectes Tropicaux, CNRS, 91198—Gif-sur-Yvette, France and Université de Paris-Sud, 91405 Orsay, France
4
Department of Biochemistry, University of Nairobi, Nairobi P.O. Box 30197-00100, Kenya
*
Authors to whom correspondence should be addressed.
Received: 8 April 2019 / Revised: 30 May 2019 / Accepted: 5 June 2019 / Published: 28 June 2019
Abstract
Sources of infestation are the key elements to be considered in the development of habitat management techniques for the control of maize stemborers. Several wild plants, grasses mostly, have been identified that serve as hosts for stemborers and their parasitoids during the off-season when maize is not present in the field. However, their abundance is much lower in wild plants compared to cultivated fields. Thus, the role of wild plants as a reservoir for cereal stemborers and their parasitoids is still controversial, particularly in agro-ecosystems with reduced wild habitat. We studied the occurrence of different maize stemborers and associated parasitoids in maize stem residues and wild grasses during non-cropping seasons as potential carry-over populations to subsequent early season maize plants. Surveys were conducted in the central region of Kenya during long and short dry seasons in maize residues and wild grasses as well as during the two rainy seasons in maize plants at earlier and late whorl stages during the years of 2017 and 2018. Wild habitat had a higher species diversity than maize residues habitat, but maize residues had a higher abundance of maize stemborer species, such as
Busseola fusca
,
Sesamia calamistis
, and
Chilo partellus
, and of associated parasitoid species (i.e.,
Cotesia flavipes
and
Cotesia sesamiae
) than wild plants. Our surveys, complemented by field parasitoid releases of
C. flavipes
and
C. sesamiae
, indicated that maize residues constitute a better refugia reservoir not only of the maize stemborers but also of
C. flavipes
and
C. sesamiae
during non-cropping seasons as compared to wild plants and, thus, might constitute in this region the main source of both stemborers and
C. flavipes
/
C. sesamiae
carry-over in maize plants during the subsequent cropping season. Thus, systematic destruction of maize residues would not help the biological control of lepidopteran stemborers. This is particularly true in areas with reduced wild habitat.
View Full-Text
►

▼

Figures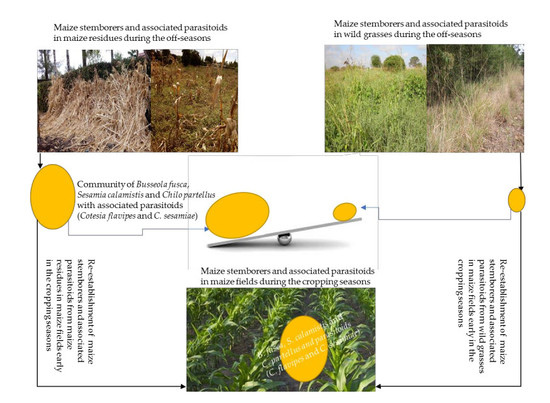 Graphical abstract
This is an open access article distributed under the
Creative Commons Attribution License
which permits unrestricted use, distribution, and reproduction in any medium, provided the original work is properly cited (CC BY 4.0).

Share & Cite This Article
MDPI and ACS Style
Sokame, B.M.; Rebaudo, F.; Musyoka, B.; Obonyo, J.; Mailafiya, D.M.; Le Ru, B.P.; Kilalo, D.C.; Juma, G.; Calatayud, P.-A. Carry-Over Niches for Lepidopteran Maize Stemborers and Associated Parasitoids during Non-Cropping Season. Insects 2019, 10, 191.
Note that from the first issue of 2016, MDPI journals use article numbers instead of page numbers. See further details here.
Related Articles
Comments
[Return to top]