Open Access This article is
freely available
re-usable
Article
Taxonomic and Functional Ant Diversity Along tropical, Subtropical, and Subalpine Elevational Transects in Southwest China
1
CAS Key Laboratory of Tropical Forest Ecology, Xishuangbanna Tropical Botanical Garden, Chinese Academy of Sciences, Menglun, Mengla, Xishuangbanna, Yunnan 666303 China
2
University of Chinese Academy of Sciences, Beijing 100049, China
3
Key Laboratory of Forest Disaster Warning and Control in Yunnan Province, College of Biodiversity Conservation and Utilization, Southwest Forestry University, Kunming, Yunnan 650224, China
4
Environmental Futures Research Institute and Griffith School of Environment and Science, Griffith University, Nathan, QLD 4111, Australia
5
Biodiversity Program, Queensland Museum, South Brisbane, QLD 4101, Australia
*
Author to whom correspondence should be addressed.
Received: 16 March 2019 / Accepted: 23 April 2019 / Published: 3 May 2019
Abstract
:
Although elevational gradients of biodiversity have long been the topic of scientific research, information on patterns of, and processes that shape insect community structure across elevation is still lacking. Addressing this gap requires the use of both taxonomic and functional approaches when studying diversity across elevational gradients. In this study, we examined taxonomic and functional alpha and beta diversity of ant assemblages sampled along tropical, subtropical, and subalpine elevational transects in Yunnan Province, southwest China. Species richness was used to quantify taxonomic alpha diversity, and two indices (FD and FRic) were calculated using morphological measurements to quantify functional alpha diversity. Taxonomic and functional beta diversity were partitioned into their turnover- and nestedness-resultant components. Though temperature and functional alpha diversity decreased linearly with increasing elevation, taxonomic alpha diversity showed a significant logarithmic decrease, with few species present at elevations greater than 3000 m a.s.l. The turnover-resultant component of taxonomic beta diversity increased with increasing elevational distance, while the nestedness-resultant component of functional beta diversity increased with increasing elevational distance in the subtropical transect. The observed patterns of taxonomic and functional diversity reflected ants' thermophilic nature, implying functional adaptations (i.e., nested functional diversity) at higher elevations where environmental conditions were unfavorable.
Keywords:
ants; elevation; diversity gradient; functional diversity; community assembly; China
1. Introduction
For this study, we collected ants from three elevational transects in varying climatic regions (tropical, subtropical, and subalpine) within Yunnan Province. We then examined how taxonomic and functional alpha diversity changed with elevation, whether species composition varied between elevational bands within the same transect, whether taxonomic and functional beta diversity were driven by either turnover or nestedness, and if ant community structure was shaped by either stochastic or deterministic processes. We hypothesized that (1) both taxonomic and functional ant diversity are negatively correlated with elevation due to ants' general preference for warmer climates; (2) taxonomic and functional beta diversity increase with increasing elevational distance; (3) taxonomic beta diversity is due to species turnover while functional beta diversity is due to both turnover and nestedness; and (4) environmental filtering determines community structure in all three transects, causing observed functional diversity to be lower than expected by chance.
2. Materials and Methods
2.1. Study Site
Three elevational transects were established in Yunnan Province, southwest China, approximately 300 km apart along a north-south bearing: tropical Mengla (21.6°N, 101.5°E), subtropical Ailaoshan (24.2°N, 101.2°E), and subalpine Lijiang (27.1°N, 100.2°E) (see [
24
] for detailed site descriptions). Yunnan Province covers a large latitudinal and elevational range (21.2–29.2°N, 76.4–6740 m above sea level or a.s.l.) and is located between three geographic areas with distinct bioclimatic conditions: the Tibetan Plateau, the tropical southern Asia and Indo-China monsoon region, and the eastern Asia monsoon region [
25
]. Two biodiversity "hotspots", South-Central China and Indo-Burma, also cover large parts of Yunnan [
26
]. The three transects were established as part of the Queensland-Chinese Academy of Sciences Biotechnology Project [
24
], which aimed to investigate the elevational distribution of forest biodiversity. Each transect was divided into four elevational bands separated by 200 m intervals, starting at 800 m a.s.l. in Mengla, 2000 m a.s.l. in Ailaoshan, and 3200 m a.s.l. in Lijiang (
Figure A1
in
Appendix A
). At each elevational band, we established five 20 m × 20 m sampling plots spaced at least 150 m from each other. Plots were situated away from areas with visible disturbances, such as canopy gaps.
2.2. Field Sampling
Sampling was conducted on 1–20 July 2011 in Ailaoshan, 5–24 July 2012 in Mengla, and 9–22 August 2012 in Lijiang. Within each sampling plot, five sampling methods were employed following the protocol in Burwell and Nakamura [
27
]. These methods described below complement each other as they target different micro-habitats (e.g., leaf litter, soil surface, tree trunks) and activity times (diurnal and nocturnal ants).
Litter extraction—Two sets of 1 m2 of leaf litter were collected at each plot. Leaf litter samples were taken just outside and on opposite sides of the plot to minimize disturbances within the plot, and to increase spatial coverage. Each 1 m2 sample was taken from four 0.25 m2 quadrats (50 cm × 50 cm) at least 5 m away from each other. Care was taken not to collect thick rain-washed deposits of litter and soil. From each quadrat, all litter and loose surface soil were collected by hand, sieved with a litter sifter, and processed using a Tullgren funnel for 24 to 36 hours, depending on the litter's water content. Two sets of samples from each plot were pooled before analysis.

Bark spray—We selected two sets of five trees greater than 30 cm dbh located outside and on opposite sides of the plot. We specifically targeted trees encrusted with vines, epiphytes, or moss to increase the number of ant species and individuals. We placed a rectangular sheet of nylon at the base of each tree and sprayed pyrethroid insecticide from the base to approximately 3 m up the trunk. Catches fallen into the nylon sheets were collected at least 15 minutes after spraying. As with the litter extraction method, two sets of samples from each plot were pooled before data analysis.

Malaise trap—A Townes Malaise trap was set just outside each plot and operated for 10 days. Although this trapping method targets flying insects such as flies and wasps, wingless, primarily arboreal, ants were often collected.

Pitfall traps—A total of 10 × 120 mL pitfall traps, each with an internal diameter of 44 mm and filled with 95% ethanol, were placed in each plot and left open for ten days. The 10 traps were installed along a diagonal line of the plot, approximately 2.5 m away from each other. A black plastic plate of 15 cm × 15 cm was suspended 4–5 cm above the pitfall traps to intercept rainfall. Samples from each plot were also pooled before data analysis.

Hand collection—At each plot, hand collections were performed once within the 50 m radius of the plot for one hour during the day (09:00–17:00 h). Foraging ants and ants in nests were searched and collected by hand from the ground, foliage, and logs by CJB.
All samples were stored in 95% ethanol until ants were extracted. All worker ants were counted and identified to genus and then species or morphospecies by CJB and ZX. Reproductives were not included in this study. Ant specimens that represented different species or morphospecies at each elevational band were pinned. The majority of the specimen collection is currently stored in Southwest Forestry University, and a few specimens are stored in Xishuangbanna Tropical Botanical Garden.
| Trait | Justification | References |
| --- | --- | --- |
| Weber's length (WL) | Commonly used as a proxy for ant body size, which reflects the amount and type of resource exploited. May also reflect ability to nest in vegetation. | [15,28,29] |
| Relative eye length (RelEL) | While eyes are used by ants for navigation and recognition of predator and prey, eye size may also be indicative of when (i.e., diurnal or nocturnal) and where ants forage, as well as their dietary preference (predators tend to have smaller eyes than omnivores). | [29,30,31] |
| Relative scape length (RelSL) | May determine ants' effective range of sensitivity to chemosensory signals | [31] |
| Relative mandible length (RelML) | Indicator of diet type, with predatory ants having longer mandibles | [31,32] |
| Relative hindleg length (RelHL) | Related to locomotion speed as well as ants' capacity to navigate through crevices of varying sizes and the amount of load they can carry. May also indicate the type of diet, as ants with shorter RelHL tend to be predators. | [31,33,34] |
2.3. Functional Traits
Five functional traits, computed using measurements taken by AMF under a microscope with a calibrated eyepiece micrometer, were selected following Liu et al. [
35
] (
Table 1
): Weber's length (WL); relative eye length (RelEL), calculated as the ratio of EL to WL; relative scape length (RelSL), calculated as the ratio of SL to WL; relative mandible length (RelML), the ratio of ML to WL; and relative hindleg length (RelHL), calculated as the sum of HFL and HTL, divided by WL. The mean of the trait values for each species were used for functional diversity analyses. Other measurements, namely head length (HL) and width (HW), eye width (EW), and pronotum width (PW), were also taken but were not included due to their high correlation and ecological redundancy to our five selected traits. A maximum of three worker ants per species were measured for each elevational band. For singletons and doubletons, only one and two ants were measured, respectively. For species with worker polymorphism, only minors were measured. Ant species with no eyes are likely to be subterranean species [
31
] with ecological characteristics inherently different from species foraging above ground. Thus, the proposed justification for the use of eye size listed in
Table 1
probably does not apply to subterranean species, and assigning a RelEL of 0 for these species may therefore mischaracterize the "functional position" of eyeless ants. We therefore removed these species from the analysis.
A total of 1,165 individuals (Mengla: 995; Ailaoshan: 170) were measured and used for computing functional alpha and beta diversity. We decided not to include Lijiang in our functional diversity analyses due to its small sample size (discussed in more detail in 2.4), and a species from Mengla (
Dorylus laevigatus
(Smith)) was removed because the only available specimens consisted of non-minor workers.
2.4. Data Analysis
We generated multi-linear models to explain the relationship between taxonomic (species richness) and functional alpha diversity (FD and FRic) with respect to elevation. For all three models, we included location (i.e., elevational transect) as a fixed factor as they explained more variation and had lower Akaike Information Criterion (AIC) scores than models without location. To test whether species richness, FD, and FRic showed a linear or logarithmic relationship with elevation, we ran models with log-transformed or untransformed elevation as fixed effects (location was excluded from this comparison) and compared the results using their AIC scores. Species richness and FD were untransformed while FRic was cube-root transformed to achieve data normality.
5. Conclusions
Taxonomic diversity of ants decreased logarithmically with increasing elevation in southwest China despite temperature and functional diversity decreasing linearly. Community structure in Ailaoshan at plots found above the 2000 m a.s.l. band was explained by deterministic processes, while stochastic processes appear to have shaped community structure in Mengla. The differences in our results and the linear decrease reported for moth species richness in the same elevational transects imply that abiotic factors related to elevation affect community assemblages of different insect taxa to varying degrees. Though taxonomic beta diversity increased with increasing elevational distance in both tropical Mengla and subtropical Ailaoshan, functional beta diversity patterns differed between the two sites. Our results reflect ants' preference for warmer climates, and suggest that the temperature in the higher elevations of the Ailaoshan transect is close to their thermal limits, causing the functional trait space to shrink at higher elevations and to become a subset of plots in lower elevations. Aside from providing data on ant diversity in southwest China, this study is also the first in the region to combine both taxonomic and functional approaches in examining insect diversity along elevational gradients. The results of our study contribute to the growing knowledge on latitudinal and elevational diversity gradients for insects.
Author Contributions
Conceptualization, A.N., M.C., R.L.K., Y.T., and C.J.B.; methodology, A.M.F., A.N., M.C., R.L.K., Y.T., and C.J.B.; data curation: A.N., Z.X., and C.J.B.; formal analysis, A.M.F. and A.N.; writing—original draft preparation, A.M.F. and A.N.; writing—review and editing, A.M.F., A.N., Z.X., M.C., R.L.K., Y.T., and C.J.B.; supervision, A.N. and M.C.; project administration, A.N., M.C., R.L.K., and Y.T.; funding acquisition, A.N., M.C., R.L.K., and Y.T.
Funding
Our research was supported by the Queensland-Chinese Academy of Sciences (QCAS) Biotechnology Fund (GJHZ1130). A.N. was funded by the National Natural Science Foundation of China (Grant number: 31770472), Chinese Academy of Sciences South-East Asian Biodiversity Research Institute Key Area Expansion Projects (Grant number: Y4ZK111B01), and the CAS 135 Programs (Grant numbers: 2017XTBG-T01 and 2017XTBG-F01).
Acknowledgments
We thank Xiaoyang Song of the CAS Key Laboratory of Tropical Forest Ecology, Xishuangbanna Tropical Botanical Garden for providing the temperature data used in this study. We also thank Mr. Hua Huang for his assistance in the field and Mr. Chenglong Luo of Southwest Forestry University for his assistance in the laboratory. This manuscript was greatly improved by two anonymous reviewers.
Conflicts of Interest
The authors declare no conflict of interest.
Appendix A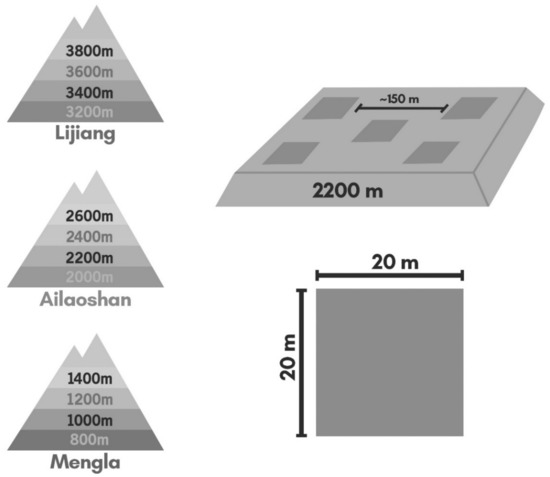 Figure A1. Schematic diagram of our study design, showing the elevational bands of the three transects (viz. Lijiang, Ailaoshan and Mengla; left), the distances between study plots within each elevational band, and the dimensions of each plot (bottom right). Distances are not to scale, and the precise spatial arrangement of study plots varied across elevations and transects depending on the available habitat.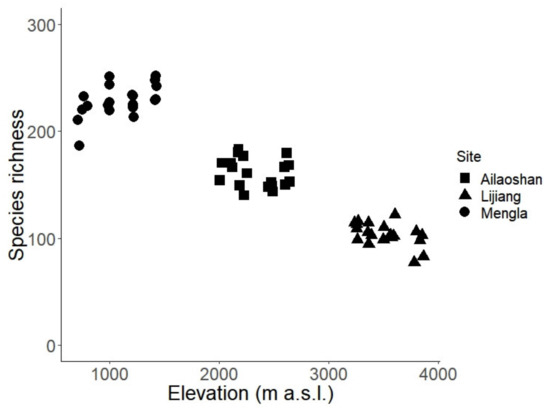 Figure A2.
Adjusted moth species richness against elevation (in m a.s.l.) in Mengla, Ailaoshan and Lijiang. Species richness was adjusted based on the smallest sample size. Data from Ashton et al. [
24
].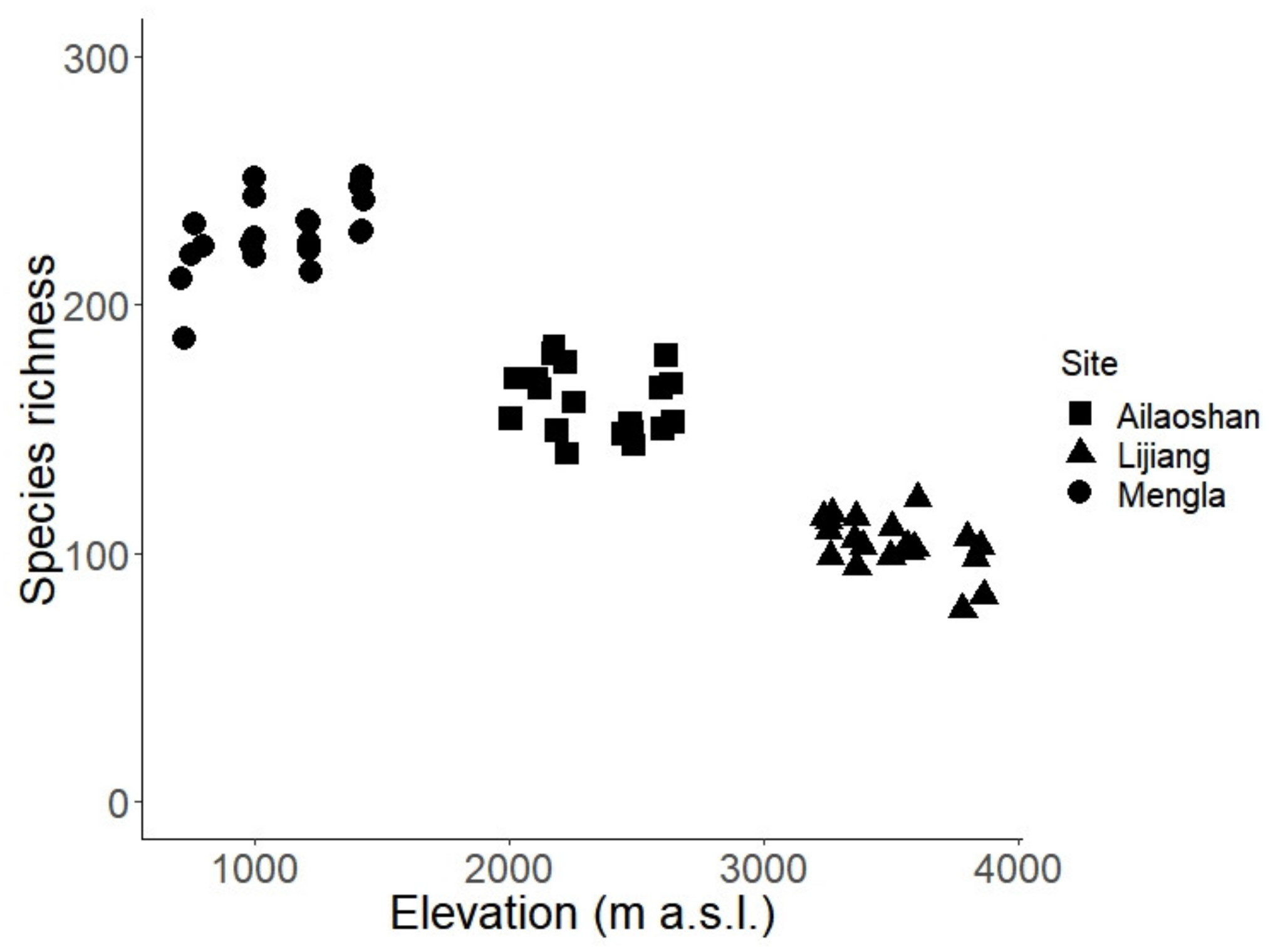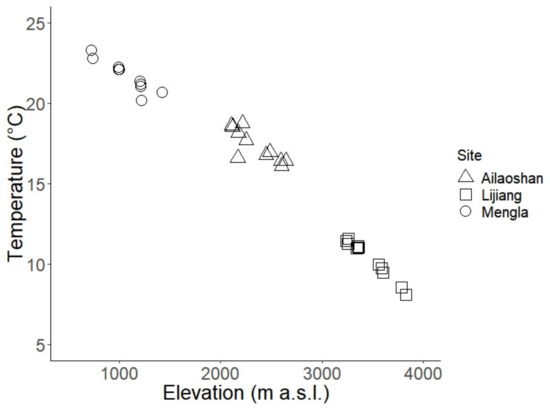 Figure 1. Mean daily understory temperatures from July to September 2015. Temperature data were recorded from each plot every two hours.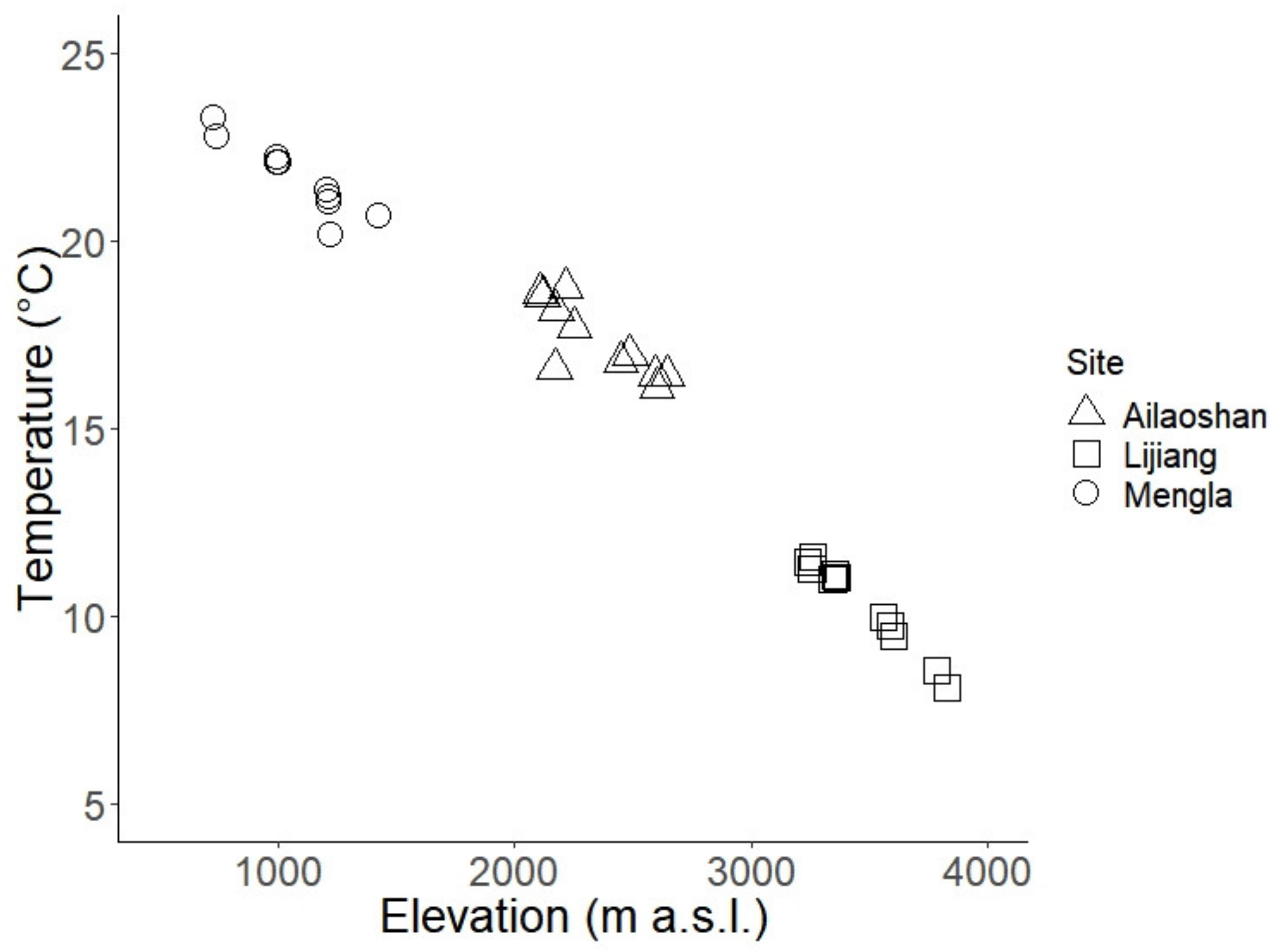 Figure 2. Taxonomic (left) and functional (right, showing FD in light grey and FRic in dark grey symbol) alpha diversity in Mengla (circle), Ailaoshan (square) and Lijiang (triangle) against actual elevation (in m a.s.l.), computed using species with eye length >0. Note the difference in x-axis values, as Lijiang was excluded from functional diversity analyses.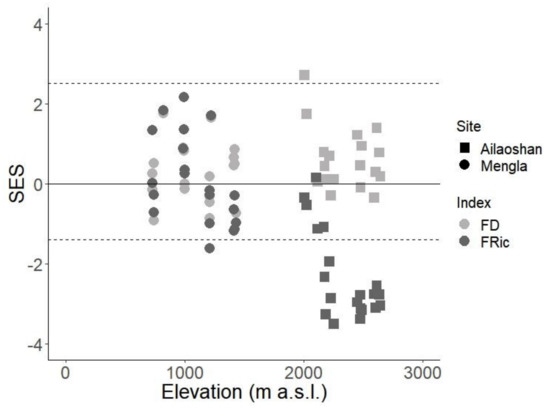 Figure 3. Standardized effect sizes (SES) for FD (light grey) and FRic (dark grey) in Mengla (circle) and Ailaoshan (square) against elevation (in m a.s.l.). Points above (for positive values) and below (for negative values) the dashed lines have SES values significantly different from the null model.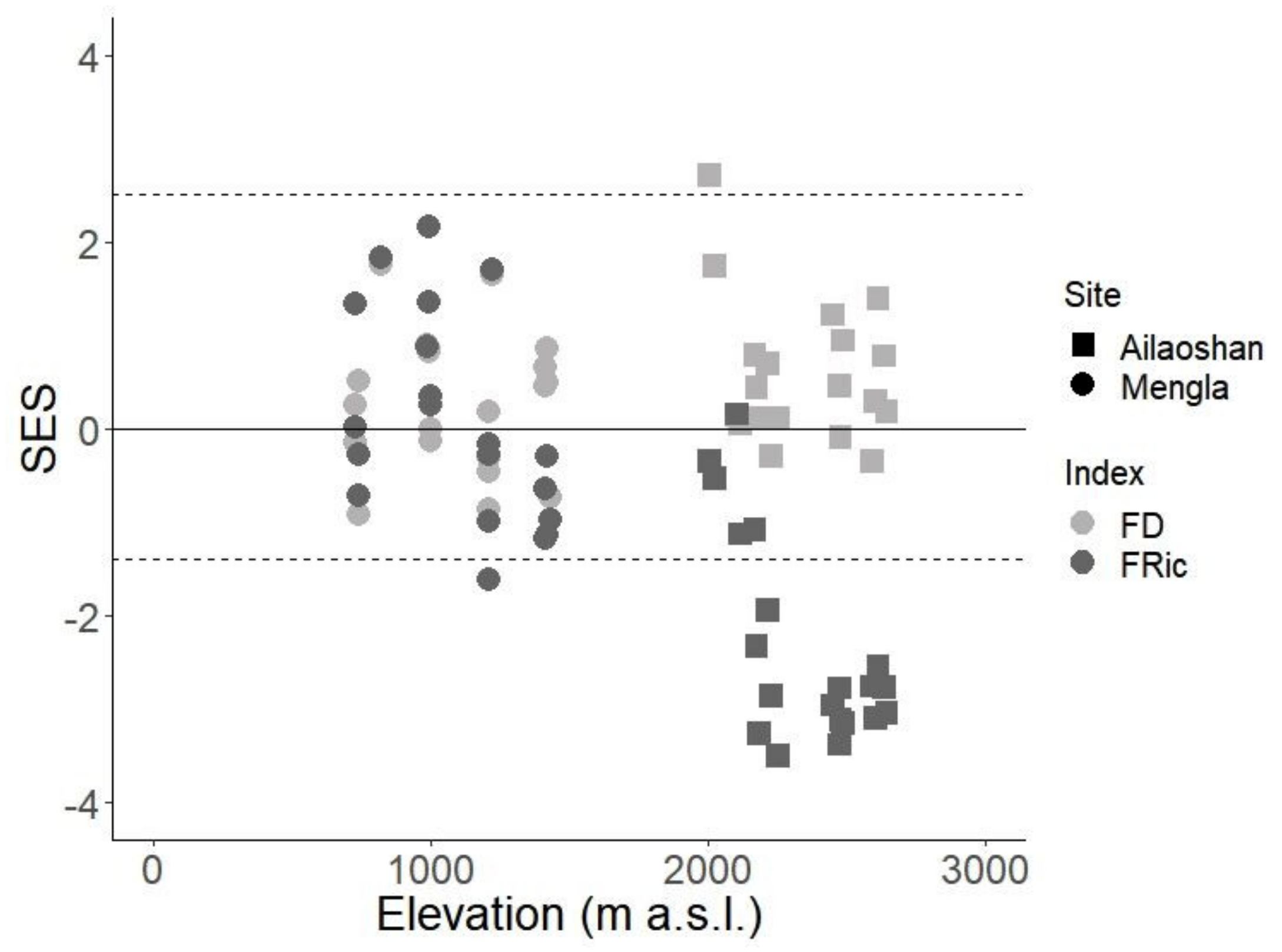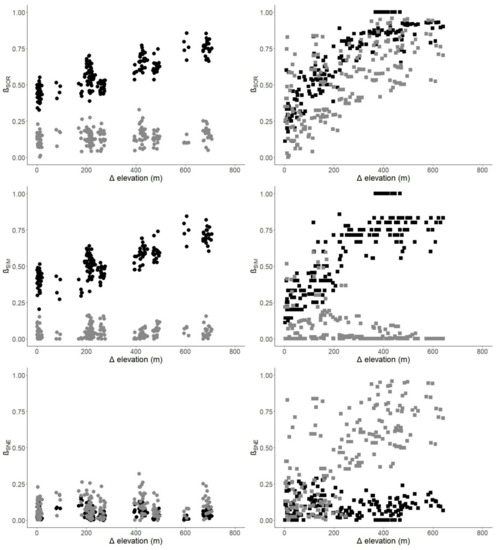 Figure 4. Pairwise taxonomic (black) and functional (gray) dissimilarities versus elevational distances between pairs of plots in Mengla (left, circles) and Ailaoshan (right, squares). βSOR = Sørensen dissimilarity index or total dissimilarity; βSIM = Simpson index or turnover-resultant dissimilarity; βSNE = nestedness-resultant dissimilarity.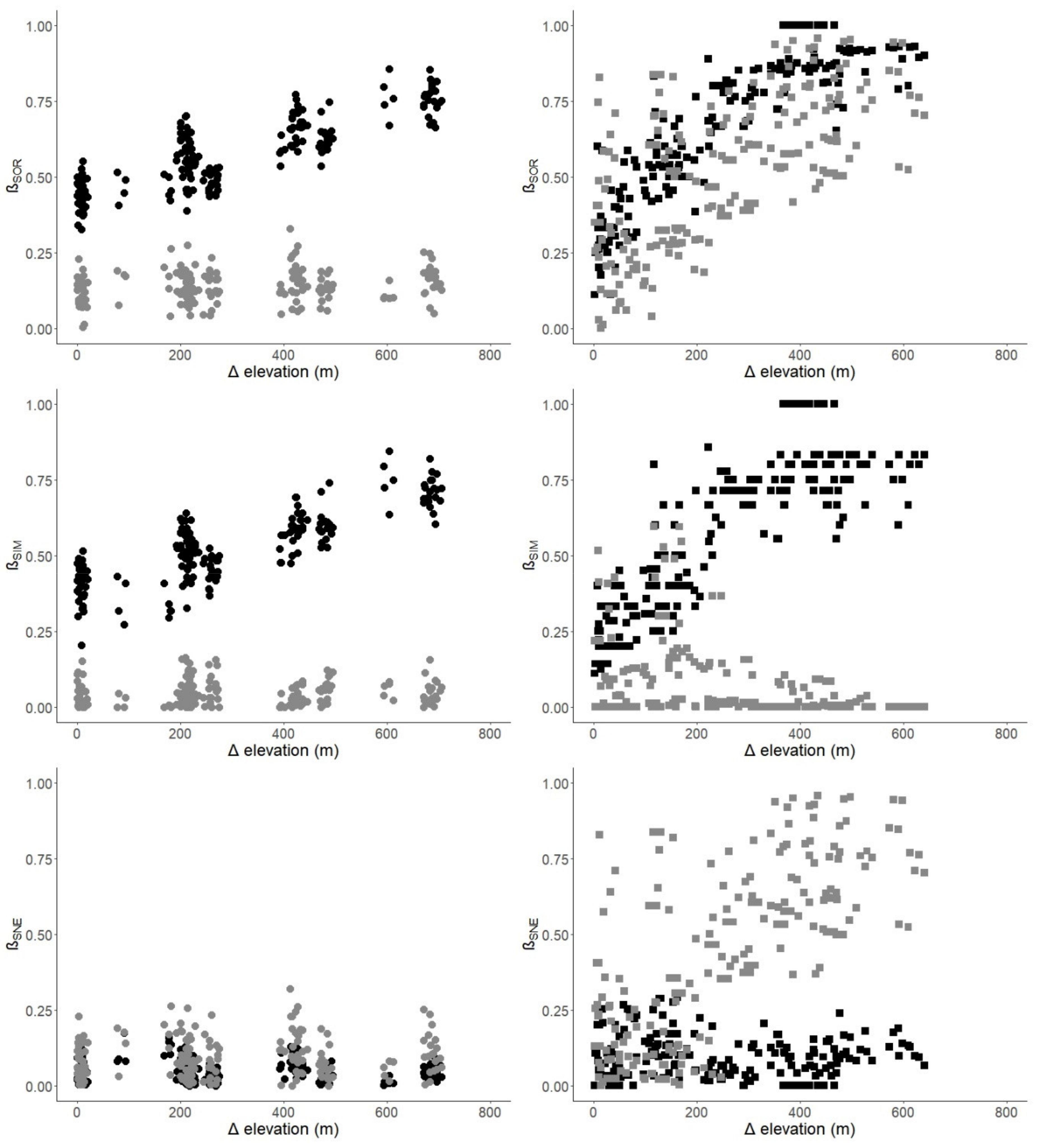 Table 2.
Mantel correlations between beta diversity indices and elevational distance. β
SOR
= Sørensen dissimilarity index or total dissimilarity; β
SIM
= Simpson index or turnover-resultant dissimilarity; β
SNE
= nestedness-resultant dissimilarity. Correlations with significant
p
-values (in parentheses) are shown in bold.
Index
Mengla
Ailaoshan
Taxonomic βSOR
0.826
(<0.001)
0.873
(<0.001)
βSIM
0.813
(<0.001)
0.833
(<0.001)
βSNE
−0.044
(0.690)
−0.088
(0.893)
Functional βSOR
0.187
(0.017)
0.655
(<0.001)
βSIM
0.096
(0.123)
−0.347
(1)
βSNE
0.088
(0.133)
0.709
(<0.001)

© 2019 by the authors. Licensee MDPI, Basel, Switzerland. This article is an open access article distributed under the terms and conditions of the Creative Commons Attribution (CC BY) license (http://creativecommons.org/licenses/by/4.0/).