Exposure to Insecticides Reduces Populations of
Rhynchophorus palmarum

in Oil Palm Plantations with Bud Rot Disease

1

Departamento de Biologia Geral, Universidade Federal de Viçosa, Viçosa 36570-000, Minas Gerais, Brazil

2

Instituto de Ciências Agrarias, Universidade Federal de Viçosa, Rio Paranaíba 38810-000, Minas Gerais, Brazil

3

Departamento de Entomologia, Universidade Federal de Viçosa, Viçosa 36570-000, Minas Gerais, Brazil

4

Departamento de Fitotecnia, Universidade Federal de Viçosa, Viçosa 36570-000, Minas Gerais, Brazil

5

Departamento de Ciência Florestal, Universidade Federal de Viçosa, Viçosa 36570-000, Minas Gerais, Brazil

6

Departamento de Proteção de Plantas, Universidade Estadual Paulista, Botucatu 18603-970, São Paulo, Brazil

*

Author to whom correspondence should be addressed.

Received: 6 March 2019 / Revised: 26 March 2019 / Accepted: 27 March 2019 / Published: 19 April 2019
Abstract
The South American palm weevil (SAPW),
Rhynchophorus palmarum
Linnaeus (Coleoptera: Curculionidae) is the main pest of
Elaeis guineensis
and damages palm trees with bud rot disease in the Americas. The effects of six neurotoxic insecticides (abamectin, carbaryl, deltamethrin, fipronil, imidacloprid and spinosad) were evaluated against SAPW for toxicity, survival, reproduction, and mortality. Abamectin (LC
50
= 0.33 mg mL
−1
), Carbaryl (LC
50
= 0.24 mg mL
−1
), deltamethrin (LC
50
= 0.17 mg mL
−1
), and fipronil (LC
50
= 0.42 mg mL
−1
) were the most toxic to SAPW. Adult survival was 95% without exposure to insecticides, decreasing to 78–65% in insects treated with the LC
25
and 49–35% in insects exposed to LC
50
. Sublethal doses of carbaryl, fipronil and imidacloprid showed significant effect on the reproduction of this insect. Mortality of SAPW populations caused by insecticides had similar effects in the laboratory and field conditions. The results suggest that carbaryl, deltamethrin, fipronil, and imidacloprid caused significantly higher mortality as compared to the control in SAPW and may be used to control its populations in oil palm trees where bud rot appears as the key disease for SAPW attraction and infestation.
View Full-Text
►

▼

Figures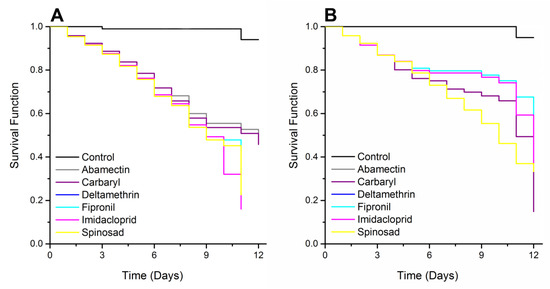 Figure 1
This is an open access article distributed under the
Creative Commons Attribution License
which permits unrestricted use, distribution, and reproduction in any medium, provided the original work is properly cited (CC BY 4.0).

Share & Cite This Article
MDPI and ACS Style
Martínez, L.C.; Plata-Rueda, A.; Rodríguez-Dimaté, F.A.; Campos, J.M.; Santos Júnior, V.C.; Rolim, G.D.S.; Fernandes, F.L.; Silva, W.M.; Wilcken, C.F.; Zanuncio, J.C.; Serrão, J.E. Exposure to Insecticides Reduces Populations of Rhynchophorus palmarum in Oil Palm Plantations with Bud Rot Disease. Insects 2019, 10, 111.
Note that from the first issue of 2016, MDPI journals use article numbers instead of page numbers. See further details here.
Related Articles
Comments
[Return to top]